Arcaea game by lowiro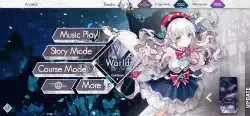 Game Description :
A harmony of Light awaits you in a lost world of musical Conflict. New Dimension Rhythm Game
Touch, hold and slide through a challenging, unforgettable arcade-style experience featuring artists from Japan and across the Entire World.
Lose yourself in songs of Light and Conflict within a forgotten world
Two young girls wander in a broken world filled with remnants of its former self: Arcaea.
Arcaea are melodical shards of the past that call out to the girls, but each chooses to be experienced only by one or the other. Over time, the girls begin to notice inconsistencies in the Arcaea that choose them and develop conflicting views about the world as it once was.
Play anywhere and anytime with no limitations. Internet connection not required
Game Features :
A high difficulty ceiling – experience personal growth as you develop skills in arcade-style progression
Over 160 songs from more than 100 artists famous across other games
An expanding music library through content updates
Full song jacket illustrations
Online friends and scoreboards
Additional Information :
Age Rating 9+
Size 1 GB
Requires iOS 11.4 or later.
User Reviews :
The most fun I've had with a rhythm game
Arcaea is absolutely worth the money I've spent on it. Most songs have a play style that feels completely separate from the others. Levels can be incredibly difficult, but always seem to be doable. Even when they are ridiculous, the music is good enough to keep you coming back for more (I'd go as far as to say that the best music goes with the hardest songs). The game updates fairly regularly, and adds free songs, in addition to packs that you can pay for. Unfortunately, none of the free songs come close to the level of difficulty presented in the paid songs. The 3D space allows for really beautiful level design, and this translates into the song feeling amazing to play. Playing on a tablet makes the game easier, but playing on a smaller screen is still possible, even on difficult levels. In terms of improvement, I would really like to see an option to have arcs fade out instead of turn red when you mess up, like before the most recent patch. The bright red can be very distracting on more difficult levels and cause you to lose more notes. I would also like to see a way to restart levels faster, either through an option to require only 1 tap to pause, or even through a partner that has a skill that instantly restarts the level if you miss a note (for when you're trying to full recall something). Finally, I want to see the story and characters developed more. My favorite level so far is Sheriruth. Keep up the good work!!
This is just what I want
I love this game so much!!! I want to master this game, so I am playing in Past, Present and Future. I know it's hard for starters, but after I played this for literally 24 hours, I managed to master the Past and the Present. But if you want the truth…. I freaking hate Dandelion I played it so many times, but always end up with 1 or 2 far.  I guess it's because I played too much Present and became used to very fast and many notes. The art is also very beautiful. But what I hate the most is that the other Music Maps are not free and you have to pay the real money  But I'm not going to underrate this game because of this, because there still are many other music to play.

I personally think that you should make the 'memories' obtainable too. Like you can get them through the World Map, or by watching videos, or something like that.

You know what?….. when I grow up a little, I'm gonna work in your studio and help you to invent many interesting games.  Believe me I will be a big help. I know 5 languages, know how to draw beautifully and have many ideas for games that's gonna help you.  I'm serious

By the way, keep up the good work.
Ipad use recommended.
Now I would not consider myself as one of those master of Rhythm Games but I play a lot of Cytus, Deemo, and Voez (All Rayark) and I get many of Full Combos, Masters on songs, ect. But this is not a game you can get those with on a small screen. Now I have an Iphone 7+ and even that is not big enough (and no I have average sized fingers). In general I love the game. Unlike most, keeps you playing to earn songs though there are only 20 you can unlock without real money (an extra 6 if I remember with the DLC songs). However this game does have it's issues. The 'Advanced' Settings has it to where you can adjust the Offset of the notes. It is determined by increments of five while in the 'Basic' settings the Note Speed can be adjusted to all numbers and even down to one tenth if needed. I'm trying to play this game with Air Pods but with the 'Advanced' setting set to where it will tell you if you're on early or late seems to always be a bit off. I hope you can manage to adjust it to a smaller degree in the future but otherwise don't use any sort of bluetooth headphones I suppose.

tl;dr

I'll give it a flat Four Stars. A lot of Rhythm Games are easier on a bigger screen but this one can handicap you to the point where it's unplayable if you have a small screen. And of course, it's hard to get it right in terms of the right calibration but precision is what rhythm games are all about. Try and makes it as accurate as possible if you can.
Get Arcaea from App Store
What is your opinion about Arcaea
Bitcoin
Ethereum
MetaMask (ETH)
Xrp
Polkadot
Binance coin
Stellar
Dogecoin
Tron
Elrond
Donate Bitcoin to this address
Scan the QR code or copy the address below into your wallet to send some Bitcoin
Donate Ethereum to this address
Scan the QR code or copy the address below into your wallet to send some Ethereum
Donate Xrp to this address
Scan the QR code or copy the address below into your wallet to send some Xrp
Donate Polkadot to this address
Scan the QR code or copy the address below into your wallet to send some Polkadot
Donate Binance coin to this address
Scan the QR code or copy the address below into your wallet to send some Binance coin
Donate Stellar to this address
Scan the QR code or copy the address below into your wallet to send some Stellar
Donate Dogecoin to this address
Scan the QR code or copy the address below into your wallet to send some Dogecoin
Donate Tron to this address
Scan the QR code or copy the address below into your wallet to send some Tron
Donate Elrond to this address
Scan the QR code or copy the address below into your wallet to send some Elrond