(Game) Animal Crossing – Pocket Camp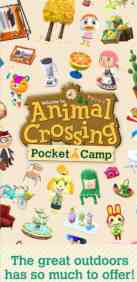 Game Description :
Find furniture you like and design a campsite that suits your style!
Tents, hammocks, fireplaces, a stuffed-animal sofa…mix and match to your heart's content! Make a trendy open-air café, or line up some microphones and guitars to create an outdoor music festival! In the mood for a little extra fun? Set up a merry-go-round and open a theme park. You can even make a pool, or fill the sky with fireworks!
Design your campsite, camper, and cabin however you want
Collect themed items from Fishing Tourneys and Garden Events that happen throughout the year
More than 1,000 pieces of furniture and 300 pieces of clothing and accessories are available to choose from, with more being added all the time
Game Features :
Features more than 100 animals with quirky personalities
Fulfill animal requests and watch your friendship with them grow! Once you become close enough friends, you can invite them to your campsite. The more the merrier!
Design a show-stopping campsite, invite your favorite animals, and take an in-game photo to show your friends. If your friends like what you've done, they may even give you kudos!
The great outdoors has so much to offer!
Notes: This game is free to start, with in-app purchases available. Internet connectivity is required to play Animal Crossing: Pocket Camp. Data charges may apply. May include advertising.
Terms of Service/EULA: ac-pocketcamp.com/en-US/site/eula
Additional Information :
Size 268.2 MB
Requires iOS 11.0 or later.
User Reviews :
I love this game!!!! And here are SUGGESTIONS
We all know how great this game is. You get to talk to animals, participate in events, buy clothes for your character, and invite animals to your campsite + cabin!

I've been playing for a while and even most of my friends have played it. However, coming from a player, I would really like to see at least an icon of what a player wants to buy from the market place. I think that would be really cool. Right now, my wool stock is really low. I already am doing requests but it isn't helping. It would be cool for my player to show that I need wool so others can sell.

It would be even cooler if players can gift other players items! My friends and I would love this! I don't think we'd be the only ones honestly. Of course, these items would include clothes or any duplicate furniture that we want to get rid of. In order so this doesn't dominate the purpose of the market place; fruits, bugs, and other resources will be limited to the market place.

My third suggestion comes from the AC games. I think players would be extremely excited to design their own clothes. However, if everyone could do this freely, the clothes from events and the marketplace would have almost no value. Therefore, we must charge a certain amount of leaves.

I hope someone reads this even after the New Horizons release. I know people who do not have access to a Switch will continue playing this game! Thank you for reading.
my FAVORITE game
i've never written a review before for any game but i figure my favorite app is the best place to start! i've been playing animal crossing for over a year now and let me say it is a pleasure to play this game! there's daily rewards to keep you motivated to check in on your animal buddies, cute dialogue between characters, and engaging/new events that occur monthly (fishing tourneys are my favorite because of the weird collectible fish you can get). the music, aesthetics, and design are really pleasant and i've only had one glitch occur before in the whole time i've played it. the designers of this game keep up with what needs to be fixed and make sure that the game runs smoothly. i love being able to connect with other players without a chat room or anything like that because that can lead to harassment and just ugly stuff. my ONLY edits would be that i wish this app would lean into the "cute" aesthetic a bit more. recently they did a "rock and roll" theme event and it was so dark and didn't fit my vision of animal crossing at all. i would love some more light, cute things that i can obtain! secondly, in the original animal crossing there's a museum where you can keep rare animals you've collected. i think this would be a great idea so that way you don't just look in your catalogue to see rare things you've caught. i want a place to keep them and put them on display so i can know my accomplishments! that's all though i love this game keep up the amazing work!
Get Animal Crossing from App Store
What is your opinion about Animal Crossing
Bitcoin
Ethereum
MetaMask (ETH)
Xrp
Polkadot
Binance coin
Stellar
Dogecoin
Tron
Elrond
Donate Bitcoin to this address
Scan the QR code or copy the address below into your wallet to send some Bitcoin
Donate Ethereum to this address
Scan the QR code or copy the address below into your wallet to send some Ethereum
Donate Xrp to this address
Scan the QR code or copy the address below into your wallet to send some Xrp
Donate Polkadot to this address
Scan the QR code or copy the address below into your wallet to send some Polkadot
Donate Binance coin to this address
Scan the QR code or copy the address below into your wallet to send some Binance coin
Donate Stellar to this address
Scan the QR code or copy the address below into your wallet to send some Stellar
Donate Dogecoin to this address
Scan the QR code or copy the address below into your wallet to send some Dogecoin
Donate Tron to this address
Scan the QR code or copy the address below into your wallet to send some Tron
Donate Elrond to this address
Scan the QR code or copy the address below into your wallet to send some Elrond