(Game) Olympus Rising – Hero Defense
free games for iphone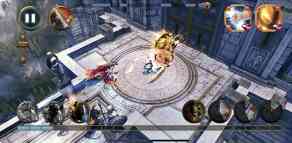 Game Description :
Download Olympus Rising now, and prove that you have what it takes to become a god in this cutting-edge action-strategy game!
Game Features :
Fight large-scale battles with hundreds of units
Customise your unique team of Heroes with almost infinite variations of powerful loot
Recruit fantastic beasts from Greek myth and legend
Build a fabulous city on Mount Olympus
Strategically design your defenses to defeat attacking players
Form an unbeatable Alliance and fight epic campaigns in the Alliance Wars
This game requires Camera and Microphone access, in order to use the broadcasting feature. Declining the permission to use either of these features, will result in the broadcasting feature not working.
This game is ad-supported and no in-app purchases are required to progress.
This game may include "Interest Based Ads" (please see our privacy policy for more information).
Terms of Service and Privacy Policy
By accessing or using a Flaregames product, you're agreeing to our Terms of Service (www.flaregames.com/terms-service/) and Privacy Policy (www.flaregames.com/privacy-policy/).
For Parents
Olympus Rising is free to download and play, however some game items can also be purchased for real money. Parents can find more information on our games and policies here: www.flaregames.com/parents-guide/
Additional Information :
Compatible with iPhone, iPad, and iPod touch.
Requires iOS 8.0 or later.
Size 244.6 MB
User Reviews :
As epic as the myths it draws from, Olympus Rising hurls legendary heroes and monsters into battle—and the prize is Mount Olympus. Tower defense and base-building mesh beautifully—when you're not leading an army to topple enemy strongholds, you're fortifying your own base to withstand other players' assaults. Gorgeous graphics fuel every quick skirmish, and it's a blast smiting hydras and gorgons while playing as icons like Hercules, Prometheus, and Helen of Troy.
Typically I'm reluctant to provide great reviews for an app, because it's not long after that, an update comes out and I end up retracting my review. However, since I downloaded this game 2 days ago, I have played almost nonstop!It's a great app because while you don't have to spend cash to do well, I didn't mind spending the cash for the upgrades, I feel what I got was definitely worth it. To give at least one gripe, the only thing I'm bugged by is the fact that when you take over a province, there's nothing that informs you that you shouldn't Leone has taken your province. I could be wrong, but so far that's my only gripe about this game.
The story structure, graphics, design and basic content of the game is fantastic. But the game moves too slowly and it gets boring. There is a terrible element of redundancy that takes away from an otherwise great game. My biggest complaint is the amount of "dominance" needed to explore new areas. The game is essentially a map. You conquer an area and acquire dominance points which accumulate and open new areas on the map when certain point levels are reached. The problem is it takes too long. It is silly, boring and takes people out of the game world to have to circle around and around conquering and reconquering the same islands which offer nothing new for weeks or months!!! …. in order to open a new area. Please change the settings and open new areas immediately after the preceding islands have been conquered. We do not want to wait and travel the same boring terrain over and over again. Sincerely…. EVERYONE
Get Olympus Rising from App Store
What is your opinion about Olympus Rising
Get more free apps & games daily
Subscribe to our mailing list and get free apps & games daily to your email inbox.
Thank you for subscribing.
Something went wrong.