(App) Cute CUT
iphone apps info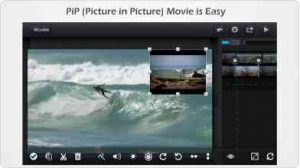 App Description :
Now, you can DRAW movies, AND you can draw ON movies! Cute CUT's powerful, easy-to-use editing features put YOU in control, allowing you to make the highest quality movies, DIFFERENT from anything you've seen!
Do you want to create your own unique movie? Cute CUT's robust and intuitive feature set will have you doing so in no time, drawing gorgeous, one-of-a-kind movies and so much more!
Besides providing the utilities of a common video editor, Cute CUT brings to the table exceptionally advanced, Hollywood-style editing functionality!
We're continually working to enrich and strengthen Cute CUT's top-tier functionality, and its refreshingly simple, unique presence in today's digital market. Are you with us? Join more than one million others who've dared to discover the delightful difference that's Cute CUT!
App Features :
User-Friendly UI.
Just drag and drop; you can arrange your media segments easily.
Sleek, bookshelf-style organizer showcases your movies.
UI supports both portrait and landscape modes.
Make DIFFERENT movies, make movies DIFFERENT!
Supports SIMULTANEOUS Adding of UP TO SIX different types of media into movie projects: Video, Photo (both from Album or Camera), as well as SELF-DRAW, Text, Music, and Voice.
Supports various Resolutions and Aspect Ratios, including HD (16:9), SD (4:3), SQUARE (1:1) and even Portrait Mode!
Creating a PIP (Picture-In-Picture) movie is EASY: Merely place one movie atop another; Cute CUT even supports independent Resizing of each and every video segment!
Draw directly on movie.
30+ drawing tools.
3 Advanced Brushes for pro effects: Texture, Linear Gradient, Radial Gradient, gradients editable.
Highly customizable transitions.
20+ Pre-Defined Transitions.
Transparency, Border, Corner, Shadow, Transform, and Sound Volume … ALL Customizable!
Share Your Movie.
Export to Camera Roll.
Send to YouTube/Facebook.
Send via e-mail.
Multiple Tutorials, and even Full Video Walkthroughs available, easily accessible.
You can upgrade to Pro to obtain the following features.
1. Watermark-free movies.
2. Unlimited movie length.
Cute CUT is available BOTH on iPhone and iPad.
Homepage: cutecut.mobivio.com
Feedback and Support: support[at]mobivio.com
Additional Information :
Compatible with iPhone, iPad, and iPod touch.
Requires iOS 8.0 or later.
Size 55.6 MB
User Reviews :
Hey!! I honestly love CCP a lot and I get rlly creative with this app, thank u for this!! But I have just 3 things to discuss. First, CCP crashes A LOT and when that happens I lose the progress I have. It doesn't always remove most of the movie, but this time it took EVERYTHING and only saved one bit. It annoyed me so much because I was halfway through what I was working on,, and what I was doing was rlly complicated and I had to constantly save and undo parts of the project. Thank god I had each part of my project saved on my camera roll but if I didn't I would have to do everything over again unfortunately. I rlly want u guys to fix this bcuz this is a major problem that not only I'm dealing with. Another thing I wanted to discuss was about the undo button. When I save the movie and then I go back soon after, I can't undo what I did before. I know that it isn't your fault it happens cuz it saves, but I want the opportunity to undo after saving too, so I hope u change that as well. Last, this is an extra thing by the way, I noticed that CCP on the computer has FX like blur, and other stuff like that (I was previewing it from someone else's lap top) and I was hoping you guys add that to CCP mobile. Well that's pretty much it and other than the problems I'm having this is a great app and I definitely recommend it. Great job and keep up what your doing cuz it'll rlly gonna pay off on the both of us
I've been using CCP for years now and it's an amazing app! However I do have a few things I'd like to ask in an update to be fixed. First off, the more layers that get added to a video, the lower in quality it becomes. Pictures get more pixilated and the video is no longer in high definition at on;y about four to five layers, causing me to get rid of layers and try and integrate them into the same one. On that same note, videos that are imported are in low quality too. As an artist who uses this app to create speedpaints, it's disheartening to see that no matter the canvas or video size I use, the video will always turn out grainy and hard to see. My third request is to allow transitioned photos to be reflected or turned. Photos can be reflected once added in and not edited with a transition. However, whenever I have a photo that already has a transition on it, and I want to mirror the same one with the same transition, I have to completely go back and restart everything. This of course creates a very tedious process if I need many photos to do this same action. So if it's possible, I'd love for reflecting and rotating to be implemented into already edited photos. The app is very fun and very simple to use though and I look forward to using it for many other projects!
Get Cute CUT from App Store
What is your opinion about Cute CUT
Get more free apps & games daily
Subscribe to our mailing list and get free apps & games daily to your email inbox.
Thank you for subscribing.
Something went wrong.
Summary
Reviewer
Review Date
Reviewed Item
Author Rating