[Game] War and Order
iphone games for free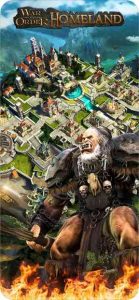 Game Description :
Orc Knights, Elf Sages, Dragon Riders, and other incredible warriors are waiting to fight for your empire! Raise a massive fantasy army for HUGE, spectacularly animated battles! Axes fly, dragons roar, and fireballs sizzle as you clash with enemies from all over the world in real-time. Call on your allies to rush to your aid on horse- and lizard-back. Repay them with your undying loyalty as you take castles, slay ogres, and stake new territory as a tribe! THIS is the game you won't be able to put it down as your screen lights up with constant new battles, chats, and upgrades!
You must battle to become more powerful than any king in history! But you can't do it alone. It's up to you and your allies to unite the fantasy races like never before as you conquer an endless world of empires and imagination.
Game Features :
HOMELAND
Recruit and train over 30 unique soldiers.
Construct and upgrade tons of buildings for new soldiers, buffs, and resources!
Research new technology FAST for cutting-edge tactics and weapons!
ALLIANCE
Friend, feud, and chat with players from around the world in real time.
Help each other build and expand your cities faster.
Rally together to take down enemies you could never face alone!
Share and expand territory to enjoy exclusive buildings and bonuses!
CONFRONTATION
Sweep the battlefield in huge real-time PvP matches!
Build your force to leviathan proportions!
Engulf other lords' castles as you expand your territory.
CONQUEST
Attack other player's castles to plunder their resources and climb power rankings!
Vanquish roaming monsters for their treasures, from man-eating Ogres to massive Dragons.
EMPIRE
Take over the Royal City to rule over the realm with unheard of power and privileges!
Explore unknown lands to find elite resources, ancient ruins, and more surprises!
Grow your alliance territory for richer rewards and resources!
Follow War and Order on Facebook:
www.facebook.com/WarandOrder1/
Subscription Renewal Details
Composite Boost&Premium Rewards
Duration: 7 days
Payment: Deductions will be made through your iTunes account at confirmation of purchase.
Renewal: Within 24 hours before your subscription ends, your iTunes account will automatically process your fee and renew your subscription for another cycle.
Cancel Subscription: If you wish to cancel your subscription, please go to your iTunes/Apple ID settings and manually cancel the automatic renewal more than 24 hours before the end of the subscription.
iTunes Account: Each account can only subscribe for one lord. If you have subscribed or wish to subscribe for another lord, please cancel the current subscription first or switch to another iTunes account.
Free Trial: Each iTunes account has a 3-day free trial period for the first subscription, which will automatically renew upon expiration. Payments will be made from the iTunes account.
Each Lord has only one free trial.
Cancel Subscription: If you wish to cancel your subscription, please go to your iTunes/Apple ID settings and manually cancel the automatic renewal more than 24 hours before the end of the free trial period.
Terms of Service: 52.34.224.237:8080/content/terms.html
Privacy agreement: www.camelgames.com/privacy_policy.htm
Additional Information :
Compatible with iPhone, iPad, and iPod touch.
Requires iOS 7.0 or later.
Size 148.8 MB
User Reviews :
This strategy game is not even top 100 on App Store but it's easily the most complex and advanced game out there. I have been addicted since I got it 4 months ago, anyone who hasn't tried this please get it, this is now the only game that I play. If you're looking for something to invest time in without spending a lot of money this is the game for you, I've never had one single complaint about this game, absolutely fantastic. Developers please don't change a thing, I've never been so proud of a company for holding on to its original goals without changing to gain more money from players, what an absolutely amazing company, I'm looking forward to what you add next, please keep the game as is overall, it's excellent and game mechanics are flawless. I apologize for the long rambling but I just love this game, thank you for reading my post. This game is not pay to win, I currently lead a rank 3 alliance at 40 million power and I haven't spent one penny in my new realm, it's all about learning how to play without spending all of your money, this company deserves to get compensated however I will begin spending when I'm able to. Thank you for making such an amazing game I would be heartbroken if I wasn't able to play it in the future, please don't change a thing.
Get War and Order from App Store
What is your opinion about War and Order
Bitcoin
Ethereum
MetaMask (ETH)
Xrp
Polkadot
Binance coin
Stellar
Dogecoin
Tron
Elrond
Donate Bitcoin to this address
Scan the QR code or copy the address below into your wallet to send some Bitcoin
Donate Ethereum to this address
Scan the QR code or copy the address below into your wallet to send some Ethereum
Donate Xrp to this address
Scan the QR code or copy the address below into your wallet to send some Xrp
Donate Polkadot to this address
Scan the QR code or copy the address below into your wallet to send some Polkadot
Donate Binance coin to this address
Scan the QR code or copy the address below into your wallet to send some Binance coin
Donate Stellar to this address
Scan the QR code or copy the address below into your wallet to send some Stellar
Donate Dogecoin to this address
Scan the QR code or copy the address below into your wallet to send some Dogecoin
Donate Tron to this address
Scan the QR code or copy the address below into your wallet to send some Tron
Donate Elrond to this address
Scan the QR code or copy the address below into your wallet to send some Elrond