(App) Foodie – Camera for lif‪e
 iphoneapps info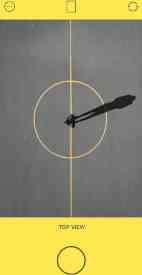 App Description :
Live life according to your tastes.
The Foodie camera app is the essential companion for the modern sociable foodie.
App Features :
Discover a fun and fast way to spice up the perfect memory of a perfect meal.
Over 30 professional quality live filters
Including the Yum, Positano, Tropical, Picnic, Sweet, Fresh, BBQ, Romantic, Crispy, and Chewy filter series.
Easy and accurate smart guide feature for taking top-down photos of food
Capture the perfect atmosphere and mood when taking food photos from above.
Season videos with tasteful live filters
Shoot vivid videos of your dining adventures.
Edit bland scenes into delectable masterpieces
Use diverse filters and detailed edits to give your photos everything from adorable charm to film camera warmth.
A timer for capturing the perfect moment
Perfect for taking selfies you'll cherish for life.
Mute option
Enable the option when taking selfies or photos of food in quiet restaurants.
Share photos to social networks
Easily share to Instagram, LINE, Facebook, KakaoTalk, WeChat, VSCO, Weibo, and more!
Affiliated apps
In addition to Foodie, try SODA and B612 and SNOW for your other camera needs.
Additional Information :
Amazinggggggg filter app
Okay I've seen a bunch of negative reviews but personally I've never had any issues with this filter application and it never force closes on my phone and does everything I want it to do and I don't find anything wrong with the updates,

I just wanted to write a review after the latest update because I LOVE IT Foodie is the best filter app I've ever had so please don't remove it ever because I've had previous less popular filter apps that have been removed from the App Store and I've been disappointed;

The filters are totally my aesthetic and also I love the recent innovations of the app and also the new categories so we don't have to scroll all the way to the filters at the end; however I just hope this app doesn't become an overloaded app for selfies, a little bit is OK but it's supposed to be an app that's directed at like, food and scenery ("Foodie") I think including too many selfie options would bother me but a bunch of filters is fine, I don't want it to overload too much, basically just don't make it into another basic selfie/ makeup cam so I hope this review is read and thank you!!
Need EXIF Retain
Foodie is my favorite filter App, when the app was released, I used it in the very first time. In the old versions, when I use the app to edit the pictures I took, it will retain the exif of the photo. However, foodie modified this function, now the photos will no longer retain exif after being edited by foodie. This really troubles me a lot, because I want to rely on exif to keep my albums organized. Could you let users choose whether they need to keep exif? I really want this feature back.
Good app, but….
I cannot say this is a bad app because it's a very good filter photo app. However it does take a lot of time when you're new to the app to play with the filters before you finally find some your okay with. Once you FINALLY do find the filters you prefer for certain food subjects and favorite them, or any subjects for that matter, it's super simple to snap shots quickly.

However my reason for 2 stars is that it's been well over a year now and there still has been NO FIX for the "Location Info" bug. Every photo ever taken always shows the location in some mountain side in southwest China. Literally a mountainside. Seriously….why can't it get that right? The purpose of me taking food pics for me is to always be able go back and recall the location, otherwise why bother. That's my opinion.

All in all though, great app with tons of filters that have relevant thumbnails to choose one semi-quickly on the fly. I will change rating once location bug is resolved.
Used to be the best
I've been using this app for food pictures for well over a year (maybe 2) and it used to be the best. Because it worked well I even used it for non-food pictures. Recently though the quality of facial pics is extremely disappointing. Additionally, the filters seem to mess the pictures up more. I used to be able to take a pic using one filter and change the filter later without it impacting quality, its simply not the case anymore. Also recently sound does not record in video mode. I've checked the settings and can't find anything, nor did I make any changes so I don't know what's up but I really wish the app worked the way it did in the beginning. It's simply not reliable like it once was. I no longer recommend it to people.
Get Foodie from App Store
What is your opinion about Foodie
Bitcoin
Ethereum
MetaMask (ETH)
Xrp
Polkadot
Binance coin
Stellar
Dogecoin
Tron
Elrond
Donate Bitcoin to this address
Scan the QR code or copy the address below into your wallet to send some Bitcoin
Donate Ethereum to this address
Scan the QR code or copy the address below into your wallet to send some Ethereum
Donate Xrp to this address
Scan the QR code or copy the address below into your wallet to send some Xrp
Donate Polkadot to this address
Scan the QR code or copy the address below into your wallet to send some Polkadot
Donate Binance coin to this address
Scan the QR code or copy the address below into your wallet to send some Binance coin
Donate Stellar to this address
Scan the QR code or copy the address below into your wallet to send some Stellar
Donate Dogecoin to this address
Scan the QR code or copy the address below into your wallet to send some Dogecoin
Donate Tron to this address
Scan the QR code or copy the address below into your wallet to send some Tron
Donate Elrond to this address
Scan the QR code or copy the address below into your wallet to send some Elrond