(Game) Cartoon Wars
free games for iphone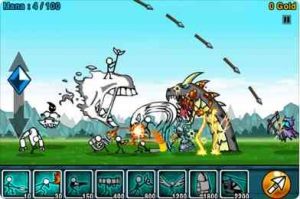 Game Description :
Cartoon Wars is an arcade war game which combines the formulas of defense and real-time strategy games.
SCENARIO
Two tribes existed in the Cartoon World; the vicious, Color Tribe and the slaves, Black and White Cartoon Tribe.
For generations, the Color Tribe were treated as properties and forced to work under a slavery system.
Fortunately…good existed amongst the evil Black and White Cartoon Tribe.
They gathered and began a revolt to free the slaves.
The inevitable war begins…become the hero of the Black and White Cartoon and set them free.
Game Features :
ALL OUT ACTION STICK FIGURE GAME
Produce your unit, aim your bow and destroy the enemy's castle
UPGRADE AND CUSTOMIZE YOUR TROOPS
30 types of units and 16 different upgrades for units, castle, bow and productivity items
COMPETE AGAINST MILITANTS FROM AROUND THE WORLD
Keep track of your ranking and see how you compare against the rest of world
STRATEGIZE PERFECTLY COORDINATED ATTACKS
Determine the dispatchment of your troops and help them to become veteran units
UNLIMITED NUMBER OF STAGES
Play through an infinite number of stages slaughtering endless number of enemies
OTHER GAMEVIL GAMES
Air Penguin
Baseball Superstars® 2010 HD
Baseball Superstars® II
Boom It Up!
Chalk n' Talk
HYBRID: Eternal Whisper
HYBRID 2: Saga of Nostalgia
ILLUSIA
KAMI RETRO
KAMI RETRO HD
NOM: Billion Year Timequest
Soccer Superstars® 2011 Pro
VANQUISH: The Oath of Brothers
ZENONIA® 3
NEWS & EVENTS
Website www.gamevil.com
Facebook facebook.com/gamevil
Twittertwitter.com/gamevil
YouTube youtube.com/gamevil
Additional Information :
Compatible with iPhone, iPad, and iPod touch.
Requires iOS 4.3 or later.
Size 13.2 MB
User Reviews :
This game is fun but when I updated me phone it said developer has to update game. I was made because I was on stage 160 and then it said the game is outdated when I tried to play it. But the game was fun and I had to quit it because it kicked me out and said the developer has to make more updates. I hope this game gets more updates because it's boring now but I still can't play the game because I have a iPhone 6s. I played CartoonWars for a week and got to level 156 and then the game needs more update. So I left the game because it was not meant for my phone again. But there is this new game called cartoon wars 3 and it does not look that fun so I quit playing all the cartoon wars so thx for reading this and I hope they update the old cartoon wars and put more weapons and battle against your friends while your bored or want something to play. I hope game get better some day
This was most likely one of my first games on the iPhone, and I consider it to be one of the classics, this game is a game to have on your phone whether you just purchased your phone or have had it for many years. This game has provided me constant entertainment. Despite this I do believe there still should be updates to this game like online modes as well as new and advanced upgrades to make the game longer. Honestly I love this game and I recommend it to many people.
Get Cartoon Wars from App Store
What is your opinion about Cartoon Wars
Get more free apps & games daily
Subscribe to our mailing list and get free apps & games daily to your email inbox.
Thank you for subscribing.
Something went wrong.
Summary
Reviewer
Review Date
Reviewed Item
Author Rating