[Game] Brutal Age – Horde Invasion
free games for iphone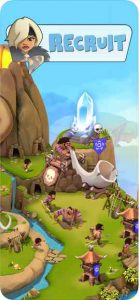 Game Description :
Become a legendary Warchief!
Forge your tribe with cities and outposts on the map and push the border against global competitors. Challenges await, prepare your warriors for a big hunt!
Come to experience the most original PVE and PVP battle in this new free MMO-SLG. Ally with your friends, and be brutal in the prehistoric party!
Game Features :
Build & Expand your territory and Burn your rival's land.
Zoom the map smoothly, and see every detail on the map.
Choose your Horde and fight in wars with global players!
Train 15+ unique barbarian clan troops with specialties.
Terraform your land into mountain, lake, forest or swamp.
Hunt Mammoth, Sabertooth, Treant and all the Ancient Monsters
Conquer the Wonder to become the Chieftain of all chiefs!
Join our community and let us hear from you:
Facebook – www.facebook.com/BrutalAge/
Website – www.tap4fun.com
Additional Information :
Compatible with iPhone, iPad, and iPod touch.
Requires iOS 8.0 or later.
Size 183.8 MB
User Reviews :
I can't deny that it's a fun game and the partner system can be quite engaging. I played a fair amount and got to stronghold lvl 21 and a partner to 6 stars with multiple 5 star partners. Overall the game has a lot of potential to be great but unfortunately like most great things people ruin it. It gets pretty old pretty quickly when multiple people rally against you, you're constantly having to play catch up and unfortunately in this game that means spending a lot of money. The way this game is set up, if you want to be anywhere near competitive you have to pour in a significant amount of money there's just no way around it. In a lot of ways it's brilliant and I give the creators of this game a lot of props for their savvy business strategy, but in the end it's just not worth it. It was fun while it lasted but this game will no longer take my money and I suggest that if you haven't started and are thinking of giving this game a try that you really think otherwise. I give it 2 stars because it is fun but it is a complete waste of time and money. But hey you could always play it for free and die a lot without getting very far, there is always that option. I might consider playing it again if it wasn't so expensive to play right, you could just feel the creators hands rummaging in your pockets and I am no longer a sucker.

Just like all the recent comments have already said, this game was great in the beginning but as the years progressed, the developers kept adding layers to it that requires the players to pay if they want to stay competitive. There is no way around it. If you want to play this game, you will have to continually put a lot of money into it. Almost every update they add another layer to the game that requires you to buy more packs to continue your progress with the game. If you don't the wealthy players in the game will eat you alive and all that time and money you previously put in the game will become useless. It's one thing to continually evolve a game but that's not what these developers are doing. It's a business trick to make sure you are continually paying them.

On top of this, it's a Chinese created game. With this, they give an unfair advantage to their country. The packs that you are forced to buy if you want to be competitive in the game are half priced if you are in china. So it has quickly become a Chinese dominated game because it's much cheaper for them to advance in the game. So be aware of that. If your server comes up against a Chinese server, your sever will be dominated from all the Chinese power.

Just like many other comments have already said… If you are not willing to continually pay hundreds and eventually thousands of dollars to one game, then this game is not for you.
Get Brutal Age from App Store
What is your opinion about Brutal Age
Get more free apps & games daily
Subscribe to our mailing list and get free apps & games daily to your email inbox.
Thank you for subscribing.
Something went wrong.
Summary
Reviewer
Review Date
Reviewed Item
Author Rating