(Game) Billionaire Capitalist Tycoon
iphone games for free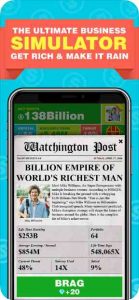 Game Description :
Welcome to the world of BILLIONAIRE, where you can make money in the most awesome way possible! Start raking in billions of dollars at a time and build amazing businesses!
BILLIONAIRE is the quickest way to make sweet, virtual cash! Start your business adventure by building one business at a time before you go ahead to expand your business empire, become stinking rich, and beat the world's wealthiest investors in this epic tap game!
Can you create a business strategy to keep your threat level low and evade the authorities? Find out as you make millions and billions of dollars in BILLIONAIRE!
Game Features :
It's EASY
 No complicated stuff – Just pick your favorite business and start making money right away.
 Manage your business in the most creative way possible to become rich.
 Keep tap tap and tapping to make money faster.
 Speed up the building process by tapping to decrease building time!
It's enRICHing
 Start your own capitalist venture in a megalopolis where anything's possible.
 Invest in your business with various power ups to save up and grow your fortune!
 Create a monopoly by buying out all sorts of businesses and protect your investments.
It's BEAUTIFUL
 Marvel at original building designs and gorgeous art as you expand your business empire.
 Build a business empire and buy various buildings, from Pet Shops to Weapon Factories, build whatever businesses you want!
 Upgrade your businesses to collect more money faster!
It's CHALLENGING
 Manage your threat level against unwanted attention!
 If you build too many risky businesses, the police will try to take you down!
 Compete against friends, celebrities, top investors, mythical beasts, fairy tale princesses and super heroes to be the number ONE billionaire!
 Prove to everyone that you have what it takes to be the biggest business tycoon!
Don't waste any more time – your friends are on their way to becoming billionaires! Become a business capitalist and start building your business empire for free in BILLIONAIRE!
Download BILLIONAIRE today to start making loads of virtual money!
Additional Information :
Compatible with iPhone, iPad, and iPod touch.
Requires iOS 9.0 or later.
Size 135.5 MB
User Reviews :
I personally think that this game is great, but has it's flaws as well. It's a great time wasting game, but also a great game when you just want to play something for hours on end. Sure, you have to wait for money to rack up and sure, you need to either wait hours or tap until your fingers are numb to finish buildings, but it still is great. I think it is satisfying to watch yourself to overcome other millionaires and billionaires in-game and to watch yourself be able to obtain high-end buildings that, in the beginning, you thought you would never reach. I think one of the flaws is your net worth can go down when you sell a building. Another flaw is how early you unlock the next tier. When I was around the $400 million point, I had realized that there were two whole tiers that I hadn't even touched. The game is great, but not the best and has glitches sometimes like when I scroll down really fast on the business list, at a certain point of going down, the game crashes. I am using the latest update as well, so I don't know why that happens. I still think the game is amazing and deserves four stars because of the satisfaction you get out of making money. Also, when you go in the future to cheat and come back, there isn't a harsh enough punishment. Two of my friends do it and they say all they have to do is watch like ten videos and that's it. I don't cheat, but it still bothers me that they can get ahead of anyone they want without a bad punishment.
Get Billionaire Capitalist Tycoon from App Store
What is your opinion about Billionaire Capitalist Tycoon
Get more free apps & games daily
Subscribe to our mailing list and get free apps & games daily to your email inbox.
Thank you for subscribing.
Something went wrong.
Summary
Reviewer
Review Date
Reviewed Item
Billionaire Capitalist Tycoon
Author Rating