(Game) Battle Legion – Mass Battler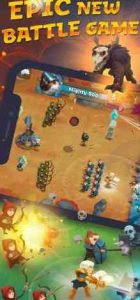 Game Description :
Massive 100v100 Unit Battles – Build an army and watch it fight idle-style – Plenty of units and skins. Endless fun! Battle Legion puts you in shoes of an aspiring commander, and as you rank up through unforgettable victories, so does your legion.
Game Features :
Design and tweak your army from dozens of unique units, ranging from classic sword and shield fighters to arcane wizardry, dark age machinery, and mythical creatures. Equip your troops with Powers that match your masterplan, sit back, and watch how they fight pitted enemy legions to the bitter end.
BITESIZED COMBAT: Battles last 20 seconds or less.
LAID BACK GAMING: You plan the army layout, and they do the fighting.
AUTO-PLAY: Your legion keeps fighting as you go about your daily business.
COSMETICS: Choose what your units, battlefield, and banner looks like.
PLAYER BATTLES: Face other players in the battlefield and learn from their strategies.
POWER UP: Boost your units with dynamic seasonal Powers.
REFRESHING SEASONS: New content introduced in bi-weekly Seasons, with fourth Season marking the dawn of a new Era.
Battle Legion has an active Discord community of over 10K members where players discuss winning strategies, tips and development of the game — with devs frequently participating in the chat. Weekly streams and community events hosted on Youtube!
Discord: discord.gg/udksY6y
Youtube: www.youtube.com/c/BattleLegion
Privacy Policy: traplightgames.com/privacy-notice/
Terms of Service: traplightgames.com/terms-of-service/
Additional Information :
Compatible with iPhone, iPad and iPod touch.
Requires iOS 9.0 or later.
Size 237 MB
User Reviews :
the best mass battle game in the market!! easy to make your army, and very cool skins. Rank 11 is brutal battles against other players Release more ranks, I want more units!!
I liked the game but the P2W aspect is way too much for my wallet. If you have a good team and the winrate is good, you'll start facing so much better armies that you could not compete in a long time unless spending several hundred dollars only to face the same issue an hour or so later. I like the micro transaction consept but sometimes it's just too much and ruins the game.
Balance and matchmaking are too unfair. It's hard to keep win rate over 50% which is disappointment as I play to enjoy, not too loose. So far the only way not to loose is buy upgrades. No strategy needed just basic stat math
This is a fun and engaging game that allows deep tactical and strategic thinking. How to use your unit budget, what synergies do you have, what counters do you need and how to place your troops in the field. Battles have the right duration too. With all that said, Meta game currently falls short. One unit in particular, the Catapult has unlimited range (from zero to max) and has no counters whatsoever. The result is when you hit top-1000 and below most players tend to turtle in a corner around their catapult. This isn't particularly fun gameplay- in order to avoid that catapults need to have a dead zone around them where they cannot attack, so turtling becomes less commonplace.
Get Battle Legion from App Store
What is your opinion about Battle Legion
Get more free apps & games daily
Subscribe to our mailing list and get free apps & games daily to your email inbox.
Thank you for subscribing.
Something went wrong.