(App) AnyList – Grocery Shopping List
 iphone apps for free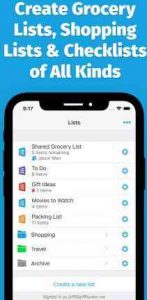 App Description :
AnyList is the best way to create grocery shopping lists and collect and organize your recipes. Easily share a list with your spouse or roommates, for free. Changes show up instantly on everyone's iPhone or iPad.
AnyList has been featured in the App Store as "New and Noteworthy", a "Great Free App", and one of "10 Essential" productivity apps.
AnyList makes shared grocery lists simple and intuitive. —Lifehacker
I don't recommend going to the grocery store without it. —Today's iPhone
App Features :
LISTS
Quickly add and cross off items. Autocomplete suggests common items as you type.
Add items by voice with Siri and our Reminders Import feature.
Add notes to list items to indicate quantity, brand, coupons, etc.
Create multiple lists to organize items by store or occasion.
Grocery items are automatically separated into categories.
Create your own custom categories.
Reorder categories to match the layout of your local store.
Save items as favorites, then browse your favorites and add them to your current shopping list.
View recent items from your past shopping trips, then add them back to your current list.
Easily share lists. Just enter the email address of your spouse or roommate and your list is shared. List changes instantly show up on everyone's iOS device.
Lists can be shared with as many people as you'd like.
Everyone creates their own AnyList account, so you can share some lists, while keeping others private.
Optional push notifications let you know when a shared list has been modified.
Optionally badge the app icon with the number of items remaining on your lists.
Choose a color for each list to help distinguish lists.
Move or copy items between lists.
Print lists, or send via email or SMS.
RECIPES
Enter your own recipes, or copy & paste them from another source.
Add ingredients from your recipes to your shopping lists with a single tap.
Organize recipes into collections by type or occasion.
Search your recipes by name or ingredients.
Print recipes, or send via email.
Share your recipe collection with a trusted partner. Any changes to recipes will be instantly visible to both of you.
SYNC / BACKUP
Sync all of your lists and recipes across all of your devices. Sign in to your AnyList account on your iPhone and iPad, and any change made on one will instantly sync to the other.
All of your lists and recipes are securely backed up in the cloud as part of your AnyList account. If you get a new device, just sign in to your AnyList account to retrieve your data.
ANYLIST COMPLETE (PREMIUM FEATURES)
All of the features above are available for free. We also offer an optional in-app purchase called AnyList Complete that unlocks the full power of the app with these great features:
AnyList for Mac & AnyList for the Web. Use AnyList on your Mac or PC.
AnyList for Apple Watch. Quickly access your lists on your wrist.
Recipe Web Import. Save recipes you find on the web to AnyList
Meal Planning Calendar. Plan your meals and shopping for the coming week.
List Item Photos. Add a photo to list items. For shared lists, photos can be viewed by everyone sharing the list.
Recipe Photos. Add a photo to your recipes, instead of being limited to icons.
Recipe Scaling. Quickly scale ingredient quantities up or down.
Item Prices. Stick to your budget by adding prices to items.
Stores & Filters. Assign items to stores and quickly filter your list by store.
List Themes. Apply themes to your lists, with custom fonts, textures, and color.
List Folders. Create folders to organize lists and reduce clutter.
Location-Based Reminders. Get reminders when near a store or other location.
List Passcode Lock. Protect your lists from casual snooping.
CONTACT US
We'd love to hear from you: team[at]anylistapp.com
AnyList includes icons from icons8.com.
Additional Information :
Compatible with iPhone, iPad, and iPod touch.
Requires iOS 12.0 and watchOS 3.0 or later.
Size 39.6 MB
User Review :
This is a terrific app. Although the free version is useful and worth trying, I liked it so much and found it so helpful that I splurged on the yearly plan. I'm not thrilled I have to pay yearly and would prefer to just pay a one time fee that is higher, but if it continues to be as helpful as it is and as reliable and glitch free as it has been so far, I will likely continue getting. The list maker is fine and similar to others. But I also like that I can share simple lists with my family even with the free version. What I really love is the recipe section. I have been uploading many of my favorite recipes which can be easily categorized. Then I just as easily send them to the meal planner section and quickly and easily add items from the recipe to my grocery list. It is quickly becoming such an integral part of my day that my only worry is the developers will tire of it and then I will be lost. Hopefully that won't happen for a long time anyway. I would definitely recommend. Try the free version, and don't be afraid of the upgrade. FYI: As of now they said they will not automatically upgrade. They will send out a reminder email so you can decide to upgrade or not. And if you decide not to, whatever recipes you have already uploaded will remain on your app even if you go back to the free version. Maybe that will help you decide if you are commitment phobic. It's a really nice, user friendly app.
Get AnyList from App Store
What is your opinion about AnyList
Get more free apps & games daily
Subscribe to our mailing list and get free apps & games daily to your email inbox.
Thank you for subscribing.
Something went wrong.