Wordle game by Lion Studios Plus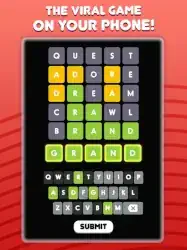 Game Description :
New for 2022! Wordle! Together. Choose a word and challenge your friends to see if they can guess it in six tries or less. Take turns solving each other's words and earn points for solving it in the least amount of guesses. Enter a random match or challenge your friends to the ultimate, viral, battle of wits! It's an all new way to Wordle!
Are you a word games master? Whether you are a fan of classic crossword puzzles or are just hopping on viral new word game trends, Wordle! will get you thinking. Take on daily brain teasers and train your mind with our fun word games.
With several unique game modes, Wordle! will challenge your mind and spelling skills. Want a fun and viral challenge? Try Daily Puzzle mode, where you'll have 6 guesses to solve the word of the day. Each time you get a letter correct, the tile will turn yellow if it is in the word or green if it is in the right spot. Can you solve it with one guess? Once you've figured it out, share your score with friends. It's just like the viral word game, but on your phone!
Can't get enough Wordle!? Play Unlimited Wordle! in Classic mode, and play as long as you want. No need to wait a whole day for the next puzzle. Getting stuck? Not to worry! Use a hint to get out of a sticky situation and unlock the solution!
Or take on a timed challenge in Word Fever mode, where you will test your speed and spelling skills. Spell the word before the timer runs out, each time you find the word, the timer will reset and you will have to think fast and solve the next word. How far can you go?
Want to test your mind for the duration? In Secret Word mode you will have 3 chances to guess each word with the letters and clue provided. Push your word association skills to the limit, and guess each word before moving on to the next. Guess wisely, 3 incorrect guesses and you will have to start over!
Expand your adult mind and make your brain stronger with our free word games! It is like taking your brain to the gym!
Game Features :
1. Fun Word Puzzles
Play the viral word game, or try one of our fun and creative game modes for a unique challenge like you've never seen before
2. Unlimited Wordle!
Solve as many Wordle! puzzles as you'd like In Classic mode. No need to wait a whole day for the next puzzle!
3. Share Your Results
Try Daily Puzzle mode, where you can solve the Wordle! of the day, then share your results and compare stats with friends
4. Special Boosters
Having trouble? Unlock special boosters like the Dart, which will remove letters or Hint to reveal a correct letter, or use a Skip to pass a level entirely or try again if you lose.
5. Play at Your Own Pace:
Whether you enjoy the pressure of a timed challenge, or want to try to go the duration in Secret Word mode. Wordle! Has several games to play at your desired pace
6. Flex Your Brain Muscles
Ready for a tougher challenge? Test your skills in more challenging levels with longer words! Will you be the Wordle! Champion?
Visit lionstudios.cc/contact-us/ if have any feedback, need help on beating a level or have any awesome ideas you would like to see in the game!
From the Studio that brought you Mr. Bullet, Happy Glass, Ink Inc and Love Balls!
Follow us to get news and updates on our other Award Winning titles;
lionstudios.cc/
Facebook.com/LionStudios.cc
Instagram.com/LionStudioscc
Twitter.com/LionStudiosCC
Youtube.com/c/LionStudiosCC
Additional Information :
Size 215.8 MB
Requires iOS 12.0 or later.
User Reviews :
To many for
This game is very fun for people who want to test and challenge your brain with word games. I would play any game with that description. Except you can't find many of those games without ads. This game was great at first. My friend and I downloaded it and we challenged each other on who could guess the word first. It was great until the ads came. I would be guessing the word when a 30 second ad would just pop up and then let me back in the game just so the game could let me watch another ad 2 minutes later. This game is very fun except when you have to deal with the consecutive ads over and over again. I would play for 30 minutes and have to watch 15 ads. All I think is that you just need to have a game without ads for once(thank you Supercell). It is a good game if you don't get too aggravated by ads every time you guess a word. Thanks for reading
I like the game a lot but…
I wanted a word challenge and it is an excellent word challenge even if you have a large vocabulary. The ads are incredibly frequent. I refuse to pay every month to have them disappear. I can remember when you actually bought and owned games paying only for updates with new features. I have no inclination to win every tournament and that's good because if the game screen freezes (probably due to a bad ad download) you lose your progress. Rural areas with unreliable access, dead spots, etc. you are warned. I have run into an unsolvable puzzle; yes, I screen-saved, searched the internet, searched alternative language possibilities, and no, I never found it. I contacted the company and suggested they had a glitch but the responses were unsatisfactory. So, if you hit that word, used up your clues, checked all sources, you will have to use the "skip" feature. I used that feature once out of curiosity but that defeats my reason for playing so I am saving it for the next non-existent word. I play less than I used to play and am more easily irritated with the game.
Developer Response,
Thank you very much for your review concerning our game. We are always collecting user feedback and emails that we can apply with updates.
Get Wordle from App Store
What is your opinion about Wordle
Bitcoin
Ethereum
MetaMask (ETH)
Xrp
Polkadot
Binance coin
Stellar
Dogecoin
Tron
Elrond
Donate Bitcoin to this address
Scan the QR code or copy the address below into your wallet to send some Bitcoin
Donate Ethereum to this address
Scan the QR code or copy the address below into your wallet to send some Ethereum
Donate Xrp to this address
Scan the QR code or copy the address below into your wallet to send some Xrp
Donate Polkadot to this address
Scan the QR code or copy the address below into your wallet to send some Polkadot
Donate Binance coin to this address
Scan the QR code or copy the address below into your wallet to send some Binance coin
Donate Stellar to this address
Scan the QR code or copy the address below into your wallet to send some Stellar
Donate Dogecoin to this address
Scan the QR code or copy the address below into your wallet to send some Dogecoin
Donate Tron to this address
Scan the QR code or copy the address below into your wallet to send some Tron
Donate Elrond to this address
Scan the QR code or copy the address below into your wallet to send some Elrond