Western Sniper – Wild West FPS game by AI Games FZ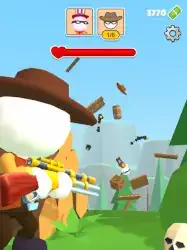 Game Description :
Do you like atmospheric Western-style gun shooter games? Like shootouts, chases, wars with criminal gangs and their dangerous bosses? Then our survival sniper action game is for you. Take guns and fight for justice!
Slay all ragdoll bandits in an epic Wild West shooting game! Try Western Sniper to feel like a cowboy fighting for justice on this godforsaken land. Explore various locations & be ready to shoot down the invaders!
Shameless gangs of thugs have decided to capture new lands and get away with it. But there is a defender in the area – a tough sniper – someone, who can declare war to the troublemakers, fight back, and restore peace and order in the region. It's all about you!
Feel like a brave cowboy, a sharp sniper, fighting for justice. The clash is going to be tough! Will you be able to survive against dozens, even hundreds, of enemies?
Your gun is your best friend in this grave battle. Aim, shoot, and repeat – here are three simple but vital rules on the way to success in this dangerous adventure! You are to stay face to face with deadly danger and you have to survive by all means. Shoot back from cover with either one or two hands, using different weapons – rifles, pistols – and defeat your enemies in exciting duels.
This sniper western game will definitely captivate you with the spirit of the Wild West and let you feel not just like a brave cowboy and a gunslinger, but like a true hero – one, who is able to clear the local land from the gangs of robbers and protect civilians. An incredible survival action with chases and gunfights is waiting for you. Be the best sniper to the very end, find a target and destroy all the stickman bandits to stay alive and save the region.
Game Features :
One of the most action-packed FPS shooting games
Genuine atmosphere of the Wild West
Gun and revolver shooting modes: aim and see the ragdoll bandits in the scope
Various challenging locations. Try to shoot them down in a train or boat. Saloons and old towns are too easy!
Game store with lots of rifles to choose from
Genuine music & sound effects to recreate the western atmosphere
Test your marksmanship, gunslinger! Start playing our exciting online or offline sniper warfare game and get the most out of it by improving your results.
Let's go! It's time to take out all the ragdolls in the area. A dangerous battle is waiting for you.
Shoot down all the wanted bandits in this FPS game, bang bang!
COMPANY COMMUNITY:
Facebook: www.facebook.com/AzurGamesOfficial
Instagram: www.instagram.com/azur_games
YouTube: www.youtube.com/AzurInteractiveGames
Additional Information :
Size 263.6 MB
Requires iOS 11.0 or later.
User Reviews :
My worst or great idea's
So I have a couple ideas for you, should add buildings to western sniper that have the enemy's and the escape route is a elevator or a room in the building. My other idea is that you are in a western roadblock the escape route is a car then my third idea is you can blow up the vehicles so the bosses don't get away from you after that add different characters so it adds more to the game and that's my review hope you enjoyed it.
Developer Response,
Hey! We will consider your suggestion the next time we'll work on updates. Thank you for finding out time and writing us. Stay tuned!
No more ADS PLEASE
WOW GUYS!!! I get you have to pay bills. But a monster ad after every ten second round is the worst of any game I have ever played. This could have been a great game. I would rather do in app purchases or 5 bucks to remove adds. Don't you think having in app purchases and pay for no adds is better than this irritating stuff. I guarantee you lose a ton of players everyday over this ad stuff. You are losing me and that's a shame. Last year I spent over 35k playing a couple games with in app purchases. And I've been looking for something new. I am disabled and enjoy good games. So lose a spender like me because you don't offer a way to rid of this horrible ad content. Who decided to continually throw this at you is not smart. Look at the games that make money.
Developer Response,
Thank you for high rating! We greatly appreciate your feedback! Stay tuned for the updates!
Super fun game with one problem
Been playing this game a lot, but over the last two weeks there is a minor glitch. After each round of playing, instead of getting more money, they take it away from me! My money was in the billions and one day it just had a negative sign in front of it. So if I claim the reward, it reduces my cash. I can no longer buy upgrades because it says I have -1,000,000,000. Very weird. Would be nice if they fixed it.
Developer Response,
Hey! Thank you for your feedback! We're doing our best to make the game even better. So your feedback is really important to us. Stay tuned for the updates!
Get Western Sniper from App Store
What is your opinion about Western Sniper
Bitcoin
Ethereum
MetaMask (ETH)
Xrp
Polkadot
Binance coin
Stellar
Dogecoin
Tron
Elrond
Donate Bitcoin to this address
Scan the QR code or copy the address below into your wallet to send some Bitcoin
Donate Ethereum to this address
Scan the QR code or copy the address below into your wallet to send some Ethereum
Donate Xrp to this address
Scan the QR code or copy the address below into your wallet to send some Xrp
Donate Polkadot to this address
Scan the QR code or copy the address below into your wallet to send some Polkadot
Donate Binance coin to this address
Scan the QR code or copy the address below into your wallet to send some Binance coin
Donate Stellar to this address
Scan the QR code or copy the address below into your wallet to send some Stellar
Donate Dogecoin to this address
Scan the QR code or copy the address below into your wallet to send some Dogecoin
Donate Tron to this address
Scan the QR code or copy the address below into your wallet to send some Tron
Donate Elrond to this address
Scan the QR code or copy the address below into your wallet to send some Elrond