Water Sort Puzzle – Get Color game by Zephyrmobile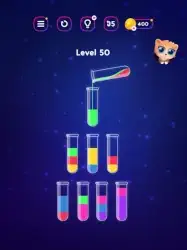 Game Description :
Need personal coloring therapy? Get Color – Water Sort Puzzle is a great stress and anxiety relief.
Thousands of colorful and inspiring color puzzle, designed to relax, expel negative thoughts and take away all the worries. Download Get Color – Water Sort Puzzle and get a personal relaxing colores puzzle with a broad range of levels. Find the most interesting rainbow puzzles and sort them any time, whenever you feel down. Get Color – Water Sort Puzzle is always here to help
Game Features :
500+ PUZZLES TO SORT. Sort as much as you can!
FREE PUZZLES AND NO SUBSCRIPTION & HIDDEN FEES! Isn't that amazing?
A HUGE VARIETY OF AMAZING LEVELS
HOW TO PLAY
Sort colores across flasks.
Use 1 additional flask to if you need it.
Done!
Share with friends on Facebook and Instagram.
Relieve stress with Get Color – Water Sort Puzzle!
Your feedbacks nourish our growth and we greatly appreciate it. Got any questions or ideas – drop us a line to support[at]zephyrmobile.com
Terms of Use: zephyrmobile.com/terms/
Privacy Policy: zephyrmobile.com/privacy/
Additional Information :
Age Rating 4+
Size 329.3 MB
Requires iOS 13.0 or later.
User Reviews :
Good game even ads are bearable
Ok first I want to say I have not paid to remove ads. 20 is dollars to remove ads on a mobile game is excessive. 10 or 12 I would pay. But 20 bucks?

But the ads aren't like some games where every 15 seconds there is an ad. The ads are at least bearable. I haven't paid to remove ads because I'm concerned I'll run out of levels and then Paid money for nothing. But the game is enjoying without being too challenging or too easy. I do wish I could select what bottle or background I could but though.
Developer Response,
Hello! We are sorry for the inconvenience. We want to give you better user experience and will improve ads shown in the game. However, you can change bottle shape and background in the Shop. We also want to inform you that Get Color team is preparing many surprises for our players! Stay tuned, within the next version will see the updated Shop
Great game!
I paid to get rid of ads and it was MUCH more enjoyable… until they put this stupid cat saying "keep playing so you don't lose your progress" in between EVERY LEVEL. It is SUPER ANNOYING and takes like 15 seconds of just looking at the dumb thing and tapping repeatedly to try get it to go away… which doesn't work. Just gotta wait. And I also don't like the drop down telling me how many times I've used the extra bottle or undo button…. NOBODY CARES. Just let me play the game I PAID FOR. Stop with all the unnecessary in between garbage! Otherwise, it's a very fun and addicting game. Update: They've lost a star because, As you can see from my review above, I paid for NO ADS. They now have ads when you hit the restart button which were not there before. I WANT A REFUND IF THOSE ADS ARE GOING TO STAY THERE BECAUSE LIKE I SAID, I PAID FOR NO ADS
Developer Response,
Thank you! Your feedback is much appreciated
Have patience
This game is super enjoyable and satisfying. It requires some thought and strategy but it's not so difficult that you cannot pass levels. It's right up my alley for games.

However, my biggest complaint is the ads. They are literally after every single level. Some of them have a way to close after a few seconds, some do not so you're sat there waiting. I have spent more time than I'd prefer waiting on ads instead of playing, which already has me considering deleting. And $20 to remove ads is absurd and I won't do it purely on principle.

If you're a patient person you probably won't be too bothered, but I find it excessive. Overall, I'll keep playing for now but don't see myself keeping it very long.
Developer Response,
Hello! Thanks for reaching out. We are sorry for the Ads.

We totally understand how annoying ads may be. Ads help us to create lots of amazing content so that you and thousands of users can enjoy it for free.

We always listen to our community and we'll be reviewing the number of ads shown on the app in future app versions.

If you have any questions or suggestions, don't hesitate to write to us.
Ads required to advance
I love the calming aspect of this game. It's free on the App Store with option to purchase ad free playing. After a few levels it's apparent you must watch ads to be able to advance. They tailor the levels to require you to need extra space that's only available after 30-60 seconds of ads.

The game play is simple, get all the colors separate into each glass. It's pretty fun and quite calming until you get ads after every round and also needing ads during the levels. For me personally it's a playable until you get frustrated then delete and move on, unless you have the means to purchase ad free. If that were the case for me I could see longevity of the game.
Developer Response,
Hello! Thanks for your support and we are sorry for the Ads. We will improve it in the future and we will try to keep the ads from interfering. Get Color was made for winding down and relaxation. We're happy you like it. Please let us know if you have any questions.
Get Water Sort Puzzle from App Store
What is your opinion about Water Sort Puzzle
Bitcoin
Ethereum
MetaMask (ETH)
Xrp
Polkadot
Binance coin
Stellar
Dogecoin
Tron
Elrond
Donate Bitcoin to this address
Scan the QR code or copy the address below into your wallet to send some Bitcoin
Donate Ethereum to this address
Scan the QR code or copy the address below into your wallet to send some Ethereum
Donate Xrp to this address
Scan the QR code or copy the address below into your wallet to send some Xrp
Donate Polkadot to this address
Scan the QR code or copy the address below into your wallet to send some Polkadot
Donate Binance coin to this address
Scan the QR code or copy the address below into your wallet to send some Binance coin
Donate Stellar to this address
Scan the QR code or copy the address below into your wallet to send some Stellar
Donate Dogecoin to this address
Scan the QR code or copy the address below into your wallet to send some Dogecoin
Donate Tron to this address
Scan the QR code or copy the address below into your wallet to send some Tron
Donate Elrond to this address
Scan the QR code or copy the address below into your wallet to send some Elrond