(Game) War Dragons
ipad games download free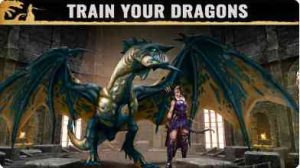 Game Description :
War Dragons is a visually stunning 3D real-time strategy game that puts you in control of the ultimate dragon army. Join a guild, help your teammates launch attacks, and hold off enemy raids in true real-time fashion.
Game Features :
BREED LEGENDARY DRAGONS
War Dragons has more than one hundred unique dragons possessing different attack styles, spell abilities, and classes. Breed your dragons to create an even more powerful army. See if you can unlock the furious behemoth Khrysos and dominate the battlefield!
COMBINE FORCES WITH FRIENDS
Start or join a guild to combine forces with other dragon lords. With true synchronous multiplayer, you can chat with teammates in real time and coordinate attack and defense strategies against other guilds.
BUILD IMPENETRABLE FORTRESSES
Strategize and build your island fortress with the optimal combination of lightning, ballista, and archer towers to best protect your base against enemy attack.
ASCEND TO THE THRONE
Participate in a wide variety of weekly events with the chance to win rewards, such as rare dragon eggs and treasure hunts, for you and your guild. Claw your way up the leaderboards to assert yourself as one of the world's top dragon lords.
CONQUER THE WORLD
Claim surrounding territory by forging alliances with other Dragon Lords, riding your dragons into battle, and obliterating the enemy. Should you and your teammates succeed in conquering the world, prepare to reap the spoils of war and bask in eternal glory.
EXPLORE THE CHAOTIC BEAUTY OF WAR DRAGONS
The game was built on the Mantis Engine, a proprietary 3D game engine, featuring state-of-the-art graphics and cinematics. Experience mobile games like never before with the ability to visually explore all facets of its stunning world.
PRAISE FOR WAR DRAGONS
"The 3D graphics are spectacular for a mobile device, and this makes War Dragons stand out as the best-looking game of the bunch."
-GamesBeat
"War Dragons from Pocket Gems gives us a taste of what it'd be like to unleash giant flying lizards on whatever poor ground-bound schmucks are fated to scurry under their shadows."
-Gamezebo
"There's a combat section where your dragon will be flying through an enemy' encampments, and you deal damage to everything as you fly by. You'll also be building your own bases, forming guilds to help work with other players, and just trying to be the biggest, baddest, dragon-taming emperor of them all."
-Touch Arcade
Please note that War Dragons is free to play, but you are able to purchase game items with real money. If you don't want to use this feature, please disable in-app purchases.
Your use of this application is governed by the Terms of Service available at pocketgems.com/terms. Collection and use of your data are subject to the Privacy Policy available at pocketgems.com/privacy.
Additional Information :
Compatible with iPhone, iPad, and iPod touch.

Requires iOS 8.0 or later.

Size 171.8 MB
User Reviews :
I absolutely love this game. I've been playing for about 5 months now and I absolutely love the team I'm on. Took me a few team changes to get to where I wanted to be but I'm glad I'm where I am.
This is a competitive game and can be very time consuming but also can work around a busy schedule if you care enough to work with it. You don't have to spend money unless you want to but I will say it helps to have an Elite account, especially if you want to really progress in the game.
If I had anything else to say, it wouldn't be particularly criticism, but a piece of advice/inspiration for the creators. It would be simply this: many that play for long periods of time work really hard to progress in the game and once they get somewhere successful, often times the smallest thing holds them back from helping their team really win in the end. I would love it, and I know many others would too, if the creators made a chest that could be won by achieving some goal once a month that would give a healthy dose of Sigil, Rubies, Egg Tokens, 12 hour speed ups and maybe even some lumber and food. Rubies are hard to get unless yourself or teammates buy packages often. Sigil only comes around when you really spend a ton of time in events. So if a prize like that could be won and earned, available to anyone without purchasing anything, that would be so awesome.
But besides all that, this game is addictive and fun! 5 Stars!
I am addicted to this game! I have quit this game before due to lack of time and I'm embarrassed to say, rage, but I am sure to never have those feelings again. Whenever I have spare time I get up and set everything and gather all my supplies and then when I have another block of free space I do the same thing all over again. All the people who play are very caring and kind, I do have a few requests though. First of all, I don't understand why the transactions between two players have to take twenty minutes, now I know I might seem a little dramatic, but I know that if I need supplies badly enough to ask people, I wouldn't want to wait to get them. Next, I don't like how hard it is to get dragon eggs, with egg tokens being limited to what you can do or recover, I feel that some of the eggs take a bit more than they should. All of these things or minor requests and I don't feel the need to make a bigger deal out of this than I already have. I think this game is wonderful, and even if everything isn't perfect, that's ok because I know how hard people work to make games like these, so feel free to overlook my requests, because I am not expecting anything to change, I just thought I would make my requests clear to see if anyone agreed with my ideas and/or concerns. Thank you for taking the time to ready this, and have a good day/night.
Get War Dragons from App Store
What is your opinion about War Dragons
Get more free apps & games daily
Subscribe to our mailing list and get free apps & games daily to your email inbox.
Thank you for subscribing.
Something went wrong.
Bitcoin
Ethereum
MetaMask
Xrp
Polkadot
Binance coin
Stellar
Dogecoin
Tron
Elrond
Donate Bitcoin to this address
Scan the QR code or copy the address below into your wallet to send some Bitcoin
Donate Ethereum to this address
Scan the QR code or copy the address below into your wallet to send some Ethereum
Donate Xrp to this address
Scan the QR code or copy the address below into your wallet to send some Xrp
Donate Polkadot to this address
Scan the QR code or copy the address below into your wallet to send some Polkadot
Donate Binance coin to this address
Scan the QR code or copy the address below into your wallet to send some Binance coin
Donate Stellar to this address
Scan the QR code or copy the address below into your wallet to send some Stellar
Donate Dogecoin to this address
Scan the QR code or copy the address below into your wallet to send some Dogecoin
Donate Tron to this address
Scan the QR code or copy the address below into your wallet to send some Tron
Donate Elrond to this address
Scan the QR code or copy the address below into your wallet to send some Elrond