Elevator Sorting game by Crazy Labs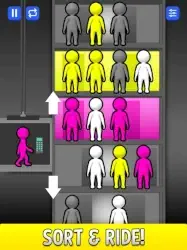 Game Description :
Get ready to move people to their correct floors in this fun and challenging game. This is Elevator sorting, a mind blowing puzzle game! Your goal is to match avatars of the same color by strategically picking them up or leaving them behind as you ride the elevator and leave them on the correct floor. You will need to think ahead to solve each level.
Game Features :
This sortpuz game is perfect for anyone who loves brain games or puzzle games. With different color matching modes available, you'll never get bored.
As you progress through the sorting games, the puzzles get harder and harder, so make sure to keep your wits about you! But don't worry, this game is not just another sort puzzle like water sort puzzle or color matching game.
Such a great way to relax and unwind. With its colorful graphics and easy-to-learn mechanics, it's the perfect choice for anyone looking for a relaxing game that still challenges the brain.
So what are you waiting for? Download Elevator Sorting now and start sorting those floors!
To opt out of CrazyLabs sales of personal information as a California resident, please visit our Privacy Policy: crazylabs.com/app
Additional Information :
Age Rating 12+
Size 160.4 MB
Requires iOS 12 or later.
User Reviews :
Mixed feelings
Ok, I play this too much & I've seen the changes you've made. There's too many ads, but you do have them on 5 second timers so I appreciate I don't have to sit through an entire ad. They are quick. Also, I'm so glad you added an option to skip the level with the bats on each level 5–I skip every time. That level doesn't fit the game. I'm over 1400 levels in & I just don't like how every 5 games or so it reverts back to a 2 level elevator with like 4 people. I come across the easy levels again like I'm back at 1. It's an easy game to go back to now & then or pass time when I'm waiting for something. I appreciate the updates you've done so far. Why am I collecting coins? Not sure what they're for. EDIT—The latest update doesn't let me skip the level 5 killing level so I'm deleting the game & taking away a star. I literally updated while I wrote the above review & played the game & can't skip that terrible level anymore. I'm done.

EDIT again—I added a star back because I can skip level 5 again!!!!!! THANK YOU!
Can't get past Level 43 second round
I took away a star because there is no way except to restart to get all the colors together and I have restarted countless times on level 43 second round trying different combinations and none have worked. Some sorting games have it where you can get an extra space, box, bottle, etc. to help you when you are truly stuck. Your game have none so I'm going to have to delete. Just did an update-didn't help.
Great for mind numbing
This game is great for killing time. But I am convinced there is absolutely no skill involved here. The game always says I am better than 99-95% of other people playing the game but pretty sure this is nonsense. If I intentionally play a bad game it still says I played better than 98%. I also don't feel like there are that many different moves to make to get better or worse other than accidentally stopping at a floor without the right color or two people for the big guys. That's it. Great for mind numbing but not a real challenge. Maybe tell us how many moves the game is possible in vs. our moves.
Fun but…
The game was fun until it froze at level 193 and now is just a black screen with no way of continuing. Yes it gets repetitive especially their "boss" level. There's no other substance to this game other than just going up and down and having seemingly the same kinds of levels. The ad that pops up in the beginning is the only one I would get and then after completing a level. Not as annoying as other games but the short levels with only 4 floors is where that gets annoying for ads. Overall it's a good time passing game but it will eventually crash on you.
Timer continues during unskipable ad
I enjoy this game but the ads are getting ridiculous. Adding in a pay to remove ads could be beneficial. During the hard levels that you pay coins with in the middle of a time sensitive level an ad pops up in the middle and when you get the chance to exist out of the ad you see that the game timer was still counting down as you were stuck in the ad. Can't pass the level when there's only :59secs on the clock and a :30sec ad in the middle.
Get Elevator Sorting from App Store
What is your opinion about Elevator Sorting
Bitcoin
Ethereum
MetaMask (ETH)
Xrp
Polkadot
Binance coin
Stellar
Dogecoin
Tron
Elrond
Donate Bitcoin to this address
Scan the QR code or copy the address below into your wallet to send some Bitcoin
Donate Ethereum to this address
Scan the QR code or copy the address below into your wallet to send some Ethereum
Donate Xrp to this address
Scan the QR code or copy the address below into your wallet to send some Xrp
Donate Polkadot to this address
Scan the QR code or copy the address below into your wallet to send some Polkadot
Donate Binance coin to this address
Scan the QR code or copy the address below into your wallet to send some Binance coin
Donate Stellar to this address
Scan the QR code or copy the address below into your wallet to send some Stellar
Donate Dogecoin to this address
Scan the QR code or copy the address below into your wallet to send some Dogecoin
Donate Tron to this address
Scan the QR code or copy the address below into your wallet to send some Tron
Donate Elrond to this address
Scan the QR code or copy the address below into your wallet to send some Elrond