Vivian  – Find Healthcare Jobs app by NurseFly, Inc.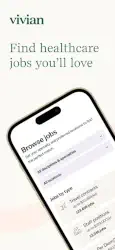 App Description :
At Vivian, we ensure your next step is a step forward. We believe in providing you with information, not withholding it. That's why we built a jobs marketplace that serves healthcare professionals first.
App Features :
Create one profile
Create a specialized universal healthcare profile that can be used just like a healthcare resume/cv to quickly and easily apply to healthcare employers across the country for travel nurse jobs, local & per diem or any type of healthcare positions.
Know what we know
As the largest marketplace for all nursing and healthcare jobs, we have access to an unprecedented amount of unbiased, objective information, including detailed job postings, concrete salary ranges, authentic employer reviews and more. And we're not afraid to share it all with you.
Explore your options
We connect all types of healthcare workers to all types of healthcare jobs (including nursing, therapy, and allied health jobs), including per diem, permanent, local contract and travel nursing jobs. We'll show you every job that's right for you.
Forget cold calls
And endless emails. With Vivian, you can keep all your applications and messages in one place. Get notified instantly when a job matches your needs, and connect with employers right away through our real-time chat.
Why download the Vivian app?
Join our community of over 300,000 incredible health care professionals. Vivian has facilitated over 1 Million Job Applications
Get access to trusted health facilities and travel nurse agencies such as: AMN, Cross Country, SSM Health, Honor Health, Host Healthcare, MedPro & many more.
Rated 4.8 stars by thousands of healthcare professionals:
I don't have to search dozens of job boards. I added my specialty, and the recruiters come to me! One Vivian profile and I'm done." Cynthia P. ED – RN, Tampa, FL
Additional Information :
Age Rating 4+
Size 99.1 MB
Requires iOS 13.0 or later.
User Reviews :
Changing the travel nursing game
I love that I can essentially load up my profile and apply to a multitude of jobs from multiple companies and sort those jobs by specifics of state, shift, pay, permanent or travel jobs. I was doubtful at first but as I navigate the app and prepare to actively submit for multiple jobs I am very hopeful about the jobs that have been presented. I'll have to update once I accept. It is also my litmus test about what the market is doing in areas that I wanna travel to. Makes it very easy to compare jobs from recruiters were actively reaching out to me from the same hospitals that are noted on here and either ask for an increase in pay if another agency is offering other benefits such as bonuses etc.
Nothing but upside
Like most things in our industry, some agencies and recruiters on NurseFly can really be hit or miss, but even with the occasional recruiter being unresponsive, you still get insight into the demand for our services across a wide selection of agencies, which is transparency I've never gotten anywhere else.

Even if you end up going with your own recruiter, there's no reason not to check NurseFly, it's easy and could just help you make sure you're getting paid the most you could be for your next travel assignment.
RN
Multiple jobs are posted and when you check on them they aren't available but yet you can look 2 days later and they are still posted. Vivian app has a profile and application to fill out, but non of the companies are using it, so you have to do it all over again with that company before they will work with you. Vivian is easy ro navigate and you are they are very helpful while you learn the system.
Developer Response,
Hi there and sorry to hear this is happening to you. Recruiters are supposed to use our profile and use that information to start you an account with their agency. Please use the "report a recruiter" or "request a new recruiter" function within your chat to report when this does not happen to Vivian. We are working hard to provide a streamlined process and know how frustrating it is to have to fill out multiple applications!!

I'd love to connect you with our research team to get some more specific feedback! If you are open to that please use the "contact Vivian" button under 'Resources' on the site or app and let them know you are interested in participating so I can get a sign up email out to you. Again, I apologize for your experience and hope we can work together to improve that process for you.
Get Vivian from App Store
What is your opinion about Vivian
Bitcoin
Ethereum
MetaMask (ETH)
Xrp
Polkadot
Binance coin
Stellar
Dogecoin
Tron
Elrond
Donate Bitcoin to this address
Scan the QR code or copy the address below into your wallet to send some Bitcoin
Donate Ethereum to this address
Scan the QR code or copy the address below into your wallet to send some Ethereum
Donate Xrp to this address
Scan the QR code or copy the address below into your wallet to send some Xrp
Donate Polkadot to this address
Scan the QR code or copy the address below into your wallet to send some Polkadot
Donate Binance coin to this address
Scan the QR code or copy the address below into your wallet to send some Binance coin
Donate Stellar to this address
Scan the QR code or copy the address below into your wallet to send some Stellar
Donate Dogecoin to this address
Scan the QR code or copy the address below into your wallet to send some Dogecoin
Donate Tron to this address
Scan the QR code or copy the address below into your wallet to send some Tron
Donate Elrond to this address
Scan the QR code or copy the address below into your wallet to send some Elrond