Cryptogram – Word Brain Puzzle game by Kiryl Rusakovich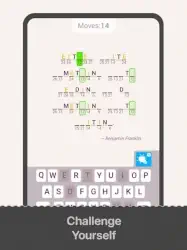 Game Description :
Are you ready for a brain workout? This is Cryptogram and it truly is the ultimate word brain puzzle. Why? Let us tell you just what you'll find in this brain teaser.
Game Features :
Cryptogram: Word Brain Puzzle is a letter decoding game than will have those neurons firing faster than you can say go as you try to come up with the answer to the cryptogram. Unencrypted the puzzle and figure out what those numbers and letters really mean to solve it.
Forget about A=1, you'll be challenged as you piece together the digits and letters. Grow your brain and have fun too in this awesome puzzletastic adventure.
Additional Information :
Age Rating 4+
Size 230.9 MB
Requires iOS 12.5 or later.
User Reviews :
Just One Issue
I love this game and I play it all the time. It's super rewarding, the daily challenges are fun to keep up with, and there are not too many ads. My only suggestion, and it's a small one, is that there is at least one quote attributed to actor Elliot Page, but credits his deadname. It may behoove someone to change it to Elliot if possible. Keep up the good work!
So many ads!
I enjoy the puzzles but being interrupted in the middle of one multiple times is very annoying. I can handle ads between puzzles but during a puzzle is just frustrating. And it's not even one. It's like every few letters you finish you get an ad. It would be nice if you had an option to eliminate ads by paying a few dollars for the game. Like $2.99 or something. I think a lot of people would be willing to pay that to stop having the ads.
No ads option
I love the game, it is very challenging for me. I wish there's an option to pay so I can start the next level right away. Other than that it's great game.
Fun, but has some facts wrong
If I were to create a game, and I was using phrases like this game uses, I would make sure that it's spelled correctly, and make sure the facts are correct.

I'm on the Titanic puzzle, and it says "he wins a third-class ticket to board the titanic in a poker game, hoping to sell his artwork in Europe". This is false. Titanic sunk on its way to New York, not Europe.

I've found several errors while playing this. Kinda annoying.
Game is fine, ads are annoying
I can deal with occasional ads, honestly I'm not even opposed to paying a dollar or two to get rid of them. But they're after every puzzle and there's no way to get rid of them. It gives you the choice to watch an ad and get extra rewards, but even if you click no you're getting an ad. Even all of that might be tolerable if the ads didn't negatively impact the performance of the app, but it does.

Also, a quote from the movie Juno deadnames actor Elliot Page in its source. Not cool.
What happened in the end?
I enjoyed this game in the beginning. I guess I reached the end of the available games. Rather than saying this there was an option for "harder cryptograms" and "longer cryptograms," which was fine. Then, although it indicated that there were a few unsolved puzzles, when I tried to play them it showed a banner that said that there was no internet connection. Really? I could connect to all of my other websites.

I'm sure that there is a better way to end the games!
One Request
I love this game. My only request is that there be an option to purchase no ads.
Love it!!!
I love this game but I've gone through all the bundles and there's no more to do! Can you add any more to it???
Almost the perfect game.
Super fun and addictive. Really wish there was a dark mode, even with my brightness turned all the way down the light background still hurts my eyes.
The puzzles are ok, but the ads that force you to sit and watch irritating and sickening things by not letting you opt out before it shows the ugly part is not. It's disgusting and sickening for me to sit and watch the king of royal match get ate by a snake. I don't like snakes in the first place.
Get Cryptogram from App Store
What is your opinion about Cryptogram
Bitcoin
Ethereum
MetaMask (ETH)
Xrp
Polkadot
Binance coin
Stellar
Dogecoin
Tron
Elrond
Donate Bitcoin to this address
Scan the QR code or copy the address below into your wallet to send some Bitcoin
Donate Ethereum to this address
Scan the QR code or copy the address below into your wallet to send some Ethereum
Donate Xrp to this address
Scan the QR code or copy the address below into your wallet to send some Xrp
Donate Polkadot to this address
Scan the QR code or copy the address below into your wallet to send some Polkadot
Donate Binance coin to this address
Scan the QR code or copy the address below into your wallet to send some Binance coin
Donate Stellar to this address
Scan the QR code or copy the address below into your wallet to send some Stellar
Donate Dogecoin to this address
Scan the QR code or copy the address below into your wallet to send some Dogecoin
Donate Tron to this address
Scan the QR code or copy the address below into your wallet to send some Tron
Donate Elrond to this address
Scan the QR code or copy the address below into your wallet to send some Elrond