(App) TuneIn Radio
 iphoneapps info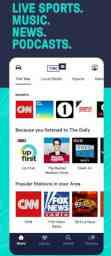 App Description :
FROM NOW ON, THIS IS RADIO.
TuneIn brings together live news, sports, music, podcasts and radio from around the world.
With live and on-demand audio from the voices you trust, on any device, you're never without something amazing to listen to.
App Features :
ALL YOUR AUDIO IN ONE APP.
News: Stay informed with 24/7 news from local, national and global sources, including CNN, MSNBC, FOX News Radio, NPR and BBC.
Sports: Listen to your team wherever you go with local, national and global sports talk stations.
Music: Soundtrack your life with exclusive music channels, including Today's Hits, Classic Rock Hits and Country Roads.
Podcasts: We've got all your must listen podcasts right here.
Radio: Stream over 100,000 AM, FM and internet radio stations broadcasting from 197 countries.
GET THE FULL EXPERIENCE.
When you sign up for TuneIn Premium, our optional monthly subscription service, you also get:
Commercial-Free News: The only place where you can listen to CNBC, CNN, FOX News Radio, MSNBC and Bloomberg Media without commercials.
Commercial-Free Music: Jam out to nonstop songs without ever encountering an ad.
Less Ads: Enjoy more listening and fewer commercials across all 100,000 radio stations.
TOP 5 REASONS TO DOWNLOAD TUNEIN:
1. NEWS FROM ALL SIDES
Experience live 24/7 news from national and global sources like CNN, MSNBC, FOX News Radio, BBC, NPR, CNBC and Cheddar, along with local stations like KQED-FM, WNYC-FM, KCRW, WHYY, WTMJ and WAMU. You can even hear many of your favorite news shows as podcasts.
2. SPORTS TALK THAT MATTERS
Listen to your team wherever you go with local, national and global sports talk stations with pregame and postgame analysis, and team centric sports podcasts.
You can also stream live play-by-play of the biggest games from stations like ESPN Radio and talkSPORT, along with on-demand podcasts coverering your football, baseball, basketball and hockey obsession from every angle.
3. MUSIC FOR EVERY MOOD
Bounce between TuneIn's exclusive music stations curated for every mood, taste and activity. Plus, keep discovering new songs with the best AM/FM stations in the world, including WHUR-FM, 107.5 WBLS, WQXR-FM, 97.9 WSKQ-FM and Hot 97 WQHT-FM.
4. ALL YOUR FAVORITE PODCASTS
From trending chart-toppers to all-time favorites, follow classic shows like RadioLab, Stuff You Should Know and TED Radio Hour, and top-rated hits like The Joe Rogan Experience, NPR's Up First, NYT's The Daily, Wow in the World, and more.
5. LISTEN EVERYWHERE
In addition to the mobile and desktop app, TuneIn is available for free on hundreds of connected devices, including Apple Watch, CarPlay, Google Home, Amazon Echo and Alexa, Sonos, Bose, Roku, Chromecast and more.
Subscribe to TuneIn Radio Premium through the free app. If you choose to subscribe, you will be charged a monthly subscription fee according to your country. The subscription fee will be shown in the app before you complete the payment. Your subscription will automatically renew every month at the then-current subscription fee unless auto-renew is turned off at least 24 hours before the end of the then-current subscription period. Your iTunes account will automatically be charged within 24 hours prior to the end of the then-current period. The subscription fee will be charged monthly. You can turn off auto-renew at any time from your iTunes account settings.
Privacy policy: tunein.com/policies/privacy/
Terms of use: tunein.com/policies/
TuneIn uses Nielsen measurement software which allows you to contribute to market research, like Nielsen's TV Ratings. To learn more about Nielsen's products and your privacy, please visit www.nielsen.com/digitalprivacy for more information.
Additional Information :
Size 81 MB
Requires iOS 12.4 or later.
User Reviews :
Impossible to listen to!
I primarily use TuneIn to listen to MSNBC "commercial free live". It used to work flawlessly. In the last six months or so, it has become increasingly impossible to listen to. The broadcast stutters, then stops, then jumps forward, then repeats parts you have heard before, then stops altogether. Rinse, repeat all the above. In the place of commercials, the app used to play short pieces of items "from earlier today that you might not have heard". I have heard the exact same past news snippets now for months—they are definitely not all "from today". And often it is not past news I hear, but parts of commercials. (I am paying for commercial free.) The only time this spring that the stuttering, stopping and repeating did not happen was when content was interrupted instead with the announcement that "this station is experiencing technical difficulties". Ironic that said difficulties were absent during this time—but they are back now that the "This station is experiencing…" interruptions have stopped. I have an image in my head of a group of chimps at the controls, randomly pushing all the buttons in front of them, while eating popcorn and spilling soda all over the control board. This is a maddening listening experience, and I have paid good money for nothing! Buyer beware!!!!
Developer Response ,
Thank you for taking the time to write a review and share details about the issues you experienced with the MSNBC Commercial-Free stream. We have identified a solution and the station is back up and running for all Premium subscribers to enjoy. Please don't hesitate to get in touch and keep sharing feedback with us. We appreciate your business.
A very fine internet tuner – though buffering is question
So far, this is my favorite radio internet tuner. It covers so many fine stations, and allows you to buffer or store a station's past minutes if you put it on hold.

It has tendency to go into a buffer mode erratically and repeats several previous seconds every so often. Actually, a bit too often for comfort. Otherwise, it works flawlessly. As it does store buffered sections, I wish there was a way to know when I'm listening to buffered sections and how many minutes it has buffered, or is in its "live" radio mode , as well being able to optionally go back and rehear previous sections of the broadcast. An update button to shift to live or shift to the buffered sections would be nice.

One other needed fix is that quite often, the banner naming the program doesn't match. "Wait, Wait, Don't Tell Me" is listed as "Car Talk"
Get TuneIn Radio from App Store
What is your opinion about TuneIn Radio
Bitcoin
Ethereum
MetaMask (ETH)
Xrp
Polkadot
Binance coin
Stellar
Dogecoin
Tron
Elrond
Donate Bitcoin to this address
Scan the QR code or copy the address below into your wallet to send some Bitcoin
Donate Ethereum to this address
Scan the QR code or copy the address below into your wallet to send some Ethereum
Donate Xrp to this address
Scan the QR code or copy the address below into your wallet to send some Xrp
Donate Polkadot to this address
Scan the QR code or copy the address below into your wallet to send some Polkadot
Donate Binance coin to this address
Scan the QR code or copy the address below into your wallet to send some Binance coin
Donate Stellar to this address
Scan the QR code or copy the address below into your wallet to send some Stellar
Donate Dogecoin to this address
Scan the QR code or copy the address below into your wallet to send some Dogecoin
Donate Tron to this address
Scan the QR code or copy the address below into your wallet to send some Tron
Donate Elrond to this address
Scan the QR code or copy the address below into your wallet to send some Elrond