(Game) Truck Stop Tycoon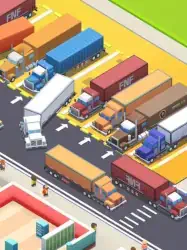 Game Description :
A truck stop, known as a service station in the United Kingdom, and a travel center by major chains in the United States, is a commercial facility which provides refuelling, rest, and often ready-made food and other services to motorists and truck drivers.
Game Features :
Truck stops are usually located on or near a busy road.
In this game you will try to build the World's Largest Truckstop. You may aske drivers for their advice on what would make a trucker's life more enjoyable, and then build your truck stop accordingly.
Additional Information :
Size 286 MB
Requires iOS 10.0 or later.
User Reviews :
Love it
This is a lot of fun but it has a couple of drawbacks. First being, you will pay to play, with that being said I think if they work this hard on the game they deserve to be compensated. What I DO NOT like is that in order to complete the game you need to pay a lot of money in order to expand your vault to allow the money you need for expansion. There are a few other things. Why allow the potential to earn 800 million when you're offline if you can only hold 9.5 million maximum? Lastly you should be able to see the progression for how many more levels are needed within the task. Bonus thought, you should make advancing levels, once you complete the one allow it to close and go onto another world, if you really want to make the user happy allow for a small percentage of that truck stop to trickle into the other. If you're a investor in real life you'd expect some money from your initial investment.
You need to pay to advance
The game is pretty good in the beginning. There are 3 big issues for me. (I am someone who plays tons of idle/tycoon games. I also click on ads to get everything and move things forward) 1. The time it takes to upgrade properties or research is way to long. It would not be bad if we were able to upgrade other things at the same time. But no. If you want to upgrade faster you have to spend real money to buy that option. 2. The money vault limit is a major problem. You never have enough money to upgrade things because the vault limits you. You are also only able to upgrade it to a certain point. Then after that you have to spend real money to expand it so you are able to continue. The developers respond to complaints about it by telling people to basically buy with real money the upgrades. 3. All of the random ads that just pop up. I am one who is happy to watch ads when I click on them and get fun little rewards. I do this all the time. The random pop up ads in the middle of an games are just an interruption to the enjoyment. It also just shows how greedy to developers are. They force you to watch ads to move along in the game, they force you to spend money if you want to proceed further in the game, then they force random ads on you!

These are the reasons I can not and will not recommend this game. And why I am warning you about it.

I am also deleting it. So sad because it could have been a great game!
Developer Response,
Dear player, thank you for your valuable comments. We will optimize the issues including treasury and advertising in the subsequent version,
I like this game
Hey there. I just downloaded this game last night, because I thought it was gonna be like Fitness Club Tycoon. It is in most ways, but I really feel like once someone buys the ad free version, we should be able to get our own diamonds from the piggy bank for free too. Why do we have to pay $3 just to get the diamonds we earned. Y'all have a GREAT system in Fitness Club Tycoon. Bring it over to Truck Stop, and it's gonna be a great game. Keep up the great work and I can't wait to see future updates.

Edit: another thing, why do we need to buy builders? We should be able to unlock them as we unlock everything else. Also the timers for things to be finished are WAAYY too long 4 hours just to have a small area to open up. Or I could pay 45 gold to have it done instantly. It's hard to get gold when you have to wait for things to finish building before complete the other challenges. And same thing go for the research workers. Why do we need to buy those too? It doesn't make since that we don't just 1. Already have them. Or 2. Have to buy them and the limit on how many you can have is way too low. 4 for builders and 4 for research. And we have to buy each one. Let us unlock them like Fitness Club Tycoon does.
Get Truck Stop Tycoon from App Store
What is your opinion about Truck Stop Tycoon
Bitcoin
Ethereum
MetaMask (ETH)
Xrp
Polkadot
Binance coin
Stellar
Dogecoin
Tron
Elrond
Donate Bitcoin to this address
Scan the QR code or copy the address below into your wallet to send some Bitcoin
Donate Ethereum to this address
Scan the QR code or copy the address below into your wallet to send some Ethereum
Donate Xrp to this address
Scan the QR code or copy the address below into your wallet to send some Xrp
Donate Polkadot to this address
Scan the QR code or copy the address below into your wallet to send some Polkadot
Donate Binance coin to this address
Scan the QR code or copy the address below into your wallet to send some Binance coin
Donate Stellar to this address
Scan the QR code or copy the address below into your wallet to send some Stellar
Donate Dogecoin to this address
Scan the QR code or copy the address below into your wallet to send some Dogecoin
Donate Tron to this address
Scan the QR code or copy the address below into your wallet to send some Tron
Donate Elrond to this address
Scan the QR code or copy the address below into your wallet to send some Elrond