(Game) Traffic Cop 3D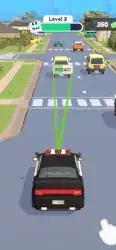 Game Description :
In the seedy underworld of the city, one cop stands alone against the dangers of the traffic ahead. Keeping crime at bay, this officer is the only hero the city has to protect it.
Patrol the streets at night, keeping a close eye on the cars around you. Think you found a criminal? Then it's time to scan their licence plate and test your instincts. Don't let the crooks get away and escape to the highway, chase them down and pull them over before it's too late.
Justice is waiting, in Traffic Cop 3D
Game Features :
Pursuit drivers
Cruise through the streets
Be the best cop in town!
Subscribe to Traffic Cop 3D for all of the following benefits:
Helicopter Minigame
Police Dog Companion
No Ads
x2 Earnings
SUBSCRIPTIONS INFORMATION:
Traffic Cop 3D VIP Membership access offers two membership options:
1) A weekly subscription costing $5.49 per week after a 3 day FREE trial period.
2) A monthly subscription costing $14.49 per month.
After buying this subscription, you will unlock; x2 earnings for your in-game currency, obtain an exclusive police dog companion to join you, and an exclusive helicopter police chase mini game to play, and receive no ads, which removes non-optional ads from the game.
This is an auto-renewable subscription. The payment is charged to your account after confirmation. The subscription is renewed unless you unsubscribe 24 hours before the period ends. Your account will also be charged for renewal
The prices notes are for United States customers. Pricing in other countries may change and actual charges may be converted to local currency.
End of trial and subscription renewal:
The payment is charged to your iTunes account after a confirmation of purchase
The subscription is renewed unless you unsubscribe 24 hours before the end of the current period
The account will be charged for renewal 24 hours before the end of the current period at the standard cost of the weekly subscription
The user may manage the subscription and auto-renewal by accessing the user's account settings after purchase in the store
No cancellation of the current subscription is permitted during the active subscription period
Any unused portion of the free trial period will be forfeited when the subscription is purchased
Cancelling a trial or subscription:
In order to cancel a subscription during the free trial period you need to cancel it through your account in the Store. This must be done at least 24 hours before the end of the free trial period to avoid being charged.
privacy.servers.kwalee.com/privacy/TrafficCopEULA.html
Additional Information :
Size 342.4 MB
Requires iOS 10.0 or later.
User reviews :
Ehhhhh…… Please read
So I wanna make this clear. It's a really fun game and a great time passer! Most of it is great and that's why I gave it five stars. But….. the thing is it's so unrealistic. For example in one of the stories, you were trying to catch a criminal and the options were: Give him the money or pull out gun. So of course the obvious choice would be pull out gun. Because he's a criminal and giving him money goes against the whole idea of the job. So being realistic thats what I pressed. But it said I was wrong. I was confused because it was the last part of the story. So I tried out the other one and apparently you were supposed to give him the money by throwing it at him though they never clarified that. But ya overall it is a really fun game and I would recommend downloading it!
Overall great game 🙂
So this is a pretty good game, just one thing, there are way too many adds. Every time I pull someone over there's an add after. I would give this five stars but I don't think it deserves five stars in my opinion. Just so you know, I don't like adds, and this is my opinion. So someone out there might like adds. So I'm just stating my opinion. But overall, like the beginning, this is a good game!! So I would recommend it if you don't mind adds. But one more thing. I started playing this about a month ago and sorry if i'm wrong but I hate that when you change your car color or something you can't change it back to the default. Like I said I just started a month ago so I don't know if you could actually change it back to default. Example – I changed the black car to gold/orange, then I decided that I liked it better black/default, so I looked. But I couldn't seem to find the black.. Well that was my review. Thank you for reading this long review. And like I said at the beginning and the middle, overall it's a good game and I recommend it if you never want the default car back or don't mind adds. Goodbye
Tons and tons of ads
I truly wish I could give this game five stars. The game itself is actually fun and entertaining. I could see myself playing this multiple times a day. The issue is the absolute over abundance of ads. I get why ads are in "free" games. The developers need to make money. I'm not opposed to that, perfectly understandable from a business perspective. With this game though? Ads after every level, when I say level I mean the 10-15 seconds of play time before you see yet another ad. ad at every single upgrade from lights, tires, color schemes and sirens. ad after you pull someone over. Ad every time you earn money. Typically for about 15 seconds of playing the game, the next several minutes is ad after ad after ad. Like I said, I understand the developers need to make money. However I challenge the developers to see this from a logical standpoint. In order to make money, you have to have people play your game so they can view the multitude of ads. What you don't take into account is that the majority of people will become so frustrated with tons of ads, they will uninstall the game and you won't make money off of them anyway. I am one of the people that are uninstalling for that very reason.
Get Traffic Cop 3D from App Store
What is your opinion about Traffic Cop 3D
Bitcoin
Ethereum
MetaMask (ETH)
Xrp
Polkadot
Binance coin
Stellar
Dogecoin
Tron
Elrond
Donate Bitcoin to this address
Scan the QR code or copy the address below into your wallet to send some Bitcoin
Donate Ethereum to this address
Scan the QR code or copy the address below into your wallet to send some Ethereum
Donate Xrp to this address
Scan the QR code or copy the address below into your wallet to send some Xrp
Donate Polkadot to this address
Scan the QR code or copy the address below into your wallet to send some Polkadot
Donate Binance coin to this address
Scan the QR code or copy the address below into your wallet to send some Binance coin
Donate Stellar to this address
Scan the QR code or copy the address below into your wallet to send some Stellar
Donate Dogecoin to this address
Scan the QR code or copy the address below into your wallet to send some Dogecoin
Donate Tron to this address
Scan the QR code or copy the address below into your wallet to send some Tron
Donate Elrond to this address
Scan the QR code or copy the address below into your wallet to send some Elrond