(App) TikTok
free iphone apps download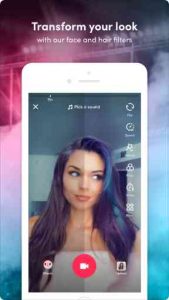 App Description :
TikTok is not your ordinary destination for short-form mobile video. It's raw, real, and without boundaries—whether you're brushing your teeth at 7:45 a.m. or you're making breakfast at 7:45 p.m. It's from the gut, 'come as you are' storytelling told in 15 seconds. With TikTok life's more fun when you live in the moment and go beyond to explore.
We make it easy for you to discover and make your own awesome videos by capturing funny and memorable moments to share with the world. Take your videos to the next level with special effects filters, fun stickers, music, and more. Life's moving fast, so make every second count and show the world what you got!
App Features :
Watch millions of videos selected specifically for you
A personalized video feed specifically for you based on what you watch, like, and share. TikTok will quickly adapt to your taste to offer the most relevant, interesting, fun, quirky, head-turning videos that you'll never want to stop watching.
Get entertained and inspired by a global community of creators
Millions of creators are on TikTok showcasing their incredible talents, precious moments, and knowledge. Let yourself be inspired.
Add your favorite music or sound to your videos for free
Easily edit your videos with millions of free music clips and sounds. We create featured music playlists for you with the hottest tracks in every genre, including hip hop, edm, pop, rock, rap, country, and more.
Use emoji stickers and face filters
100+ emoji stickers available for free to take your videos to the next level. Unlock tons of fun face filters and beauty effects in your videos.
Editing tools allow you to easily trim, cut, merge and duplicate video clips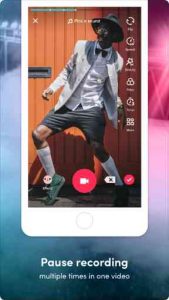 Live streaming filters are constantly being updated with fresh, creative designs
Dance, Comedy, Vlog, Food, Sports, DIY, Animals, and everything in between. Discover videos from endless categories.
Any feedback? Contact us at feedback@tiktok.com or tweet us @tiktok
Additional Information :
Compatible with iPhone, iPad, and iPod touch.

Requires iOS 9.3 or later.

Size 267.1 MB
User Reviews :
I have been enjoying TikTok for a few months now and it's a blast. You get to create content that is genuine and fun while connecting with others. The app is always updating the filters and creators are adding and creating new sounds so it never gets old. I can't express how much the people on this app have touched my heart. However with ever rainbow, there is some rain….. This app needs some improvements to assure that great creators don't leave and find another platform to express themselves. For example: Reporting of Videos, it is important that TikTok makes it easier for 18+ content to be shared without the worry of it offending some of the younger viewers. Twitter has a filter for it, take notes. There should also be a review process versus being taken down immediately when someone gets upset or is being childish. Of course there are always exceptions to this like bullying. Another improvement that is needed is the "LIVE" feature, no matter if you have 5 fans or 5 million fans you should be able to speak with them on a social level instead of being restricted to a certain number of fans before that feature is available. Also you have users that have hit that "special number" of fans and are not able to access the live feature. Reporting Lives is also a big issue, please check into these before your platform becomes a thing of the past.
Hi!! I'm Nayla, since my user is a bit difficult it is, Nayla,love.Now, I will first start out with saying the good things, and then bad things. What I love about tik tok is when I first joined ( I just created a new account with 21 followers ) my first video blew up! Now not just it one day, but it got 91 likes! And I was so happy and proud of my self. Another thing I like is that you can record videos that weren't originally Rec. on tik tok but their is a bad side to this, and the for you page.The bad thing about being able to have other vids on tik tok that we're not recorded on tik tok is that sometimes people will steal others videos and that makes the person call out the other person and then it just creates drama. Or, they can look up a video, Record it, then post. Why is this bad? Because the video they posted, was also posted by millons of other people. I also have something to say. Usually only one of your videos will go on the For u page and never ever will any other videos go on the For u page. So it's hard for me to gain followers and likes. Another issue is that most people don't have the effects you can add, like the flashing effect or whatever. I dont have it either, which is okay but, sometimes I want to try it out and what not.
If this sounded a bit rude, please don't take it offensive, sincerely, nayla
Video by  Techboomers :
Get TikTok from App Store
Leave your feedback regarding TikTok
Get more free apps & games daily
Subscribe to our mailing list and get free apps & games daily to your email inbox.
Thank you for subscribing.
Something went wrong.
Bitcoin
Ethereum
MetaMask
Xrp
Polkadot
Binance coin
Stellar
Dogecoin
Tron
Elrond
Donate Bitcoin to this address
Scan the QR code or copy the address below into your wallet to send some Bitcoin
Donate Ethereum to this address
Scan the QR code or copy the address below into your wallet to send some Ethereum
Donate Xrp to this address
Scan the QR code or copy the address below into your wallet to send some Xrp
Donate Polkadot to this address
Scan the QR code or copy the address below into your wallet to send some Polkadot
Donate Binance coin to this address
Scan the QR code or copy the address below into your wallet to send some Binance coin
Donate Stellar to this address
Scan the QR code or copy the address below into your wallet to send some Stellar
Donate Dogecoin to this address
Scan the QR code or copy the address below into your wallet to send some Dogecoin
Donate Tron to this address
Scan the QR code or copy the address below into your wallet to send some Tron
Donate Elrond to this address
Scan the QR code or copy the address below into your wallet to send some Elrond