The New York Times app by TNYT Company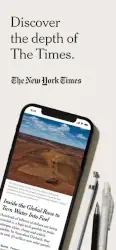 App Description :
The New York Times app provides in-depth, independent, original reporting. Our breadth of coverage reaches well beyond news and politics, and it's a deep resource for topics that touch our readers' daily lives, including opinion, arts and culture, business, tech, wellness and much more. The app is free to download.
App Features :
The world, reported.
Read, watch and listen to original reporting by 1,700 journalists in over 160 countries. From breaking news and live updates to investigations and cultural commentary, The New York Times app helps you understand the events shaping the world.
Alerts that you select.
Be the first to know with push notifications based on your interests. Get caught up with morning and evening briefings. Go deeper on business, politics and sports. Know what to cook, read and watch. And read the latest by your favorite columnists.
Unwind with the Play tab.
New word, visual and number games arrive every day. Wordle, Sudoku and The Mini are free to enjoy, while subscribers have unlimited access to Spelling Bee, an archive of more than 10,000 crossword puzzles and more.
Your interests, inside one tab.
For You is where we recommend news articles, magazine features, games and special collections with your reading habits in mind. Whether you have a few minutes or a few hours, this tab is a destination focused on you.
Subscriber exclusives.
Share up to 10 gift articles a month, even with nonsubscribers, in the app or online. And sign up for subscriber-only newsletters that go deep on everything from food, culture and climate change to parenting, health and politics. Plus, there's more coming soon.
Today, at a glance.
Add The New York Times widget to your home screen and keep the latest headlines close by. Top stories will automatically refresh, helping you stay in the know throughout your day.
DIGITAL SUBSCRIPTION OPTIONS
Enjoy everything we offer with a New York Times All Access subscription, which includes unlimited access to:
Investigations, culture and analysis from News
Word, visual and number puzzles from Games
Recipes, plus advice and inspiration from Cooking
Independent product reviews from Wirecutter
In-depth, personalized sports coverage from The Athletic
Prefer News only?
See our subscription offers for further details.
PAYMENT AND AUTOMATIC RENEWAL TERMS:
IF YOU SUBSCRIBE TO THE NEW YORK TIMES VIA THIS APP, PAYMENT WILL BE CHARGED BY APPLE TO YOUR APPLE ID ACCOUNT AT CONFIRMATION OF PURCHASE. YOUR APPLE ID ACCOUNT WILL BE AUTOMATICALLY CHARGED FOR RENEWAL AT THE APPLICABLE RATE SHOWN TO YOU AT THE TIME OF SUBSCRIPTION EVERY CALENDAR MONTH (FOR MONTHLY SUBSCRIPTIONS) OR EVERY YEAR (FOR ANNUAL SUBSCRIPTIONS) WITHIN 24 HOURS PRIOR TO THE END OF THE CURRENT BILLING PERIOD. YOU WILL BE CHARGED IN ADVANCE. YOUR SUBSCRIPTION WILL AUTOMATICALLY RENEW EACH MONTH OR YEAR UNLESS IT IS CANCELED AT LEAST 24 HOURS BEFORE THE END OF THE CURRENT PERIOD. TO CANCEL, PLEASE TURN OFF AUTO-RENEW AT LEAST 24 HOURS BEFORE THE END OF THE CURRENT PERIOD. YOU CAN TURN OFF AUTO-RENEW AT ANY TIME FROM YOUR ITUNES ACCOUNT SETTINGS. CANCELLATION TAKES EFFECT AT THE END OF THE CURRENT BILLING PERIOD.
BY DOWNLOADING THE NEW YORK TIMES APP, you agree to:
The automatic renewal terms stated above.
The New York Times Privacy Policy: www.nytimes.com/privacy/privacy-policy
The New York Times Cookie Policy: www.nytimes.com/privacy/cookie-policy
The New York Times California Privacy Notices: www.nytimes.com/privacy/california-notice
The New York Times Terms of Service: www.nytimes.com/content/help/rights/terms/terms-of-service.html
Apple Terms of Sale: www.apple.com/legal/internet-services/itunes/us/terms.html
Promotional offers for new subscribers only. Smartphone and tablet apps are not supported on all devices. News subscriptions do not include e-reader editions. Prices shown are in U.S. dollars. Other restrictions apply.
Additional Information :
Age Rating 12+
Size 84.8 MB
Requires iOS 15.0 or later.
User Reviews :
Love the app, miss most popular
I am a product director on another large scale mobile app, and I love the NYT app. It's visually appealing and thoughtful and I appreciate so many of the changes you guys have made throughout the past years. My only wish, is that you stop moving the "most popular" articles section. First it was a carousel (my favorite), then you limited it to a list view of only 4, then it was moved to a completely different part of your navigation and I had to search for it, and now it's gone. I can't find it. I enjoy seeing what's most read for several reasons and am bummed it's gone. If I could make one request, please bring this back to your timeline.

An additional comment – I find your newer navigation confusing. You've essentially moved the whole navigation under "browse", not an immediately obvious title for this. And "for you" is not relevant to me, what I read, or what I do. I literally play spelling bee every, single, day and hate that I have to scroll all the way to the bottom of timeline (while it's updating which pushes me up the timeline, to only have to scroll down more) to get to it. If "for you" was really stuff I use, it should have spelling bee but it doesn't.

This is the only app review I've ever written, i promise. And I'm writing it more because I love the content and the app but wish these few things could change. Leaving feedback because I'm hoping it's helpful!
Latest "upgrade" is a downgrade
As content, the NYT can't be beat. But this latest "resdesign" of the app is bad enough to make me write a review for the first time. In a word it is over-designed. When scrolling through the main page, it will suddenly "readjust", meaning an ad has loaded somewhere in the feed and you have lost your place as it races upwards for you to view it. Once is bad but this happens a couple of times in a single scroll.

When you read an article, the new design has changed the place of the back arrow for part of the navigation but is not the same throughout. I don't like playing guess where the arrowis. But the biggest and reoccurring issue is the Sections page. What used to be a clear list of sections has now been buried under blocks of articles the NYT wants to spotlight for whatever reason. If I scrolled past it the first time, I don't need to scroll past it again. I'm here to find a particular section, I know what I want.

Finally, the NYT really, really needs to work on the accuracy of their search function. It is ludicrous that I can't find an article from 3 days ago using specific keywords. For such great content, it's criminal to make it disappear. Please do better, NYT!!!
This App Desperately Needs a Night Mode Display Option
I love the NYT, so this mediocre rating is simply due to the usability/customizability of the app. There is no night mode, which just feels a little behind the times in terms of the various display options that have now become standard in most phone & tablet apps.

I also personally wish there was slightly more customizability in terms of being able to block or hide certain categories of articles from appearing. For example, although we can choose what subjects we are interested in, which will then show up in the "For You" section, I would also love the option of telling the app what NOT to show me when scrolling through the main feed. For me specifically, I don't like reading Opinion pieces and will never open them, so it'd be great for me in terms of usability if I could just have the app "hide" those when I'm scrolling through (or hide the entire Opinion section). Other people may never read the Entertainment section, or the sports section, etc., so perhaps they'd like to be able to scroll through the main "Today" section without seeing those. It would just be a nice, extra option that could continue to help shape the content to what each reader enjoys the most.
Get The New York Times from App Store
What is your opinion about The New York Times
Bitcoin
Ethereum
MetaMask (ETH)
Xrp
Polkadot
Binance coin
Stellar
Dogecoin
Tron
Elrond
Donate Bitcoin to this address
Scan the QR code or copy the address below into your wallet to send some Bitcoin
Donate Ethereum to this address
Scan the QR code or copy the address below into your wallet to send some Ethereum
Donate Xrp to this address
Scan the QR code or copy the address below into your wallet to send some Xrp
Donate Polkadot to this address
Scan the QR code or copy the address below into your wallet to send some Polkadot
Donate Binance coin to this address
Scan the QR code or copy the address below into your wallet to send some Binance coin
Donate Stellar to this address
Scan the QR code or copy the address below into your wallet to send some Stellar
Donate Dogecoin to this address
Scan the QR code or copy the address below into your wallet to send some Dogecoin
Donate Tron to this address
Scan the QR code or copy the address below into your wallet to send some Tron
Donate Elrond to this address
Scan the QR code or copy the address below into your wallet to send some Elrond