(Game) The Battle of Polytopia
free games for iphone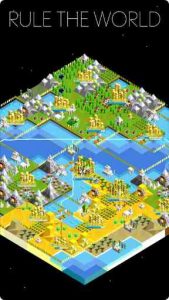 Game description :
The Battle of Polytopia is a turn based strategic adventure. It's a game about ruling the world, fighting evil AI tribes, discovering new lands and mastering new technologies.
Game Features :
Beat your friends in online battles and compete on the global high score list.
Auto generated maps make each game a new experience, with unlimited replay value.
Pick and choose among different tribes. Wander in the dark cold forests of Barduria, explore the steamy Kickoo jungles or claim the lush field of the Imperius empire.
What our players are saying:
I just can't get over how perfect this game is. It is a wonderfuly unexpected gem. The only thing that I could critique is the price(it's too low).
It's mixture of simplicity and strategy are that of straight up brilliance.
It's a great city building game that's free of the shackles of "freemium," and every strategy fan owes it to themselves to give it a shot at some point.
Touch Arcade (Chris Carter)
The battle of Polytopia is the first game from the indie game studio Midjiwan, based in Stockholm, Sweden.
Additional Information :
Compatible with iPhone, iPad and iPod touch.

Requires iOS 8.0 or later.

Size 47 MB
User reviews :
Being a huge fan of games like Civilisation and Master of Orion I was pleasantly surprised to come across Battle of Polytopia. Free to play with the first set of tribes, players can purchase additional tribes, each with their own specialty. Playing against more tribes also expands the map. Games are fast, from fifteen minutes when playing against a few tribes to longer than an hour when playing against all tribes. The tech tree is limited but well balanced, allowing for a wide variety of units and upgrades for your square depending on the square type, such as mountains and fields. Settlers do not exist, instead, land is conquered by taking over villages that are randomly scattered over the map. The fun starts once other tribes are discovered and the battle begins. There is no option for diplomacy however this game does not aim to be a competitor of advanced civ-like games but likes to keep things simple and quick. Instead diplomacy is based on how you score against other tribes and whether you are aggressive or defensive (note: on Crazy all tribes pretty much fight you regardless). All in all 5 stars, the only wait now is for the online multiplayer option.
I really liked this game: it's fun, addicting and you can play with friends on it. However I feel like some of the units are a little bit unbalanced such as the mind melder who can turn any unit including giants and battleships into the enemy. One game I had about six giants 20ish swordsmen etc. Then about ten mind melters (all armoured) came after me out of an undiscovered area and took out all of my giants. I then lost seven cities before I killed all of my giants but by the time I killed all the giants about 20 mind melders had surrounded my defeated cities and every time I shot them with catapults they just got 2 more to replace them. after about half an hour of basically no progress I had to give up because I had gotten nowhere near any enemy city. I've also experienced this zero progress problem when I'm against catapults that I can't see In an undiscovered zone as they can shoot me before my riders get near enough to see them on the map. Despite these issues I haven't been able to stay away from the game and I would definitely recommend it for anyone who likes a complex strategy game
Get Battle of Polytopia from App Store
What is your opinion about The Battle of Polytopia
Bitcoin
Ethereum
MetaMask (ETH)
Xrp
Polkadot
Binance coin
Stellar
Dogecoin
Tron
Elrond
Donate Bitcoin to this address
Scan the QR code or copy the address below into your wallet to send some Bitcoin
Donate Ethereum to this address
Scan the QR code or copy the address below into your wallet to send some Ethereum
Donate Xrp to this address
Scan the QR code or copy the address below into your wallet to send some Xrp
Donate Polkadot to this address
Scan the QR code or copy the address below into your wallet to send some Polkadot
Donate Binance coin to this address
Scan the QR code or copy the address below into your wallet to send some Binance coin
Donate Stellar to this address
Scan the QR code or copy the address below into your wallet to send some Stellar
Donate Dogecoin to this address
Scan the QR code or copy the address below into your wallet to send some Dogecoin
Donate Tron to this address
Scan the QR code or copy the address below into your wallet to send some Tron
Donate Elrond to this address
Scan the QR code or copy the address below into your wallet to send some Elrond