[Game] Spellspir‪e
 iphone games for free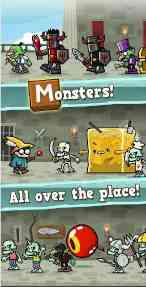 Game Description :
Blast fiends by spelling words and make your way to the top of the Spellspire!
Spellspire is a thrilling mashup of word game and action role playing game. Pick letters from a grid to spell words and shoot them from your wand as spells. The longer the word, the bigger the blast! Collect gold dropped by slain monsters and buy more potent wands, hats and robes with magical special effects and abilities. Will you reach the top of the Spellspire, and what will you find?
Game Features :
Exciting mashup of word game and action role playing game
Pick letters to spell words
Collect gold and buy better items between levels
Use consumable magical items to push through tough encounters
Team up against the monsters with your Facebook friends!
iCloud support for save games
Supports iPhone 6 / Plus new resolutions!
Additional Information :
Size 28.2 MB
Requires iOS 8.0 or later.
User Reviews :
Awesome game!
A fun and challenging game where you battle monsters by spelling words. Longer words are more powerful against the various goblins, undead, etc, but you primarily gain strength through gear and other upgrades (IOW, it's a game for fun, not learning new words).

One thing I didn't realize until much later — items in your bag are not active until you use them. The first item I picked up was a shield, and I thought that carrying it meant I had extra protection. Nope! The shield is a one-time-use item (like a health potion) vs an equipped item (like a hat). You have to tap the shield, then your character is protected in a temporary bubble.

Yes, this game has ads, and they are *fantastic*!! Yea, sounds crazy to say that ads are fantastic, but how many times have you seen ads where the close button moves around? Where there's no mute button? Where the ad fakes you out by counting down, then counting down again? NONE of that bull happens in this game. All ads have a close button in the upper right, a mute button in the lower left, and only one countdown. I wish all games handled ads the same straightforward way this one does!
Love This Game!
What a great twist on word gaming. While it's definitely possible to win without spending any money, it was too tempting. I spent probably $20 total to win, and I'm not sorry. The developers put time and effort into this, and I got more than my money's worth of entertainment. However, I'm not happy that you can buy equipment you can't use if you don't have enough bag space…that's a pretty dirty trick.

Still and all, five stars.

Hot tip: USE THE MONSTER BOOK!
RPG + ABCs!
If you are into RPGs and also appreciate word games, this is an awesome little game. It's been many years since I actually had a game that I felt the need to "check in" with on my phone. Some people complained about the timer on your lives refilling… I actually like it a LOT – it makes sure that I don't play for too long in a sitting, but gives me a reason to keep playing. I do wish they had a version where you paid money up front so you didn't have to deal with ads. I would pay a pretty decent amount right off of the bat for this option (moving it to a paid app rather than free). Yes, any purchase gets rid of the main ads, but you still need to watch one to get better letters for three rounds or to get a percentage more gold at the end of a level. That being said, great art style and animations, crisp sound effects and a nice soundtrack. Overall, super fun! I'm pretty addicted to it!
Fun game but…
The game is very original and clever. I was super excited when I first got the game, however over time even the game's originality couldn't save it from itself. For one, the ad system got to be overwhelming. Every 2-3 levels you'd get an ad and almost all the time you beat a level you'd get one. I guess the developers figured they'd take advantage of your euphoria from finally beating a level and stuck a guaranteed ad in there. Secondly, there should definitely be an affordable infinite lives in-app purchase like Trivia Crack did a couple years ago before they got greedy (it was $25 and then after a year or so they made it $100 which is ridiculous for a phone game). People shouldn't have to spend $1 every time they want their lives refilled when it should just be $10-$25 for a one time purchase. FORTNITE IS FREE PEOPLE. The game only offers cosmetic purchases; nothing that affects game play. Imagine having 5 lives and then having to wait 2 1/2 until you could play again. It's ludicrous.
Get Spellspir‪e from App Store
What is your opinion about Spellspir‪e
Bitcoin
Ethereum
MetaMask (ETH)
Xrp
Polkadot
Binance coin
Stellar
Dogecoin
Tron
Elrond
Donate Bitcoin to this address
Scan the QR code or copy the address below into your wallet to send some Bitcoin
Donate Ethereum to this address
Scan the QR code or copy the address below into your wallet to send some Ethereum
Donate Xrp to this address
Scan the QR code or copy the address below into your wallet to send some Xrp
Donate Polkadot to this address
Scan the QR code or copy the address below into your wallet to send some Polkadot
Donate Binance coin to this address
Scan the QR code or copy the address below into your wallet to send some Binance coin
Donate Stellar to this address
Scan the QR code or copy the address below into your wallet to send some Stellar
Donate Dogecoin to this address
Scan the QR code or copy the address below into your wallet to send some Dogecoin
Donate Tron to this address
Scan the QR code or copy the address below into your wallet to send some Tron
Donate Elrond to this address
Scan the QR code or copy the address below into your wallet to send some Elrond