[App] 1Blocker – Privacy & Ad Blocke‪r
 iphoneapps info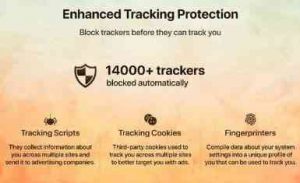 App Description :
1Blocker lets you block obtrusive ads, sneaky trackers, and annoying elements on sites. With 1Blocker, you're safe online and nothing will distract you from enjoying sites.
1Blocker is very easy to use — just flip a couple of switches to start blocking ads and trackers. The app will automatically receive cloud updates to the built-in filters silently, so you don't need to do anything. It's as simple as setting and forgetting.
1Blocker is a fully native app designed to extend Safari naturally. It's lightweight and doesn't drain your battery by taking up your device's resources.
The blocking itself is super fast because Safari does it itself. We only provide filters to Safari and don't modify webpages in any way. This vastly improves efficiency because Safari knows in advance what should be blocked. So, with 1Blocker, sites load on average 2-5x faster.
It's important to note that not all ads can be blocked though. Some sites use techniques that make it impossible for us to block their ads using currently available features for Safari content blockers.
App Features :
SECURE BY DESIGN
1Blocker is secure and private. It doesn't have access to webpages and doesn't track you in any way.
We believe that privacy is not for sale. That's why we don't have an "Acceptable Ads" program. We stay independent, and the only way we make money is through direct sales of 1Blocker in the App Store to you.
ADVANCED CUSTOMIZATION
1Blocker is a highly customizable content blocker, providing the possibility to create powerful custom rules. It allows you to create custom rules that block any URL by providing a regular expression or hide any element by CSS. It also lets you block cookies. (Available in Premium)
AVAILABLE ON ALL DEVICES
1Blocker is available for iPhone, iPad, and Mac. Your preferences and custom rules are always in sync through iCloud no matter which device you're using.
FEATURED IN THE PRESS
1Blocker has been featured in TechCrunch, Lifehacker, MacStories, Macworld, and many more.
FEATURES AVAILABLE FOR FREE
The ability to enable one category (for example, Block Trackers only)
Whitelisting sites right from the Safari extension
Whitelist synchronization between devices via iCloud
The possibility to see blocked resources on a site
FRIENDLY SUPPORT
Send your feedback at @1BlockerApp on Twitter or via email. Your feedback is always very welcome and considered for the next release.
We have been making 1Blocker since 2015. We've learned a lot from our customers and improved the app consistently for 5 years to suit all your needs. We believe it's the best all-around package currently available in the App Store.
Privacy Policy: 1blocker.com/privacy
Terms of Use: 1blocker.com/terms
Additional Information :
Size 15.6 MB
Requires iOS 13.0 or later.
User Reviews :
Update: Working Great Now
Update: so there seems to be a gap between settings inside the 1Blocker app and the whitelisting section of the extension inside safari. I discovered today that even though I had removed the whitelisting rules inside the safari extension, those rules were being overridden by a whitelisting setting in the app itself. After removing the toggles inside the app, the blocking resumed as expected. However, the whitelisting settings remained inside the extension. Regardless, I'm satisfied that things are operating as expected. Good work!

Sites like Forbes are not cooperating at al. With all blockers turned on and given permissions, Forbes just runs wild with huge banners and pop ups. It's not the only one. I have never had issues until the last few weeks or so. I got a link from my grandma for an article there and when it loaded I assumed none of the blockers were on or maybe I had it whitelisted and I did have it whitelisted. I turned that off, let Safari process the rules, and reloaded the page. Still no go
Developer Response ,
Thank you for updating us on this issue!

We are happy that you are satisfied with the way our app works.

Also, we will take your feedback into account while testing 1Blocker.
Works perfect
Many OTHER ad blockers have fallen into disrepair, not having been updated in ages or at least visibly updated and losing their effectiveness. This one bucks the trend and goes full throttle ad blocking with great configurability such as easy white listing. I only wish that some websites that I visit and enjoy had ads that weren't so utterly obnoxious that they hijack my Safari with a new page to announce "You've own a prize! Click OK!" And then I can't find my way back because swiping back just loads the ad again. UGH. Well, this blocker effectively stops that crud with the latest policies. I'm sure it is a full time job just keeping that up to date so the app cost is perfectly reasonable. Technically the app is above all the rest since they've managed to implement more than 50,000 policies using a modular system. Awesome. Now if only websites realized their ads were so obnoxious that JUST MAYBE less obnoxious ads would result in less ad blocking and more revenue…….
Get 1Blocker from App Store
What is your opinion about 1Blocker
Bitcoin
Ethereum
MetaMask (ETH)
Xrp
Polkadot
Binance coin
Stellar
Dogecoin
Tron
Elrond
Donate Bitcoin to this address
Scan the QR code or copy the address below into your wallet to send some Bitcoin
Donate Ethereum to this address
Scan the QR code or copy the address below into your wallet to send some Ethereum
Donate Xrp to this address
Scan the QR code or copy the address below into your wallet to send some Xrp
Donate Polkadot to this address
Scan the QR code or copy the address below into your wallet to send some Polkadot
Donate Binance coin to this address
Scan the QR code or copy the address below into your wallet to send some Binance coin
Donate Stellar to this address
Scan the QR code or copy the address below into your wallet to send some Stellar
Donate Dogecoin to this address
Scan the QR code or copy the address below into your wallet to send some Dogecoin
Donate Tron to this address
Scan the QR code or copy the address below into your wallet to send some Tron
Donate Elrond to this address
Scan the QR code or copy the address below into your wallet to send some Elrond