(Game) Space Marshals ‪3
 iphone games download free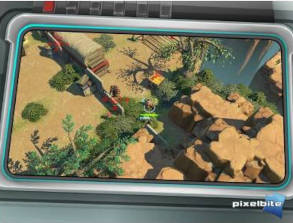 Game Description :
Join the rowdy Space Marshal crew on their latest misadventure in outer space. Strap those boots on, gear up and get ready to hunt space crooks!
This is a story driven action game with an emphasis on stealth and tactical combat. It continues the quirky story from the prequels, but you don't need any previous knowledge to enjoy this one.
Game Features :
TRY BEFORE BUY
Try the first couple of levels out for free before you decide if this is for you. We're a small indie studio developing this game and we'll have to release it one chapter at the time. Each chapter will be sold separately, but there won't be any other in-app purchases. We hope you'll enjoy the game!
TACTICAL COMBAT
Use the environment to your advantage. Avoid attacks by taking cover. Flank enemies for extra efficiency, but avoid getting flanked yourself! Use the tools of the trade to gain an edge – distractions, smoke grenades, flash bangs, traps and much more…
STEALTH
Choose your approach carefully. Some say running into the fray, guns blazing, isn't always the answer. Use distractions to single out opponents. Use stealth take-downs and silenced weapons to covertly reduce the enemy numbers. Hack gun turrets to turn on their masters. Lure different enemy factions together and let them fight each other.
LOAD-OUT & GEAR
Choosing your load-out is a big part of your tactics. In addition to body armor and grenades you can carry one two-handed and one single-handed weapon – and there's something for everyone. Big ones, small ones, loud ones, silenced ones, beaming ones, bouncy ones and more.
Additional Information :
Size 744.9 MB
Requires iPadOS 13.0 or later.
User Reviews :
Spectacular!
PixelBite did it again. I just finished the first chapter and I loved it! This so far is the best game of the 3. The genius gear rank system keeps space marshals balanced and rewarding. When I first wrote this review I was skeptical about the price. But I must say it was worth it because the step up in price certainly matches the step up in quality. The graphics are much improved with the gameplay being slightly improved. It just feels more deliberate as the level design keeps improving as well. All things considered Space Marshals 3 is overall a great game. I highly recommend any to purchase the whole game.

Some thing I highly request for future updates is multiplayer. I know that's a huge request but it would be so much fun if ever possible. There could be PVP, co-op bounties, and heists. Or if you could assemble a crew with friends and compete for the highest rank against other crews doing things I mentioned. All of it could be used to acquire gear and weapon customization but for online multiplayer or a fancier crew hideout. Just a thought. My other thought was if you introduced a level designer. That would give this game practically unlimited potential. Maybe something for the future.
Amazing!!!
This is my very first review on an app or game I've never written a review before but this is just hard to ignore the game is hands down one of the best if not the best game on mobile phone I've ever played it's so beautifully designed and thought of. I love the story and the combat. I love having the option to either approach a mission with stealth or just charge in or do both. Controls are very simple nothing complicated which I really love and honestly i was hoping that a 3rd game would come out and you guys made it happen which is amazing I could not believe it when I saw it and above all it's for free!

There are few things I would love to see improved in future versions or games from this developer and that is to include a voice over I think that would make it even a better more immersive experience, also I've played the 2nd game and to me I don't see that much improvement in graphics wise which are not bad at all it just something I have noticed besides that it's amazing game I love it thank you so much for it!
One of the best games available on IOS
Great game – worth the price, which ends up being way cheaper than any pay to win offerings.

Space Marshalls has been the best game with this top-down stealth/shooter direction for the whole series, and three is another excellent installment. The gameplay is executed perfectly with nice, balanced, difficulty. The look and feel are superb. Sneak mode makes every level into a difficult puzzle. I am not writing this to encourage anyway to buy it, just to let the developer know how much I enjoy it. I was actually looking for updates on the status of the next installment like two months ago so very surprised to see it show up.

Thanks!

Feedback for the dev, there seems to be an issue with resume after switching out of the app. If i switch to take a call resuming reloads to camp.
Get Space Marshals ‪3 from App Store
What is your opinion about Space Marshals ‪3
Bitcoin
Ethereum
MetaMask (ETH)
Xrp
Polkadot
Binance coin
Stellar
Dogecoin
Tron
Elrond
Donate Bitcoin to this address
Scan the QR code or copy the address below into your wallet to send some Bitcoin
Donate Ethereum to this address
Scan the QR code or copy the address below into your wallet to send some Ethereum
Donate Xrp to this address
Scan the QR code or copy the address below into your wallet to send some Xrp
Donate Polkadot to this address
Scan the QR code or copy the address below into your wallet to send some Polkadot
Donate Binance coin to this address
Scan the QR code or copy the address below into your wallet to send some Binance coin
Donate Stellar to this address
Scan the QR code or copy the address below into your wallet to send some Stellar
Donate Dogecoin to this address
Scan the QR code or copy the address below into your wallet to send some Dogecoin
Donate Tron to this address
Scan the QR code or copy the address below into your wallet to send some Tron
Donate Elrond to this address
Scan the QR code or copy the address below into your wallet to send some Elrond