(App) Smiling Mind
 iphoneapps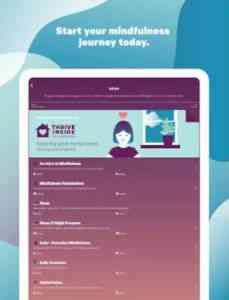 App Description :
Australia's leading FREE meditation app
Used by over 5M people
Programs for all ages
10min/day is all you need to start seeing the benefits
START YOUR MINDFULNESS JOURNEY TODAY!
Smiling Mind is a FREE mindfulness meditation app developed by psychologists and educators to help bring balance to your life.
Just as we eat well and stay fit to keep our body healthy, mindfulness meditation is about mental health and looking after the mind.
Our programs are designed to assist people in dealing with the pressure, stress, and challenges of daily life.
App Features :
We offer programs for:
Adults
Kids & Youth (3-18 Year Olds)
Sleep
Classrooms
Sport
At Work
Some Indigenous Languages
& Much More
Put a smile on your mind today!
Additional Information :
Size 56.9 MB
Requires iOS 8.0 or later.
Compatible with iPhone, iPad, and iPod touch.
User Reviews :
Fantastic app but not therapy
I love, love, love this app. One thing though is that the music doesn't shut off automatically after a meditation, which is a little annoying for the sleep ones. However, the programs are great, a wonderful mix of options, and the narrator is lovely and just the right amount of guidance for my and my kiddos (9 and 11). The only changes that'd be awesome are if it integrated with health, and the dashboard showed the actual length of each day.
All that being said, meditation and mindfulness aren't panaceas. They're great for you and they help a lot to reduce day-to-day anxiety and manage stress, but expecting a mediation app to stop panic attacks with no other interventions is kinda like expecting jogging to fix a broken wrist. It's not that jogging isn't good for you or that you're doing something wrong when you keep jogging and your wrist keeps hurting. It's that it's probably not the intervention you need to fix your wrist. And if your wrist is broken, or you're suffering from panic attacks and really debilitating anxiety, you deserve the care that can help those things truly heal. Check out DBT, CBT, or the Work of Byron Katie—all interventions that can help greatly with anxiety and racing minds and integrate really well with mediation.
Developer Response ,
Thanks so much for this wonderful review! We are looking into the music tuning off after a meditation in a future update. We are glad to hear it your kids love it as well!

You are absolutely right about mindfulness! We define mindfulness as paying attention to the present moment with openness, curiosity and without judgement. While we know there are many benefits psychological and physiological benefits (including reducing worries, anxiety and distress) we do not believe it to be fix all panacea. You can read here all about how we define mindfulness and it's benefits: www.smilingmind.com.au/mindfulness or visit this page to learn about all of the research we are doing into mindfulness and meditation practices www.smilingmind.com.au/research. Thanks again for your thoughtful review!
We seriously love this app. My kids love it, my husband, myself… I have recommended this app to a pediatric occupational therapy group (and they downloaded and use it), to my friends, to my family, my coworkers, my kids teachers…
I mean, they teach you meditation and mindfulness, give you coaching, guide you through an array of different meditation, give you exercise, tools… they have them for different age groups, school grade, activities, different emotions… AND IT'S FREE?! My only wish is that my app would download from onto my phone or iPad so I can listen to my favorite guided meditation if I can't use WiFi or cellular (airplane or out of network type of situations). They offer that service as well but for some reason it's not working on my phone or iPad (but I rarely am out of network or on an airplane so it hardly makes a difference for me).
Awesome app. Love it. Keep up the good work. Keep on spreading the happiness!
Get Smiling Mind from App Store
What is your opinion about Smiling Mind
Bitcoin
Ethereum
MetaMask (ETH)
Xrp
Polkadot
Binance coin
Stellar
Dogecoin
Tron
Elrond
Donate Bitcoin to this address
Scan the QR code or copy the address below into your wallet to send some Bitcoin
Donate Ethereum to this address
Scan the QR code or copy the address below into your wallet to send some Ethereum
Donate Xrp to this address
Scan the QR code or copy the address below into your wallet to send some Xrp
Donate Polkadot to this address
Scan the QR code or copy the address below into your wallet to send some Polkadot
Donate Binance coin to this address
Scan the QR code or copy the address below into your wallet to send some Binance coin
Donate Stellar to this address
Scan the QR code or copy the address below into your wallet to send some Stellar
Donate Dogecoin to this address
Scan the QR code or copy the address below into your wallet to send some Dogecoin
Donate Tron to this address
Scan the QR code or copy the address below into your wallet to send some Tron
Donate Elrond to this address
Scan the QR code or copy the address below into your wallet to send some Elrond