(Game) Skullgirls – Fighting RP‪G
 iphone games download free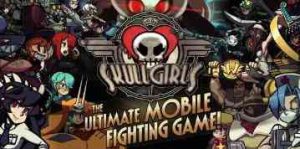 Game Description :
Skullgirls is a 2D Fighting RPG packed with unique, colorful characters to collect, upgrade, and customize as you search for the mysterious SKULLGIRL!
STUNNING 2D ANIMATION
Thousands of frames of carefully hand-drawn 2D animation delivers one of the most visually polished games you'll play on mobile.
Game Features :
A FIGHTING GAME FOR EVERYONE
Custom controls designed specifically for mobile allow you to effortlessly execute a wide variety of amazing moves and combos with a single tap or swipe.
New Fighting Game player? Use Fight Assist and focus ONLY on strategic decisions.
Experienced Fighting Game player? Discover deep tactical choices, unique combos, juggles, and more!
Finally, a Fighting Game for everyone!
FULL RPG PROGRESSION
RPG players will feel right at home!
Collect dozens of Characters that can each be customized in a variety of ways to suit your playstyle.
Level Up and Evolve your Fighters to maximize their potential.
Unlock Special Moves and Blockbusters that can be upgraded and equipped before each battle – pick the perfect loadout!
Build teams of up to 3 Fighters – find the best combination to maximize synergies.
Explore an ever-growing collection of characters.
GAME MODES
Versus Mode – Fight against other players in REAL-TIME online battles.
Story Mode – Seek out the Skullgirl before she destroys New Meridian.
Prize Fights – Compete with other players to unlock new Fighters.
Daily Events – Character-specific events are added daily – can you conquer them all?
Rift Battles – Build up your defenses and challenge other players to earn rare rewards.
Training – Practice combos, try different team combinations and perfect your technique
More modes coming soon!
Additional Information :
Size 234.6 MB
Requires iOS 10.0 or later.
User Reviews :
This game is truly the BEST fighting game on mobile
I was very surprised of how well made and great this game is. The controls are simple but yet effective. The gameplay is good for beginners but you will need practice to be good. (Personally love that game design). The design of the graphically is AMAZING to say the least. It's runs very smoothly (around 60-80 FPS witch is unheard of in mobile) the graphics and game art style is AMAZING. The character roster is really really great with characters for every different play style. And I love how that added a competitive mode with all of the characters unlocked and all moves unlocked. But Man I wish mobile would let us the skin of the character you own in competitive, like it would still be competitive but it would let me use my other big band costumes but only the skin not the stats, like an ult in smash bros or other fighting games or like in 2nd encore we're they let you use a skin, and I want it because I want to show people cool looking characters and stuff but I don't like playing free for all because not only people with characters that have the power level advantage would win 90% of the time, but the good thing is you can show off the cool characters. So if the game devs are reading this please add a feature we're we can use the character costumes in competitive. This game is really really worth a download and playing and I'm only asking for one thing and that is to let us use our character costumes in competitive.
Developer Response ,
Hey there,

Thanks for the great review!

Expanding the options and features of the online Versus mode is definitely something we want to do eventually. I can't give any specifics yet, but it's definitely on our radar!

Best Regards,

~HVS~
I am BLOWN away!
This game is absolutely great in every way possible. If you know you can handle it. It's not for everyone. You need good hand eye coordination, and just being mature enough as you will enjoy the game even more. Getting premium credit is not difficult once you master how the system works a and how to properly use a good number of the 12 different fighters. I currently use Peacock, Squigly, Ms. Fortune and Beowulf really well now. Just playing a good amount that you get comfortable using combos and adapting makes it even more enjoyable. It will get slow after day not gonna lie but once I persevered and continued to keep players by I was rewarded with having lots of fun and getting excited to start getting silver tier and hopefully soon enough a gold tier. If you get stuck, you must remember as I don't see too much help online,

Don't sell anything (yet)

Upgrade Bronze even if you know there are silver and gold characters. (They are still good to have)

Take risks that fit how well you play.

I also love the comments some of these characters make after winning a match. I'm still laughing after the fact. Getting fully immersed in the story will be amazing for you. There are so many good things to say that you should just stop reading and play already. Thanks for this awesome btw, developers. Music is great, graphics is 200% on point, no glitching EVER and I'm happy to be playing!
Developer Response ,
Hi King_Zekrom_100,

Wow! We can't tell you what it means to see such a glowing review. Thank you for playing, and we hope that you will enjoy our upcoming updates!

~HVS~
Get Skullgirls from App Store
What is your opinion about Skullgirls
Bitcoin
Ethereum
MetaMask (ETH)
Xrp
Polkadot
Binance coin
Stellar
Dogecoin
Tron
Elrond
Donate Bitcoin to this address
Scan the QR code or copy the address below into your wallet to send some Bitcoin
Donate Ethereum to this address
Scan the QR code or copy the address below into your wallet to send some Ethereum
Donate Xrp to this address
Scan the QR code or copy the address below into your wallet to send some Xrp
Donate Polkadot to this address
Scan the QR code or copy the address below into your wallet to send some Polkadot
Donate Binance coin to this address
Scan the QR code or copy the address below into your wallet to send some Binance coin
Donate Stellar to this address
Scan the QR code or copy the address below into your wallet to send some Stellar
Donate Dogecoin to this address
Scan the QR code or copy the address below into your wallet to send some Dogecoin
Donate Tron to this address
Scan the QR code or copy the address below into your wallet to send some Tron
Donate Elrond to this address
Scan the QR code or copy the address below into your wallet to send some Elrond