(App) Skiplagged – Flights & Hotels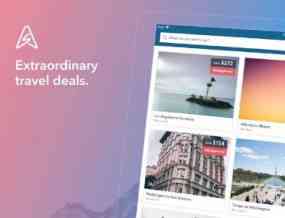 App Description :
Find flight and hotel rates you won't see anywhere else. Save hundreds of dollars compared to other travel sites.
Discover extraordinary travel deals, set fare alerts, and uncover great hotel rates.
We're so good, United Airlines actually sued us for it!
App Features :
Find flights other search engines won't show you — including HIDDEN-CITY flights and arbitrary round-trips
Filter flights by duration, number of layovers, takeoff/landing time and more
Explore lowest priced travel dates and see fare changes for flights
Receive alerts when fare prices drop
Book hotels as well, including last-minute hotels and special deals
Filter hotels, read reviews and view traveler ratings
The fine print: a HIDDEN-CITY flight is a flight where you get off at the layover rather than the final destination. For example, a flight from New York to San Francisco might be $300, but a similar flight from New York to Seattle with a layover in San Francisco might be $200. If you're going to San Francisco we'll show you both flights, and if you choose the cheaper one, you get off the plane at the layover (San Francisco) rather than going to the final destination (Seattle).
This is perfectly legal and the savings can be significant, but if you've never traveled like this before, you should read our HIDDEN-CITY FAQ at  skiplagged.com/faq
We'll always show you all the options, so YOU can pick the deal you want!
Additional Information :
Size 67.7 MB
Requires iOS 10.0 or later.
User Reviews :
Loving & Forever…..
Using and cherishing because when you're in a crunch and looking for a cheap flight along came Skiplagged and boy was I glad. In July 2017 I was looking for a one-way flight to Dallas so my sister could return home. After a three-week driving vacation she needed to return home as soon as we could find a cheap flight and the cheapest we found was between $178 and $400, which was a bit out there for her. She suggested Skiplagged. We really did not know how this app worked, but I booked the next morning returning home flight at a 58% savings and waited. I was happy to pay for her ticket 15 minutes later she received confirmation of a purchased ticket and she was packing her bags to leave the next morning.

Thank you for inventing this app and I still use this for other people; such as a RT ticket to New York for only $58 is a steal. So again, thanks and soon I head off to Hawaii twice.
Works – if you're careful
There ARE deals on this having used it a few times but it takes work and it's not like Expedia or the other booking Apps, it's really best using as information and guidance.

I've booked flights not through this, but off the airlines own sites, but use the information in the App to figure out the correct times and flights.

So basically, I have the App open on my phone while booking on the airline's websites on a laptop with different windows open.

I don't trust the 3rd party no-names this App links out to.

And another warning – don't tell the airlines that you've used skiplagged AT ALL. They will immediately get irate and will not be helpful. Again – use this information and book on the airlines own website – you'll save yourself the headache.
They didn't book my flight home w/ airline
I used this once and it will be the last. The reservations were made but my flight wasn't completely booked because this agency FORGOT to finish it by actually purchasing the tickets. I received confirmation e-mails that the flight was booked. I was not notified that there was any issue with completing my flight back or that the tickets weren't actually purchased even though there was a reservation made. I received confirmation e-mails and receipts for the cost of the flight and trusted that this agency did their job correctly.

I therefore have to drive back from Vegas to Olympia, WA (18 hours) and miss work because of this agency's mistake and inability to correct it as I sat at the airport unable to fly home because they NEGLECTED TO PURCHASE MY TICKETS even though they made a reservation. (YOU HAD ONE JOB!)

I called the customer service line and was told a supervisor would call me back within a half hour to resolve the issue and I have now waited an hour and a half with no call back. Worst booking agency ever i will never again use this app.
Developer Response ,
Hi there, we're sorry to hear about your experience with booking. We did reach out to our booking partner about your flight and to have them look into this further. Per the email they sent you, the booking was not ticketed and you were not charged for the flight reservation. We also confirmed that the supervisor you mentioned tried to call you several times but received no response back from you. We also sent you an email follow up with more detailed information about what happened with this booking back in June.
Life Changer
I can't say enough how much I LOVE this app! I was introduced to it a couple years ago from a friend who used it. I'm a bit of a skeptic so if she had not purchased flights off of it before I would think it was too good to be true. I live in Hawaii with family in TX and AZ and I travel a lot outside of the states. I have bought every single one of my flights on Skiplagged since I downloaded the app 2 years ago! I have saved hundreds of dollars and even done the hidden city flights a couple times with no issues. Just yesterday I purchased a flight to Brazil for New Years for only $1800. The cheapest price we found on all of the search engines (travelocity, Priceline, Expedia, google, etc) was $2200. I HIGHLY recommend this app!!
Get Skiplagged from App Store
What is your opinion about Skiplagged
Bitcoin
Ethereum
MetaMask (ETH)
Xrp
Polkadot
Binance coin
Stellar
Dogecoin
Tron
Elrond
Donate Bitcoin to this address
Scan the QR code or copy the address below into your wallet to send some Bitcoin
Donate Ethereum to this address
Scan the QR code or copy the address below into your wallet to send some Ethereum
Donate Xrp to this address
Scan the QR code or copy the address below into your wallet to send some Xrp
Donate Polkadot to this address
Scan the QR code or copy the address below into your wallet to send some Polkadot
Donate Binance coin to this address
Scan the QR code or copy the address below into your wallet to send some Binance coin
Donate Stellar to this address
Scan the QR code or copy the address below into your wallet to send some Stellar
Donate Dogecoin to this address
Scan the QR code or copy the address below into your wallet to send some Dogecoin
Donate Tron to this address
Scan the QR code or copy the address below into your wallet to send some Tron
Donate Elrond to this address
Scan the QR code or copy the address below into your wallet to send some Elrond