ShutEye – Sleep Tracker app by ShutEye Limited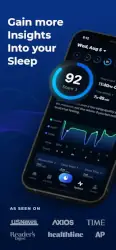 App Description :
NEW! iOS 16 Lock Screen widget is coming! Now ShutEye provides a health widget on the lock screen, you can simply start your sleep tracker with just one tap!
Have trouble sleeping? Sleep better with ShutEye's relaxing sounds and sleep tracker.
When you lay in bed after a hectic day, does sleep seem just out of reach? ShutEye is here to help.
Sleep is one of our most basic needs, yet, in today's busy, buzzing world, it is one of the most elusive. Your productivity, quality-of-life, health, even your happiness, all depend on getting the rest you need.
So stop tossing and turning all night, and starting falling asleep in a healthy and natural way.
This app brings a wide variety of tools to help you fall asleep and stay asleep. Create a comfortable sleep space with our sounds and ambient noise. Drift away with a bedtime story, wake up gently with a smart alarm, or learn about your body and improve your health by following our sleep tracker. With so many options including white noise, nature sounds, and the option to make a personal mix, you can finally get the rest and renewal you need today.
App Features :
A huge selection of sleep sounds, to ensure your sleep environment is as comfortable as possible.
Wide variety of relaxing music to help you wind down after a long, stress-filled day.
Sleep stories to help lull you into a deep sleep.
The ability to make your own personal mix of sounds, so that you get just the right ambient noise.
Sleep tracker so that you can start to understand your sleep cycles from a scientific perspective.
Smart alarm; to make sure waking up is as gentle as possible.
Snore detector informs you of how much you snore during the night
Suitable for the following people:
People with insomnia or lacking sleep caused by difficulties in falling asleep, frequent nightmares, unstable sleep schedule, etc.
Office workers hit by stress and anxiety
Moms and dads who need to take care of their babies
People who want to focus on work or study
People who like to meditate or want to try meditation
People who are easily affected by environmental noise while sleeping
Students under pressure from examinations and schoolwork
People who want to improve their sleep quality
People who want to record their sleep talk and snoring
A good night's sleep isn't always easy to find, but it is the key to so much in your life. Finally achieving the deep and meaningful rest you need will lead you to a healthier body, mind and more.
Stop short-changing yourself and those around you. Stop accepting your ever-present fatigue and lack of vitality. Use ShutEye to achieve the peace you need.
Sleep well and become the best most vibrant version of yourself. Try today!
APPLE INTEGRATION:
ShutEye saves your sleep sessions to your Apple Health app.
Subscription Information :
ShutEye offers an auto-renewing subscription at $59.99/year to provide you with unlimited access to the VIP features. Your payment will be charged to your iTunes Account as soon as you confirm your purchase. You can manage your subscriptions and turn off auto-renewal from your Account Settings after the purchase. Your subscription will renew automatically unless you turn off auto-renew at least 24 hours before the end of the current period. The cost of renewal will be charged to your account in the 24 hours prior to the end of the current period. When canceling a subscription, your subscription will stay active until the end of the period. Auto-renewal will be disabled, but the current subscription will not be refunded. Any unused portion of a free trial period, if offered, will be forfeited when purchasing a subscription.
Terms of service: www.shuteye.ai/shuteye-terms-of-service/
Privacy policy: www.shuteye.ai/shuteye-privacy-policy/
Feedback: shuteye_support[at]enerjoy.life
Additional Information :
Size 373.7 MB
Requires iOS 13.0 or later.
User Reviews :
Blessings
I am so grateful for this app. I keep odd sleep hours and they fluctuate weekly. This app is teaching me better sleeP Habits. I worked so much for years at all different hours of the day that I just got used to sleeping two or three hours a night. Because of the programs, music, meditation and stories I'm sleeping more at the same time. And even at night. I've stopped having to take a nap. If I get tired, I find something else to unpack clean and repack. It keeps me moving. Their guidance was good in the free portion of the app there are still alot of choices for sleeping, but after paying the fee for premium, I'm getting one-on-one help. I'm getting an analysis of my sleeping habits. It has opened my eyes. It's been over 90 days and I slept five hours straight last night guys. but listen to this. I got up walked around taking deep breathes and got a drink of water. I laid back down and closed my eyes. When I awoke, 4 hours had gone by. That's the most of slept in 24 hours over the past 50 years. I sleep better and I feel better. I just needed to realize that I'm not in a hurry to do anything anymore and I only have to make myself happy. If you really want to take your sleeping problem under hand, try this app for thirty days. See what happens. Deep breath. Love this app and those who have given their precious time to me. Thank you.
Developer Response,
It's great to hear you found our sleep recorder and tracker helpful. We believe the analysis really helps users better understand their sleep quality and habits like grinding or snoring. We also think understanding our sleep can help us improve it and resolve problems. Thanks so much for sharing your thoughts!
Caught Voices from Ghosts at Night
I had always had trouble sleeping at night and waking up feeling tired as if I never slept at all. This has always been happening since I moved into this house. After purchasing this app, I quickly became shocked as to what it was capturing at night for the audio. I would hear other peoples voices talking to me keeping me somewhat awake at night. I was never conscious enough to realize this was going on. At first I thought the app was just adding fake audio to make it seem like a special feature so I ended up setting up a camera to record myself sleep in addition to the recording audio from the app. Not only was the app extremely accurate, my camera captured paranormal activity occurring with the audio. My blankets would be pulled off of me, my head would get hit into the wall by force, and I would even get up and stand in front of whatever this was and talk to it. Extremely scary stuff but grateful this app actually worked so well to help me realize what has been going on
Developer Response,
Thank you very much for your feedback! We are glad to hear that ShutEye was able to help you and hope that your sleep quality is getting better and better!
Get ShutEye from App Store
What is your opinion about ShutEye
Bitcoin
Ethereum
MetaMask (ETH)
Xrp
Polkadot
Binance coin
Stellar
Dogecoin
Tron
Elrond
Donate Bitcoin to this address
Scan the QR code or copy the address below into your wallet to send some Bitcoin
Donate Ethereum to this address
Scan the QR code or copy the address below into your wallet to send some Ethereum
Donate Xrp to this address
Scan the QR code or copy the address below into your wallet to send some Xrp
Donate Polkadot to this address
Scan the QR code or copy the address below into your wallet to send some Polkadot
Donate Binance coin to this address
Scan the QR code or copy the address below into your wallet to send some Binance coin
Donate Stellar to this address
Scan the QR code or copy the address below into your wallet to send some Stellar
Donate Dogecoin to this address
Scan the QR code or copy the address below into your wallet to send some Dogecoin
Donate Tron to this address
Scan the QR code or copy the address below into your wallet to send some Tron
Donate Elrond to this address
Scan the QR code or copy the address below into your wallet to send some Elrond