(Game) Self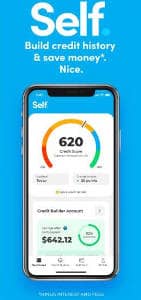 Game Description :
Self helps you build credit while you save. Manage your Credit Builder Account, check your credit score and get Self updates right from the app.
You checked your credit report, but feel like your credit score is stuck in a rut. Good news! Your credit score isn't set in stone.
The Self credit app is a way to build credit history while building savings*. Build credit with Self, even with a low credit score (or none)!
Start with the Self Credit Builder Account.
No credit history needed
Includes credit score monitoring (VantageScore 3.0)**
Reports to all 3 credit bureaus (Experian, Equifax, Transunion)
Plans start at $25/month***
Pay off over 12 or 24 months
Your principal is safe in a bank account****
On-time payments are good for your credit report
At the end, get back the savings (minus interest and fees)*
Continue with the Self Visa® Credit Card, a secured credit card designed for building credit.
Reports to all 3 credit bureaus
Build the deposit over time from your Credit Builder Account
Adds a second type of credit to your credit report
Includes credit usage monitoring and alerts
Use it everywhere Visa is accepted in the US
Game Features :
NO HARD CREDIT PULL*****
Self does not do a "hard pull" credit check when you create an account. In fact, no credit score is required!
ACCESS THE SELF VISA CREDIT CARD
Have an active Credit Builder Account in good standing, make at least 3 Credit Builder Account monthly payments in full and have $100 or more in savings progress and you could get access to a secured credit card.
BE A BUILDER
Whether your goal is to get a credit card, a loan to buy a car or house, a good FICO® score can help. According to FICO, building payment history has the biggest impact on your credit score******.
WHY PEOPLE LOVE SELF
Over 1 million people have used Self's Credit Builder Account to build credit and save more than $500 million.
"Because of Self I've been able to buy a house, refinance my car, and my credit went from a 492 when I started to a 735 in less than 18 months." – customer Christian O.
Individual results may vary.
SECURE ACCOUNTS
All accounts use two-factor authentication, 256-bit encryption, and fraud detection to protect your money and private information.
TERMS
When you download and use Self, you agree to the Terms of Service at: https://www.self.inc/terms-of-service
PRIVACY POLICY
You may review Self's privacy policy at: www.self.inc/privacy-policy
*Savings are minus fees and interest. Results are not guaranteed. Improvement in your credit score is dependent on your specific situation and financial behavior. Failure to make monthly minimum payments by the payment due date each month may result in delinquent payment reporting to credit bureaus which may negatively impact your credit score. This product will not remove negative credit history from your credit report.
Credit scores will only be available to customers who our third-party vendor is able to validate.
***Sample products are $25 monthly loan payment at a $520 loan amount with a $9 administration fee, 24 month term and 15.92% Annual Percentage Rate; $150 monthly loan payment at a $1663 loan amount with a $9 administration fee, 12 month term and 15.91% Annual Percentage Rate. Please check the pricing page in the Self mobile app or www.self.inc for current pricing.
****Credit Builder Account — proceeds are held in a deposit account until maturity
*****All loans are subject to ID verification.
******See FICO score factors: https://www.myfico.com/credit-education/whats-in-your-credit-score
All Credit Builder Accounts are issued by Lead Bank, Member FDIC, Equal Housing Lender, Sunrise Banks, N.A. Member FDIC, Equal Housing Lender or Atlantic Capital Bank, N.A. Member FDIC, Equal Housing Lender. Subject to ID Verification. Individual borrowers must be a U.S. Citizen or permanent resident and at least 18 years old. Valid bank account and Social Security Number are required. All loans are subject to ID verification. All loans subject to approval.
The Self Visa® Credit Card is issued by Lead Bank, Member FDIC, Equal Housing Lender.
Additional Information :
Size 63.7 MB
Requires iOS 11.0 or later.
User Reviews :
So far I'm impressed
I've been using this app since September of 2020 (now April of '21) and even despite being late more than once, a couple times much later than I would've liked still my credit score has legit improved by at least 20 points. Considering my lack of credit, along with the few things on my credit report being pretty much all bad, that's so much better than I could've done on my own. Now the app shows that I'm eligible for a self credit card, which, After doing some research about, I'll probably be getting pretty soon. A secured credit card that they already determined I'm eligible for since they set the requirements and then monitor my account to know when I meet them. So no hard check into my credit and no deposit to open the account since it's based on what I've already paid into my loan with them. So I get the loan back in about a year and a half, and in the mean time I can have a credit card secured by the money I'm already saving anyway? AND it's actively reporting all of this so that it builds my credit real time and I get to see the benefit from it all right away? Hopefully I don't end up feeling the need to come back and edit this review, but so far there's really not any downsides, just make sure You set a payment amount you can keep up with, obviously the more the better for your credit, but not if you can't pay it once you get it going, so keep it within reason for your income. I really do love it so far.
Get Self from App Store
What is your opinion about Self
Bitcoin
Ethereum
MetaMask (ETH)
Xrp
Polkadot
Binance coin
Stellar
Dogecoin
Tron
Elrond
Donate Bitcoin to this address
Scan the QR code or copy the address below into your wallet to send some Bitcoin
Donate Ethereum to this address
Scan the QR code or copy the address below into your wallet to send some Ethereum
Donate Xrp to this address
Scan the QR code or copy the address below into your wallet to send some Xrp
Donate Polkadot to this address
Scan the QR code or copy the address below into your wallet to send some Polkadot
Donate Binance coin to this address
Scan the QR code or copy the address below into your wallet to send some Binance coin
Donate Stellar to this address
Scan the QR code or copy the address below into your wallet to send some Stellar
Donate Dogecoin to this address
Scan the QR code or copy the address below into your wallet to send some Dogecoin
Donate Tron to this address
Scan the QR code or copy the address below into your wallet to send some Tron
Donate Elrond to this address
Scan the QR code or copy the address below into your wallet to send some Elrond