(App) Presence Video Security Camera
 iphoneappsinfo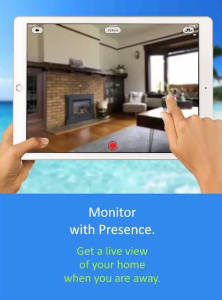 App Description :
You've got an old smartphone or tablet. It's sitting there, doing nothing. Why not put it to work? Let the free app Presence watch your back. Get it today, and you've got a home security camera system in less than 5-minutes. Download Presence on BOTH your primary smartphone – the one you use every day – and your old smartphone or tablet. Position the old device in the direction you want to watch and secure. You'll get recorded video alerts when something happens. You can even see what's happening remotely from anywhere.
App Features :
Get this. Have a 2-way conversation with pets and loved ones. Remotely switch between front and back cameras. Remotely turn on the camera flash for improved visibility. You'll get a ton of free encrypted cloud video storage for your motion detection recordings – 50MB to be exact. Want more? Upgrade to Presence Pro Video through Apple's App Store starting at only $1.99 for advanced motion detection features, with a beefy 5GB of video storage and priority customer support.
MONITOR with Presence
With live audio/video streaming and on-demand video recording, Presence makes a great DIY home security camera system. It's also a webcam, baby monitor, pet cam, nanny cam, home surveillance cam, party cam, or any cam. At home, in the kitchen, the garage, the nursery, the office or wherever – watch what's happening live and record it at the same time.
ALERT with Presence
When something happens and you're not there, you'll be alerted by email, in-app or push notifications. Presence video alerts will show you what just happened. Get notified when an intruder is detected, when the kids arrive home safely, when the delivery company has dropped off a package, or whatever you need to know. Adjust motion detection sensitivity to get only the recorded videos you want.
SHARE with Presence
Presence supports multiple simultaneous viewers connecting to a single camera at the same time. Watch the dog or the kids at the same time from different devices and locations. Be a Twitter influencer by sharing interesting moments captured by Presence. The app can automatically post motion detection videos and thumbnails to your Twitter account for the world to see.
With Presence, we've got your back.
Presence Pro Video – More cloud storage. More camera control
5 GB encrypted cloud storage
Faster recordings
Longer recordings
Camera alarm
Priority feedback
Clearer video streams
Additional Privacy
$1.99 one week trial. $4.99 monthly, $49.99 annually
Price may vary by location. Subscriptions will be charged to your credit card through your iTunes account. Your subscription will automatically renew unless canceled at least 24 hours before the end of the current period. You will not be able to cancel the subscription once activated. Manage your subscriptions in Account Settings after purchase.
Connect with us at:
YouTube: www.youtube.com/PeoplePowerCo
Facebook: facebook.com/PeoplePowerCo
Contact us at support[at]peoplepowerco.com
Privacy Policy: www.presencepro.com/privacy
Terms of Service: www.presencepro.com/terms
Additional Information :
Size 77.6 MB
Requires iOS 8.0 or later.
Compatible with iPhone, iPad, and iPod touch.
User Reviews :
NO internet—works awesome!!
We used this on our old iPhones and it worked great. Got immediate notifications when the camera detected movement. We have NO internet where we live and so-so cell services with ATT and Verizon. The app worked as stated & we had video evidence of UPS or Fed-Ex, other people walking around house outside. Our phones gave out & we now are using our iPads. For people who don't have internet & can't get the wi-fi security cameras that are out there it's a perfect solution. You would think that in today's technology world there would be more of this type of service but we the people who don't have high speed internet are left out in the cold to figure all this out. There are many services that claim they can monitor over cell service but all that we have found aren't available in our area. It is the perfect app for all of us who choose to live out away from town in our own paradise without internet. Amen to Prescence!!
Too long of a wait for motion detection
I applaud the developers of this app and would like to use it and take advantage of their other security devices but there is one major shortfall preventing me from that. It appears that even with Pro, it isn't possible to set the wait time for recording following motion detection to less than 5 seconds (even though 1, 2, 3, and 4 are on the selector, it keeps springing back to 5). My driveway is 75′ long, but both the UPS guy (walking from the road) and the lazy cat from next door get almost to my porch before the recording starts. I back down my driveway from the road, all of which is in the camera's sights, but only see the hood of my truck as it disappears beside my house. All I ever see in these recordings is the tail end of what just happened. This is all with detecting "normal-sized" movements. It would benefit from shorter wait times on motion detection (at least in the paid version, although a competitor offers this for free) and also a detection grid to limit triggering by things that will never be significant like wind-blown tree limbs (also offered by a competitor).
Get Presence from App Store
What is your opinion about Presence
Bitcoin
Ethereum
MetaMask (ETH)
Xrp
Polkadot
Binance coin
Stellar
Dogecoin
Tron
Elrond
Donate Bitcoin to this address
Scan the QR code or copy the address below into your wallet to send some Bitcoin
Donate Ethereum to this address
Scan the QR code or copy the address below into your wallet to send some Ethereum
Donate Xrp to this address
Scan the QR code or copy the address below into your wallet to send some Xrp
Donate Polkadot to this address
Scan the QR code or copy the address below into your wallet to send some Polkadot
Donate Binance coin to this address
Scan the QR code or copy the address below into your wallet to send some Binance coin
Donate Stellar to this address
Scan the QR code or copy the address below into your wallet to send some Stellar
Donate Dogecoin to this address
Scan the QR code or copy the address below into your wallet to send some Dogecoin
Donate Tron to this address
Scan the QR code or copy the address below into your wallet to send some Tron
Donate Elrond to this address
Scan the QR code or copy the address below into your wallet to send some Elrond