(Game) Modern Combat 5
 iphone games for free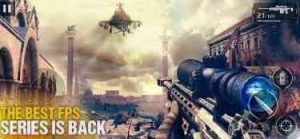 Game Description :
Step into the action as the latest installment in the best FPS series raises the bar for shooters once more! Create a squad, add your friends and test your individual and team skills against other squads!
Is single player your thing? Then step into a world on the brink of anarchy and shoot your way out of one dire situation after another to expose a lunatic who's trying to tear the world to shreds.
Game Features :
CHOOSE YOUR FAVORITE CLASS
9 customizable classes that you can level up across single- and multiplayer
Find the playstyle that suits you: Assault, Heavy, Recon, Sniper, Support, Bounty Hunter, Sapper, X1-Morph or Kommander
Activate class-specific skills by earning and spending Skill Points
HIGH-POWERED MULTIPLAYER
Watch players in battle with the new Spectator mode
Epic team clashes in Squad vs. Squad matches
Talk to other players in Global and Squad Chat
Individual and Squad leaderboards
Win cool rewards in the limited-time events
CUSTOMIZATION OPTIONS APLENTY
Equip advanced tactical suits with powerful abilities
Attach trinkets to your weapons for a personal touch
Apply camos to the advanced tactical suits and weapons to mark your presence on the battlefield
UNIFIED PROGRESSION
Accumulate XP and level up by playing both single-player missions and multiplayer matches
Unlock higher-tier weapons by mastering lower-tier ones
Customize the perfect weapon using a host of attachments
INTENSE SOLO CAMPAIGN
Fast-paced story missions with various challenges taking you from Tokyo to Venice
Play the new Spec-Ops missions for a real adrenaline rush
Flawless graphics, music and voice performances with seamlessly integrated cutscenes
HIGHLY CUSTOMIZABLE CONTROLS
Intuitive, highly customizable controls so you can play just the way you want
IMPORTANT* Modern Combat 5 requires an iPad 2 (or newer), iPhone 4s (or newer), or iPod touch 5th Generation. An Internet connection is required to play.
Visit our official site at gmlft.co/website_EN
Check out the new blog at gmlft.co/central
Don't forget to follow us on social media:
Facebook: gmlft.co/SNS_FB_EN
Twitter: gmlft.co/SNS_TW_EN
Instagram: gmlft.co/GL_SNS_IG
YouTube: gmlft.co/GL_SNS_YT
This app allows you to purchase virtual items within the app and may contain third party advertisements that may redirect you to a third party site.
Terms of Use: www.gameloft.com/en/conditions-of-use
Privacy Policy: www.gameloft.com/en/privacy-notice
End-User License Agreement: www.gameloft.com/en/eula
Additional Information :
Size 1.7 GB
Requires iOS 9.0 or later.
Compatible with iPhone, iPad, and iPod touch. Apple TV.
User Reviews :
U really really need a new better update.
New update is messing with everything. Some guns fire slower and your hits don't always register. Me and another player were shooting each other, NOT MOVING,for like 30 seconds and neither of us were taking ANY damage. Finally his shot registered and killed me but nothing else worked. Point system is all wrong. Capture the flag for instance, one match I played I killed the most on my team and we won the game! All I got was 3 points. It is based off the kills of the other enemy as well. If someone on the other team kills more than you, you could even get negative points even if you win and are top team player. Not based much on weather you win or capture the enemies flag or support a team mate that has it. Last man standing kills should be huge! If that player wins you the game after he or she is the last alive! Those should be never awarded negative points. Never! Worst feeling in game. Beat it for your team and still get points deducted. I get it's based on player matching but it's more than that too. You should never see those points. It should be behind the scenes.
My second review(So far…)
Okay, so first if all, this game isn't really bad. There's nice graphics, and it's a pretty good shooter for a mobile game. But, Gameloft is greedy, and that ruins the fun. For example, I was saving up for a really cool bundle. But as I progressed in the game it got harder. I replayed one level 20 times before I passed it, and I spent credits cause I got so fired up about it. At one point I slammed my iPhone on the floor, point being that the game is literally set up so that it's all a trap they want you to spend money because they're a bunch of greedy hogs. The harder the game gets, the more angry you get at the game, the more money you spend, on credits for a full recharge of energy, just for the whole thing to happen again. If I don't see improvements soon I'm taking the game off my phone. Another thing, ads. I've never seen so many ads in one game. Every time one goes away, another comes up. Ads are another way they get money, and that's why they want to jack it up with them. So they get money! Games like clash of clans make twice as much money as you because they don't make players rage on there phones and spend like $60+ on stupid credits. But, I'm gonna be fair, and if you ask me on gameplay and graphics or even ease of controls I'd give it a 4 out of 5.
Get Modern Combat 5 from App Store
What is your opinion about Modern Combat 5
Bitcoin
Ethereum
MetaMask (ETH)
Xrp
Polkadot
Binance coin
Stellar
Dogecoin
Tron
Elrond
Donate Bitcoin to this address
Scan the QR code or copy the address below into your wallet to send some Bitcoin
Donate Ethereum to this address
Scan the QR code or copy the address below into your wallet to send some Ethereum
Donate Xrp to this address
Scan the QR code or copy the address below into your wallet to send some Xrp
Donate Polkadot to this address
Scan the QR code or copy the address below into your wallet to send some Polkadot
Donate Binance coin to this address
Scan the QR code or copy the address below into your wallet to send some Binance coin
Donate Stellar to this address
Scan the QR code or copy the address below into your wallet to send some Stellar
Donate Dogecoin to this address
Scan the QR code or copy the address below into your wallet to send some Dogecoin
Donate Tron to this address
Scan the QR code or copy the address below into your wallet to send some Tron
Donate Elrond to this address
Scan the QR code or copy the address below into your wallet to send some Elrond