(Game) Pocket World-New Journey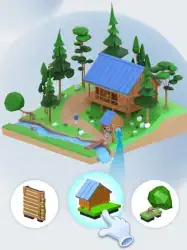 Game Description :
Pocket World-New Journey is a fun and relaxing 3D puzzle game. The story takes place in a parallel time and space where the earth is on the verge of collapse,Players repair the earth in a parallel time and space and reproduce the fantasy journey of civilization.All the models are based on world's famous buildings. While assembling the parts into various of models, players are also feeling the exotic atmospheres around the world.
Game Features :
Assembling by yourself,hands-on and build it up, experience assembly fun.
3D vision,a new 3D puzzle game that trains your brain, open your imagination.
Hundreds of famous scenarios here, take you travel the world in the smart phone.
Additional Information :
Size 589.7 MB
Requires iOS 10.0 or later.
User Reviews :
Bring back the original game
As a regular player of the original, I was excited to see the game brought back, but almost immediately I was let down by the style of the game play. Requiring stamina to assemble each model was an unfortunate addition. My biggest issue besides the constant ads, is needing to redo specific models in order to collect pieces to build models in a different area in order to continue along the path. And having to redo those models almost half a dozen times just to get ONE piece out of the five required to even build the required model is a waste of time. Bring back the old mode where I could go as far as I could, without needing to repeat a past model, in one sitting. And lessen the amount of ads that I have to sit through.

The old version had a way to get app support directly instead of going through the App Store. If things improve significantly in a timely manner, I may change my review.
New Version is Awful
Much like the other reviews, I played the original game when it was basic. It was originally advertised as a similar, relaxing game to a word search puzzle. It introduced monuments and attentions from various countries which was really neat, and I enjoyed the original bonus levels where you could build a city. All you needed was to gain coins and diamonds. Plus you received a badge/award for each country you completed. Then some of the more bonus features arrived which weren't too bad at first, but got worse along the way. Too much focus was put onto those levels instead of the actual puzzle game. Then it stopped. Now this game has been introduced which I was very excited about, hoping to get back to basics. Unfortunately, it is horrific. Too much trouble to play, needing stamina points to continue or extra bonuses. Having to watch too many ads to play. You spend more time watching ads than actual game play. And as said before, what's with the stupid fairy theme? I didn't even see an option for a male avatar. I want to try this game out as I really enjoyed the original, but it's too dumb and complicated, a ghost of its former great life. I'm on the verge of just deleting it.
Love the game.. not new version. HELP
I love this game.. truly! But it's so confusing now? There is no info key/ any way to understand the different symbols and characters/ how to progress? I'm stuck in Nicaragua … can't pass to next level b/c I need 2 or more stars on 3 puzzles in Marsaille … I've used boosts, done them over and over and STILL can't get 2 stars on ANY of them to synthesize???? Developers- please help?? No matter how quickly I do them or how accurate the completion is, still no 2 stars. It's extremely frustrating!!! I do the tournaments as well.. I've tried everything? I've bought diamonds/ gotten stamina? There needs to be somewhere in the game where you can find answers to the game/ questions you have. Please!! I preferred the old version better. I'd give it 5 stars if players could have a way to understand the new aspects of the game..
Developer Response,
Thank you for your feedback. In order to communicate problems in a timely manner, is it convenient to add a discord group?  discord.gg/DrskjuZjNf
Just okay
The game tends to be pretty buggy despite regular updates. Also, before you pay the $5 for ad free, I'll warn you it's not truly ad free. It does get rid of ads between stages, but there's still a ton of ads you have to watch in order to progress through different things. Also, every time there's an update I seem to have to restore my purchase. One time I even had to buy it again because it didn't restore. Normally, I wouldn't have repurchased but I do like the game and the ads are irritating if you don't. I tried to get app support a few times to see if they could fix my account, but never received a response so that route clearly doesn't work. Overall, it's not a bad game but I liked the original a lot better.
Get Pocket World-New Journey from App Store
What is your opinion about Pocket World-New Journey
Bitcoin
Ethereum
MetaMask (ETH)
Xrp
Polkadot
Binance coin
Stellar
Dogecoin
Tron
Elrond
Donate Bitcoin to this address
Scan the QR code or copy the address below into your wallet to send some Bitcoin
Donate Ethereum to this address
Scan the QR code or copy the address below into your wallet to send some Ethereum
Donate Xrp to this address
Scan the QR code or copy the address below into your wallet to send some Xrp
Donate Polkadot to this address
Scan the QR code or copy the address below into your wallet to send some Polkadot
Donate Binance coin to this address
Scan the QR code or copy the address below into your wallet to send some Binance coin
Donate Stellar to this address
Scan the QR code or copy the address below into your wallet to send some Stellar
Donate Dogecoin to this address
Scan the QR code or copy the address below into your wallet to send some Dogecoin
Donate Tron to this address
Scan the QR code or copy the address below into your wallet to send some Tron
Donate Elrond to this address
Scan the QR code or copy the address below into your wallet to send some Elrond