(Game) Pinball Arcade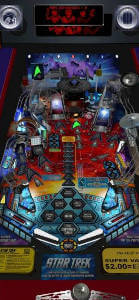 Game Description :
Play over 30 REAL PINBALL machines!
Pinball Arcade is the most realistic and comprehensive pinball simulation ever created!
Play TWO FREE TABLES this month!
Game Features :
This month's free tables are:
Big Buck Hunter™
Gladiators™
New table added in this update:
Big Buck Hunter™
Whoa Nellie™
This expansive digital arcade features exact recreations of the all-time greatest pinball tables from Stern Pinball® and Gottlieb® together in one app. Every flipper, bumper, sound effect, and display pixel has been painstakingly emulated in astonishing detail.
Rated 9.0 on IGN!
G4TV Mobile game of the year.
Additional Information :
Size 172.4 MB
Requires iOS 10.0 or later.
User Reviews :
Decent Game but Soon to be Obsolete
Farsight Studios did OK with the license for Williams and Bally tables, they at least gave people the chance to play tables they might not always play, but the gameplay of the tables was never all that good. Instead of accurate ball physics dictating where the ball went their tables often feel like the ball is on a scripted path.

The news that Zen Studios recently got the Williams/Bally license and will be releasing their first tables so soon, Oct. 9, 2018, pinball fans like me have been rejoicing. Zen Studios are the best in the business when it comes to Video Pinball and knowing these classics will finally get the treatment they deserve is just awesome.

Farsight still has other licenses, like Stern, but most of us are hoping that once other table manufacturers see what Zen does with the Williams tables in comparison to Farsight's attempts, that the next time license renewals come around they'll also sign with Zen Studios.

I know this sounds like I'm bashing Farsight and TPA, but that's really not my intent. For such a tiny studio with so little money it's impressive what Farsight was able to do. But now it's almost like a console generation change (multiple even) with the move to Zen and Pinball FX3/Zen Pinball. Who wants to play the Sega Genesis version of Street Fighter 2 when the PlayStation 4 version is a 1:1 actual recreation of the arcade machine?
Developer Response ,
Hi Hunterman328,

Thank you for the 3 stars. Have a nice day.
Fun app to play baked
I felt very compelled to write this review because I truly love this app and what it accomplishes. When I first downloaded it a few years ago I thought I had discovered an art project or history museum of pinball machines. The artwork was and continues to be very high quality, the mechanisms are cleverly coded, and most importantly — the feel of the weight of the pinball. And I would absolutely give 5 stars if it weren't for the interface. While there are some really cool features like the entire history and gameplay of the machine, it's buried under vague and often nonsensical menus. One of my biggest gripes is that the sound options have no effect on the audio output, so when I want to vibe and listen to psychedelic rock on headphones it is drowned out by mind numbing beeps and buzzes. I also have an issue with the pricing options for tables. The bundles are disparaging in price and options, ranging from 2 tables for $8 to almost 10 tables for $15-20. And of course you only ever want to play one game in it. There has to be options to buy individual tables in the $1-4 range. Unfortunately I will continued to be irked by all of these drawbacks because I can't stop playing this pinball.
I Am Reeling, Everyone Needs To Look At This, Mind =

I downloaded this app because TvTropes told me it had a Doctor Who table complete with its own plot — I didn't even know pinball games HAD plots (it features Missy by the way, which is interesting because I was expecting Delgado) and immediately I was blown away by the graphics! I don't understand why this app doesn't have five stars already, like the second you open the app you are greeted with The Who's (heh) "Pinball Wizard" in stellar quality. Even if you never play a single game of pinball, I highly recommend you download this game to look at the tables. Sure there are pictures from the App Store, but it's a whole other feeling watching it in motion. It is so beautifully rendered, I can't even be mad that the prices for new tables are a bit steep, because they are worth the price. I'm just happy there's a free trial version! I am also endlessly fascinated when reading the brief history each table has of its real-life counterpart. Most pinball machines were before my time, yet I can't help but feel such a profound nostalgia. Kudos to everyone involved in this wonderful marvel of a game, but especially to the developers and the graphic designers. This app is a must-see, 5/5 stars.
Get Pinball Arcade from App Store
What is your opinion about Pinball Arcade
Bitcoin
Ethereum
MetaMask (ETH)
Xrp
Polkadot
Binance coin
Stellar
Dogecoin
Tron
Elrond
Donate Bitcoin to this address
Scan the QR code or copy the address below into your wallet to send some Bitcoin
Donate Ethereum to this address
Scan the QR code or copy the address below into your wallet to send some Ethereum
Donate Xrp to this address
Scan the QR code or copy the address below into your wallet to send some Xrp
Donate Polkadot to this address
Scan the QR code or copy the address below into your wallet to send some Polkadot
Donate Binance coin to this address
Scan the QR code or copy the address below into your wallet to send some Binance coin
Donate Stellar to this address
Scan the QR code or copy the address below into your wallet to send some Stellar
Donate Dogecoin to this address
Scan the QR code or copy the address below into your wallet to send some Dogecoin
Donate Tron to this address
Scan the QR code or copy the address below into your wallet to send some Tron
Donate Elrond to this address
Scan the QR code or copy the address below into your wallet to send some Elrond