(Game) Otherworld Legend‪s
 iphone games download free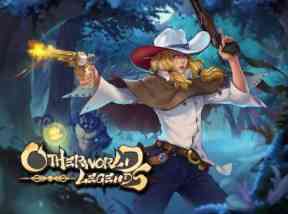 Game Description :
Explore beautiful otherworlds like tranquil bamboo grooves, zen patios, grand underworld tombs or dreamy mirage palace. Master heroes with fiery temper and overwhelming power. Collect bizarre and funny items and experiment with their combinations to find the best build. Together with the randomly generated world, every playthrough is a thrilling experience.
STORY
The best warriors from different times and spaces are summoned to the mirage created by Asurendra. They pass one trial after another, to finally come to face the long-buried secret behind this realm…
Game Features :
Super punchy controls and very satisfying combat experience.
Many heroes at your choice, each with a distinct fighting style. Melee, range, magic. There is always your cup of tea.
A huge variety of enemies, bosses and scenes, from towering knights to dumb cute monsters. You will never be short of punch bags.
Collect a sea of items that offer all sorts of bonuses. Crack on item fusion recipes till you find the perfect set of items that best suit your fighting style.
Prepare yourself for all the surprises you can get in the dungeon – random enemies, secret rooms, hidden shop and unknown bosses.
Assisted control helps you effortlessly target enemies and execute fabulous combos with few taps.
A unique mix of 2D and 3D pixel art styles and awesome hand-drawn animations.
Follow Us
www.chillyroom.com
Twitter: @ChillyRoom
Facebook: @otherworldlegends
Email: info[at]chillyroom.com
Instagram: @chillyroominc
Additional Information :
Size 429.3 MB
Requires iOS 9.0 or later.
User Reviews :
Another take
Soul Knight was a fantastic game, and the studio has taken upon themselves to make another game with the same formula bringing back that classic soul knight feeling. I love the visuals they have in the game, and the new technical aspects they bring to the game is pretty good. The first character you play has a dodge (don't know yet if that is for everyone as the store is broken and I can't unlock the new guys) and abilities that you can switch out in game. It seems that it has some sort of progression within the characters to unlock new skills, and a crafting system which you gather materials in game to use. So far items are pretty rare, I went 3 levels without seeing a chest but that might be my bad luck. The item shop does seem a bit expensive for the amount of gold you get and mapping seems a little more linear than soul knight. The enemies are way less forgiving, and one problem I have with the slimes is that if it's empowered and broken into two, I've been stun locked and unable to dodge out if they both attack.

Overall I am very much enjoying the game and encourage any fan of soul knight to check it out. I hope the devs continue to push characters with the game in the future and make relevant changes based on community response.

(And please fix the cash shop… I wanna try the other characters)
Really Awesome From The Start
I am really enjoying this game already. I pre-ordered this through the quick portal in this developer's Soul Knight game not knowing what it would be. I've had the day off so I've been playing it on and off since it downloaded and it's very similar to Soul Knight in its gameplay but much more fleshed out. The boss fighting and tactics feel much more challenging, not at all like a run and gun. I've actually reached the final boss required to clear the normal mode after playing for quite a bit and unfortunately I failed at the last stage from a notification getting in the way but I can honestly say no other mobile game (and even most triple A titles) has made me rage or accomplished like this game does. Since it just came out there aren't as many modes or features available at the moment but regular maintenance and occasional content drops will keep this game amazing. The only thing I'm really confused about is how to unlock Ginzo's other ultimate abilities, there are no prompts for using sapphire to learn them once I reach the right levels like there are for the first character. Maybe there's a higher level cap or a small bug missed during the release but I'm still enjoying it all the same.
Better Version Of Soul Knights?
Soul knights was good but wow, this is even better, the design, and the characters. Just a few things is that it's pretty hard to hit enemies since you have to be directly in front of them. I love the special ability and it's a iconic thing for the game, although there aren't guns and weird items you can use your skills to fight through! Soon enough this might be a 2020 mobile hit! The gameplay is amazing! Although this game is really good there are some parts that make the game unplayable. Bosses are way too hard to kill, I killed bosses before but every time I fight I die since the dodge isn't very effective, even if I dodge the boss can still kill me fast, at the same time the Calvary boss is way too hard to kill. When I try to dodge it will still damage spike me. Also when your in a crowd and the second a monster attack you can't doggie no matter how you press dodge and then I die instantly since I'm stunned and get a mass barrage of attacks going at me and I can't dodge and I instantly die. Also when attacking your also stunned unless you stop attacking and move which is annoying since you have to go into a certain position to attack and green move.
Get Otherworld Legend‪s form App Store
What is your opinion about Otherworld Legend‪s
Bitcoin
Ethereum
MetaMask (ETH)
Xrp
Polkadot
Binance coin
Stellar
Dogecoin
Tron
Elrond
Donate Bitcoin to this address
Scan the QR code or copy the address below into your wallet to send some Bitcoin
Donate Ethereum to this address
Scan the QR code or copy the address below into your wallet to send some Ethereum
Donate Xrp to this address
Scan the QR code or copy the address below into your wallet to send some Xrp
Donate Polkadot to this address
Scan the QR code or copy the address below into your wallet to send some Polkadot
Donate Binance coin to this address
Scan the QR code or copy the address below into your wallet to send some Binance coin
Donate Stellar to this address
Scan the QR code or copy the address below into your wallet to send some Stellar
Donate Dogecoin to this address
Scan the QR code or copy the address below into your wallet to send some Dogecoin
Donate Tron to this address
Scan the QR code or copy the address below into your wallet to send some Tron
Donate Elrond to this address
Scan the QR code or copy the address below into your wallet to send some Elrond