(App) Onion Browser
 iphone apps for free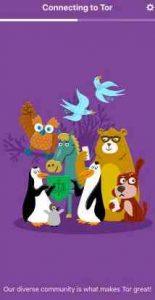 App Description :
Onion Browser is the original free and open-source Tor-powered web browser for iOS. Onion Browser helps you access the internet with more safety and privacy, and no extra cost to you.
The best Tor-related offering on iOS right now is Onion Browser – The Daily Dot, October 14, 2015.
Featured in: The New York Times, The Guardian, Salon, TechCrunch, Gizmodo, Boing Boing, Lifehacker, Macworld, The Daily Dot, & others.
App Features :
Browse the internet over Tor:
Protect your privacy from website tracking
Secure your traffic from insecure wireless networks and ISPs
Support for HTTPS Everywhere, an automatic switch to HTTPS enabled websites
Access .onion sites that are only accessible over Tor.
Fight online tracking: block scripts and automatically clear cookies and tabs, based on your preferences.
And more privacy-enhancing features!
DISCLAIMERS:
Web browsing is much slower than through a normal web browser or a VPN because your traffic is encrypted and relayed through the Tor network.
Multimedia often bypass Tor and compromise your privacy; video files and video streams are blocked by default and are not supported by Onion Browser.
Onion Browser might not work on networks with advanced network restrictions. If the app does not connect, try using bridges (or a different type of bridge), force-quit, and then restart the app.
Use of Onion Browser is at your own risk; remember that sensitive data does not always belong on a mobile device.
Onion Browser is free and open-source software. You can read more about Onion Browser and how to support development of Tor on iOS by visiting onionbrowser.com
Additional Information :
Compatible with iPhone, iPad, and iPod touch.
Requires iOS 11.4 or later.
Size 145.9 MB
User Reviews :
Onion Browser has been the best Tor Browser alternative for iOS. From what I have seen, it behaves the same way that the PC Tor Browser does, offering many of the same features, security and anonymity. Of the many Tor browsers for iOS I have tried, Onion Browser tales the cake. Knowing that The Tor Project endorses Onion Browser is a huge step forward for Tor use on iOS and mobile platforms I general. Until The Tor Project is able to develop and release the real Tor Browser for iOS and mobile, Onion Browser certainly does the trick. These days, in an extremely mobile world, Tor on mobile is much more important than Tor on a computer, and I believe that most people believe the same. Literally the only issue I have with this browser, is the fact that if the app spends longer than a few seconds in the background, it will lose its connection to the Tor Network, forcing us to force quit the app and re-launch it. I understand the limitations and the technical stuff with iOS, and that is the reason for this, but if there were a workaround that could be implemented, that would be fantastic. Because of the app losing its Tor connection, and requiring a force quit to reconnect, it causes me to lose anything and everything I am doing online, which is a real set back. Other than that, it is the best Tor Browser I have used.
Okay a delete and reinstall repaired functional it's, sorry Onion it's a noble app by application. And, execution. Educational x10 too. Now, It fails on open << ever time since 11.5.2 >> if this is going to be a common theme at the AppStore then I trust there is going to be a Great Wave to come crashing in P/E as in recent days but the size is going to be tsunami and final. Not necessarily your fault their Onion but an ignorance in business is just going to go the way it was imagined we have tort law and consumer protection and agencies to govern these and more than likely as in checkers there'll be some jumping to Senate as opposed to judiciary digital media and the like laws updated and refined reflecting the standards for trade and brand new ones it's not a dark day, it's a a shining moment of truth coming to some and some won't survive the day. Tough.
I have used this browser in the past and it never met my expectations. I switched over to Or Net and lately I have been having issues with the latter, so I decided to switch back and give this another try and it is the best decision I've made. It's the fastest tor browser I've used, faster than my laptop and it's so simple and user friendly. I suggest you always use a bridge when browsing on the Tor and you should have no issues. I don't easily trust my fellow men but this but after doing my research on this developer I can say his works prove him to be a trustworthy man who stands with and for the people. He's not out to make profit. Thank you sir and peace be with you!
Get Onion Browser from App Store
What is your opinion about Onion Browser
Get more free apps & games daily
Subscribe to our mailing list and get free apps & games daily to your email inbox.
Thank you for subscribing.
Something went wrong.
Bitcoin
Ethereum
MetaMask
Xrp
Polkadot
Binance coin
Stellar
Dogecoin
Tron
Elrond
Donate Bitcoin to this address
Scan the QR code or copy the address below into your wallet to send some Bitcoin
Donate Ethereum to this address
Scan the QR code or copy the address below into your wallet to send some Ethereum
Donate Xrp to this address
Scan the QR code or copy the address below into your wallet to send some Xrp
Donate Polkadot to this address
Scan the QR code or copy the address below into your wallet to send some Polkadot
Donate Binance coin to this address
Scan the QR code or copy the address below into your wallet to send some Binance coin
Donate Stellar to this address
Scan the QR code or copy the address below into your wallet to send some Stellar
Donate Dogecoin to this address
Scan the QR code or copy the address below into your wallet to send some Dogecoin
Donate Tron to this address
Scan the QR code or copy the address below into your wallet to send some Tron
Donate Elrond to this address
Scan the QR code or copy the address below into your wallet to send some Elrond