(Game) Noblemen 1896
free games for ipod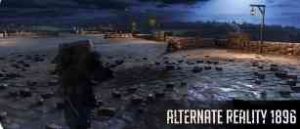 Game Description :
The year is 1896, and war has begun… To your right, Militia are cut down by saber wielding cavalry. In the distance, cannon fire echoes as a lumbering Steam Tank fires its auto cannons. Your Gatling Gun Team unleashes a salvo of fire, cutting down an enemy squad like wheat. Behind you, the drone of your Frigate Class Airship reassures you before unleashing its salvo of supporting fire.
You are a Nobleman, and it's up to you to lead your armies to victory!
Game Features :
Unique alternate reality 1896!
No internet required to play!
Intense shooter combat – take cover and engage in large scale battles!
Fight alongside cannons, gatling guns, airships, boats, cavalry, forts, and more!
Massive War Campaign – plan your attacks from above, then fight and lead the battles in the field!
Quick Play Skirmish Battles – jump right into a huge variety of combat scenarios and figure out how to be victorious!
Single/Multi-player Survival Battles – capture strategic points, survive, and defend your Mining Tower for as long as you can!
Incredible scale – watch as forts blast the battlefield from a distance, airships loom overhead, and iron clad warships support your army from the beach!
Jump in/Jump out gameplay – master immersive, cover based shooter gameplay, or enable auto battle and watch the battles unfold, stress free!
Collect and employ powerful Battle Cards to change the tide of the battle!
NOTE: due to high graphics, Noblemen: 1896 requires an iPhone 5 or higher, iPad Air or higher, or an iPad Mini 2 or higher!
Having problems? Questions? Contact us at info[at]foursakenmedia.com
Follow us on Facebook and Twitter @FoursakenMedia for exciting Noblemen news!
Additional Information :
Compatible with iPhone, iPad, and iPod touch.
Requires iOS 9.0 or later.
Size 1 GB
User Reviews :
Noblemen is a great game I love history and steampunk so this is a great mix for me. I wish it wouldn't take ages to increase your global rank cause I've been wanting to use the war elephant but I've been stuck at global rank 11 for a billion years. Some things I think would be cool to add is some type of zeppelin or plane dropped turret or maybe soldiers. That would be really cool. Make it easier to earn money because once a month you get a ton of gold but I burn it all in a second because my troops cost 15-20k to upgrade. The survival game mode was a great addition but it's hard as beans. You really need to fix the multiplayer for the survival because it's super laggy. Maybe add another type of tile that has a crashed airship or frigate that would be super cool. Or a tile with a run down old civil war base. 😀 sound effects in this game are so good and so are the graphics. The new skin update is cool with the noblewomen and gearman and stuff but it would be even cooler if you had a girl voice with the skin equipped. I was using the gearman and was taking fire but the same old man voice was yelling. Idk this game is so but there just seems to be so much repetitive content. Mainly because you're u have to grind a lot to unlock stuff cause things get super expensive. I hope you guys don't ignore this and maybe consider my suggestions. But I gave this game a 5 Star cause it got me through long boring study halls.
This game is what every other IOS/Android game should strive to be. It has so much content for the users, from hundreds of different units and officers, 4 main classes with 4 different guns that change how you play that class each, a campaign that employs some sort of board-game-ish gameplay and a quick battle mode, a strategic battle mode, and third/first person shooter mode, dozens of maps, etc. I personally love the Civil War-WW1-Steampunk-futuristic style that this game accomplishes, and it accomplishes it perfectly. The graphics are also amazing for a mobile device, and mine can run the game at decent settings with decent FPS. The strategy that you use in each match changes with the units you use, the units the enemy uses and your available loadouts and guns. The game also encourages you, not forces you, to change setups quite often. For example, you can take down steam carriages much easier with the anti-armor loadout, but that doesn't stop you from taking them down with the support or the standard loadout, it just makes you aim for weaker spots in the armor while also trying to hit the crew members/critical components. Oh yeah, and you can have more than one army/battalion on screen. You can even have up to 3, including the enemy, that's without counting the support units! Good job Foursaken Media! You have created a masterpiece!
Get Noblemen 1896 from App Store
What is your opinion about Noblemen 1896
Get more free apps & games daily
Subscribe to our mailing list and get free apps & games daily to your email inbox.
Thank you for subscribing.
Something went wrong.
Bitcoin
Ethereum
MetaMask
Xrp
Polkadot
Binance coin
Stellar
Dogecoin
Tron
Elrond
Donate Bitcoin to this address
Scan the QR code or copy the address below into your wallet to send some Bitcoin
Donate Ethereum to this address
Scan the QR code or copy the address below into your wallet to send some Ethereum
Donate Xrp to this address
Scan the QR code or copy the address below into your wallet to send some Xrp
Donate Polkadot to this address
Scan the QR code or copy the address below into your wallet to send some Polkadot
Donate Binance coin to this address
Scan the QR code or copy the address below into your wallet to send some Binance coin
Donate Stellar to this address
Scan the QR code or copy the address below into your wallet to send some Stellar
Donate Dogecoin to this address
Scan the QR code or copy the address below into your wallet to send some Dogecoin
Donate Tron to this address
Scan the QR code or copy the address below into your wallet to send some Tron
Donate Elrond to this address
Scan the QR code or copy the address below into your wallet to send some Elrond