(App) Netspend : Manage Your Money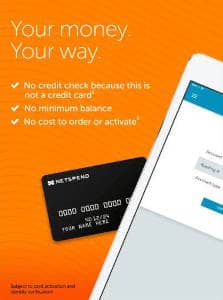 App Description :
With the Netspend Prepaid Card, you're in charge.
Features like direct deposit offer a convenient way to add money to your Card Account and get paid up to 2 days faster.³ Use your card anywhere Visa® debit cards or Debit Mastercard® is accepted. And with the Netspend Mobile App⁶ you can manage your account wherever you go. You'll be able to do things like:
Load checks directly to your Card Account—just by taking a few pictures.
Check your Card Account balance and transaction history.
Send money to friends and family.
Find no cost reload locations.
With the Mobile App⁶ it's all at your fingertips.
App Features :
1 ID verification required. We will ask for your name, address, date of birth, and your government ID number. We may also ask to see your driver's license or other identifying information. Card use restrictions may apply. See netspend.com or card order page for details. Residents of Vermont are ineligible to open a card account.
2 While this feature is available at no cost, certain other transaction fees and costs, terms and conditions are associated with the use of this Card. See the Cardholder Agreement.
3 Faster funding claim is based on a comparison of our policy of making funds available upon receipt of payment instruction versus the typical banking practice of posting funds at settlement. Fraud prevention restrictions may delay availability of funds with or without notice. Early availability of funds requires payor's support of direct deposit and is subject to the timing of payor's payment instruction.
4 Mobile Check Load is a service provided by First Century Bank, N.A. and Ingo Money, Inc., subject to the First Century Bank and Ingo Money Terms and Conditions, and Privacy Policy. Approval review usually takes 3 to 5 minutes but can take up to one hour. All checks are subject to approval for funding in Ingo Money's sole discretion. Fees apply for approved Money in Minutes transactions funded to your card. Unapproved checks will not be funded to your card. Ingo Money reserves the right to recover losses resulting from illegal or fraudulent use of the Ingo Money Service. Your wireless carrier may charge a fee for message and data usage. Additional transaction fees, costs, terms and conditions may be associated with the funding and use of your card. See your Cardholder Agreement for details.
5 Fees for bank transfers are determined by the transferor's bank and may be charged to the transferor's bank account by the service provider or originating bank. No cost for online or mobile Account-to-Account transfers between Netspend Cardholders; a $4.95 Account-to-Account Transfer Fee-CS Agent applies.
6 Netspend does not charge for this service, but your wireless carrier may charge for messages or data.
The Netspend Visa Prepaid Card is issued by Axos Bank®, The Bancorp Bank, MetaBank®, and Republic Bank & Trust Company, pursuant to a license from Visa U.S.A. Inc. The Netspend Prepaid Mastercard is issued by Axos Bank, The Bancorp Bank, MetaBank, and Republic Bank & Trust Company pursuant to license by Mastercard International Incorporated. Axos Bank, The Bancorp Bank, MetaBank, and Republic Bank & Trust Company; Members FDIC. Please see back of your Card for its issuing bank. Netspend, a TSYS® Company, is a registered agent of Axos Bank, The Bancorp Bank, MetaBank, and Republic Bank & Trust Company. The Netspend Visa Prepaid Card may be used everywhere Visa debit cards are accepted. The Netspend Prepaid Mastercard may be used everywhere Debit Mastercard is accepted. Certain products and services may be licensed under U.S. Patent Nos. 6,000,608 and 6,189,787. Use of the Card Account is subject to activation, ID verification, and funds availability. Transaction fees, terms and conditions apply to the use and reloading of the Card Account. See Cardholder Agreement for details.
Mastercard is a registered trademark, and the circles design is a trademark of Mastercard International Incorporated.
Additional Information :
Size 33.6 MB
Requires iOS 11.0 or later.
User Reviews :
Love it
I absolutely love Netspend, I work for the University of Arkansas and I started when I was 16, I used a pay card by them for a while, until it expired. They graciously sent me another official Netspend card once I turned 18. I activated it once my pay card expired and downloaded the app. The user interface is very mobile friendly and easy to use. I don't use the mobile check load cause ya know, direct deposit is the way to go these days. But I've used everything else in the app. Payback rewards is a cool little way to save a little money, it's easy to load and send money, easy to view transactions, and most of all, you can start a savings account! Which is something I've always wanted to do ever since I started getting paid. Also, customer service is very helpful and friendly. Netspend is a great Mastercard bank, and I'll be continuing to use their card for a long time, the only thing I'd ask for is for prepaid cards to be accepted everywhere just like an average debit card from an bank such as Bank of America, or CHASE. I recommend this online bank for any young people just getting started.
No Brainer!!
I absolutely LOVE Netspend!!! I've been with them for over 3 years, had my account upgraded & I have NEVER had ONE issue with them! I get paid 2 days earlier than everyone else. Their customer service is on point. They have awesome no overdraft… which sometimes I do & they will let it go through but it's usually only like 10 bucks. There isn't any over draft fees. They do charge a 5 dollar service fee every month but that's no issue. If you can't afford that then something is wrong with you. Lol. They do charge an ATM FEE WHICH I WISH THEY WOULDNT! That's THE ONLY ISSUE I HAVE WITH THEM!! Stop the ATM FEES NETSPEND!!!

Dontgo to Chime, it's a scam. If you don't want to deal with an actual bank, this is the one to have. I've had banks that lied to me & took my money orclosed my account for no reason & I got tired of it, so I went searching, found Netspend & im soooo glad I did. I refer all my friends to Netspend.

I'm telling you, they're the way to go. & they give you rewards every month. Love yoooou Netspend!!!
Would minus stars if anything!!!!!
I was customer for over 5 yrs. They were ok to begin with but all of sudden in February of this year I got a text about a fraudulent online purchase. Well I hit the button to have my card canceled because anyone who knows me knows I don't bye stuff online I really don't know how I'm sure it would be easy but I don't put my cards online to have them hacked. Well guess what it was anyway and it had to be on there end. While this is happening my husband passes away I go back to work after couple weeks then my whole check was gone had to fight to get my money back then in 2days more money. I have them go back to beginning of year and guess what I had almost $200 in charges over time so by April I have had it. Netspend could see my regular use every week and still let someone steal what money I worked hard for and didn't reimburse me what was rightfully mine. Because like I said they looked all the way back and could see my regular use and did nothing. So please don't use them unless you want this to happen to you. We work to hard to be stolen from.
Developer Response ,
We are sorry for your loss. If you need assistance with reviewing your transaction history, please email social[at]netspend.com.
Get Netspend from App Store
What is your opinion about Netspend
Bitcoin
Ethereum
MetaMask (ETH)
Xrp
Polkadot
Binance coin
Stellar
Dogecoin
Tron
Elrond
Donate Bitcoin to this address
Scan the QR code or copy the address below into your wallet to send some Bitcoin
Donate Ethereum to this address
Scan the QR code or copy the address below into your wallet to send some Ethereum
Donate Xrp to this address
Scan the QR code or copy the address below into your wallet to send some Xrp
Donate Polkadot to this address
Scan the QR code or copy the address below into your wallet to send some Polkadot
Donate Binance coin to this address
Scan the QR code or copy the address below into your wallet to send some Binance coin
Donate Stellar to this address
Scan the QR code or copy the address below into your wallet to send some Stellar
Donate Dogecoin to this address
Scan the QR code or copy the address below into your wallet to send some Dogecoin
Donate Tron to this address
Scan the QR code or copy the address below into your wallet to send some Tron
Donate Elrond to this address
Scan the QR code or copy the address below into your wallet to send some Elrond