(Game) Junkyard Keeper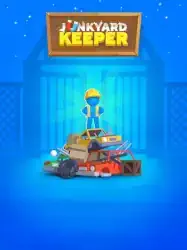 Game Description :
Run your legendary junkyard and keep finding treasures!
Drive your collecting truck and clean up the different kinds of garbage in the huge junkyard: steel garbage, food scraps and more! Transport the garbage back to your base, recycle it and turn it into money! Meanwhile, you'll be scouring the junkyard for the hidden treasures and even parts to assemble new & power vehicles!
Keep unlocking new upgrades for your vehicles. Spend money to upgrade your truck, improve the capacity, moving speed, and even evolve your vehicle to next level and become bigger and more efficient!
Game Features :
Exquisite, smooth and enjoyable gameplay
Super satisfying physics
Excellent graphics and animation make you relaxing
Unlock different types of garbage and different junkyard locations
Manage your junkyard and turn waste into treasure
Enjoy the simulation & arcade gameplay and keep upgrading unlock more garbage collectors such as vacuum trucks, grinders, and even helicopters!
One man's trash is another man's treasure! Start your journey as a junkyard tycoon now!
Additional Information :
Size 345.2 MB
Requires iOS 11.0 or later.
User reviews :
This is a great game, but one small thing…
Overall I seriously enjoy this game, but the longer I play the more it gets laggy, glitchy, and heats up my phone. Another thing, I would like to see the new vehicles become available, I am already maxed out with the two vehicles and I'm wondering when the coming soon vehicles will be available. This is definitely a FUN GAME!! Please add more to the game!!

I am speaking for everyone in the reviews, there are a lot of ads and it kind of gets annoying if I'm being honest. I've read so many reviews talking about the amount of ads there are even after purchasing no ads. ALSO the coming soon Vehicles, I can see people have been waiting for weeks or more for the coming soon vehicle's. In order for y'all to get higher ratings I would suggest resolving the glitches, releasing the new vehicles, and lessening the ads to make this game MORE ENJOYABLE. Really, we appreciate the game because it's fun but having to see a whole bunch of ads in the middle of gameplay makes it a lot harder to actually play and enjoy it.

Thank you for taking your time to look through the reviews and taking peoples comments into consideration. I hope to see more from the game.
Amazing just repeats after day 14
This game is spectacular I thought it would be just about her game that force feeds you ads. When I got it I thought it would just be a day thing but it's still really good 5 days later. I've read other reviews that say they get tons of ads but there aren't that many. The only low point for this game is by 14 it basically sends you back to the first day with all your gear. It would be great if we some more vehicles and just more unique levels. I understand that will be easier with the new vehicles but without them it gets tedious.
Game breaking glitch stopped me in my tracks
So the game bugged out I guess. I need 80% of garbage cleared to progress to the next level. But the only garbage left on the map need a power upgrade to grab. I've 100% every map up till now. Collected every single screw. Now there none left and I'm not powerful enough to pickup the garbage. So I'm just stuck. No more free upgrade videos either oddly enough. I'm just stuck. Can't play anymore. Really really disappointing.

On another note. The speed and process of the refining need to be fixed it's broken. I sat yesterday to see how long it would take. 22 minutes I had to sit and wait for all the metal to finish refining it I collectible blocks. This game is close to being really fun. The processing speed would only knock down 1 star but the game breaking bug knocks it down the rest of the way.
When do I get new vehicles also great game
So I've been playing for a few days and I'm on day 30 something and still no parts for new vehicles and it's just repeating of all the junk I already unlocked which I don't mind. But I've been upgrading and upgrading curious on when it caps out. I'm thinking that the other vehicles just aren't implemented yet but excited to see them
Good game but
I love this game it's so much fun and it helps time go by faster. But it seems the higher the level you are the glitchier the game gets. The ads are a bit excessive but if you turn off wifi it's fine. But then you also lose some of the options. I think the game would be more enjoyable if it was less glitchy, if there were less ads and I think it would cool if instead of watching ads to use the carts you made them buyable. Like you have to pay 2000 coins or something. Overall a good game but needs some help
Get Junkyard Keeper from App Store
What is your opinio about Junkyard Keeper
Bitcoin
Ethereum
MetaMask (ETH)
Xrp
Polkadot
Binance coin
Stellar
Dogecoin
Tron
Elrond
Donate Bitcoin to this address
Scan the QR code or copy the address below into your wallet to send some Bitcoin
Donate Ethereum to this address
Scan the QR code or copy the address below into your wallet to send some Ethereum
Donate Xrp to this address
Scan the QR code or copy the address below into your wallet to send some Xrp
Donate Polkadot to this address
Scan the QR code or copy the address below into your wallet to send some Polkadot
Donate Binance coin to this address
Scan the QR code or copy the address below into your wallet to send some Binance coin
Donate Stellar to this address
Scan the QR code or copy the address below into your wallet to send some Stellar
Donate Dogecoin to this address
Scan the QR code or copy the address below into your wallet to send some Dogecoin
Donate Tron to this address
Scan the QR code or copy the address below into your wallet to send some Tron
Donate Elrond to this address
Scan the QR code or copy the address below into your wallet to send some Elrond