(Game) Grand Mountain Adventure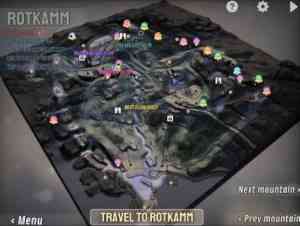 Game Description :
Explore entire mountains in this open-world skiing & snowboarding adventure! Land the biggest cliff drops in the backcountry, freeride down a steep chute, clip the gates in a slalom track, stomp a perfect park run, or just explore the vast ski resorts – the choice is yours!
Note:
This is a demo version with the first mountain available for free. Purchase the full game to unlock all 7 mountains and get the twin-tip skis and board.
Game Features :
7 huge open-world mountains to explore
100+ different challenges to master
10+ different types of challenges (including Super G, Slopestyle, Freeride, Big Air and more)
Cross-device multiplayer over Wifi
Game Controller/Joypad support
Online leaderboards to compete in
Vivid ski resorts with busy slopes, avalanches, wildlife, and sunsets
Absolute freedom to ski wherever you want, and ride any lift you like without loading screens or interruptions
Advanced trick system with flips, spins, corks, rails, combos and more
20+ hours of gameplay to complete all mountains
Zen mode
Winter 2021 Expansion:
The expansion includes three new mountains and can be purchased from within the game. Introducing:
Pinecone Peaks, USA – A massive resort that combines long pistes, large backcountry areas and a wide range of snow parks, with rails and kickers for all skill levels.
Ben Ailig, Scotland – Slushy spring skiing in the middle of farms, grazing land, gorges, and impressive rock formations.
Mount Fairview, Canada – A picturesque resort amid dense forests and slow rivers with flawlessly groomed slopes and thrilling Super G tracks.
Multiplayer:
Gather your friends, connect to the same Wifi and explore the mountains together. Compete in races or try out the new battle mode where you throw snowballs and plant rails to send your friends off the course. Up to 16 players can play together at once.
Gameplay:
The adventure starts at the bottom of Hirschalm, a sleepy ski resort in the midst of the alps. Strap on your skis or board and head down to the lift while picking up the basics like turning and jumping.
Take the lift up to Almhütte and try your first slalom challenge. Completing challenges earns you Ski Passes which are used to unlock ski lifts which takes you to new parts of the mountain.
As you advance up the mountain you have to tackle a variety of challenges like slalom, slopestyle, ski cross, and big air. Now perfect carving turns will not be enough but you also have to start practicing tricks, rails, and drops to complete the challenges.
And don't forget to get off the slopes and head into the backcountry areas. Apart from deep powder and clean lines, you will discover hidden challenges and secret Ski Passes. But be careful – outside the groomed runs there are bears, wolves, avalanches, falling trees, and other hazards waiting for you!
Additional Information :
Size 873.2 MB
Requires iOS 13.0 or later.
User Reviews :
If you're reading this, download this game.
So I normally don't write reviews but this game… I have no words. I pre-ordered it last Christmas and got it the day it came out. For some reason, on my iPhone 6 the game is kind of glitchy and it makes the game kind of hard to play, but I still had hoped for it. I immediately downloaded it on my iPad to see if it's glitchy on that too. It's wayyyy better on the iPad. I think it's just the iPhone six doesn't have the power to run the game. Newer phones shouldn't have a problem doing so. Now that is said, this is otherwise the most calming and fun game I have ever played. When I go skiing once a year it is the best week of the year, so this kind of takes away on that too. I just wish you could make like one or two more maps free. I have explored every inch of the first map and it took me like two days. So if the devs read this(and I understand you have to have some kind of in-app purchases to make money) please please please add like one free map. When I downloaded it I played it for a few weeks on my iPad then I offloaded it. I recently downloaded it again and am still playing now. Thank you devs for making a calm, stress free, ad free, free to play game for everyone to enjoy. This is easily one of my favorite games on the App Store. -Ryno
First Impression & Feedback
Didn't play a lot just released for maybe 30min. So take my review with a grain of salt. It might not be correct, maybe I missed it, or it will get improve later.

Start off with things I love. Sound effects are pretty satisfying. Music is good. Really like the simplistic art style, and the open world exploration. I like how I need to collect ski passes to unlock more areas. It's a very unique skiing game from any I played before. I really like the trails I leave behind when I ski. The rewind setting is a nice touch for when I failed a jump or hit a wall. Control is simple, physics is good.

Now the part I feel like can improve on. Personally I feel like the camera angle makes the skiing experience less enjoyable because it's backward. I wish it's the other way, or have a setting to do so. Bird eye view kind of remove the satisfaction of landing a jump because I don't have the sense of height. In addition, I feel like there's not enough tricks for us to do. It would be nice to be able to ski backward or do flips. (Also iPhone selfie camera blocks some of the words in settings)

Overall it's a solid game I would invest time in. But I think it can be improved on. That's some of my feedback after some gameplay hope it will help.
Get Grand Mountain Adventure from App Store
What is your opinion about Grand Mountain Adventure
Bitcoin
Ethereum
MetaMask (ETH)
Xrp
Polkadot
Binance coin
Stellar
Dogecoin
Tron
Elrond
Donate Bitcoin to this address
Scan the QR code or copy the address below into your wallet to send some Bitcoin
Donate Ethereum to this address
Scan the QR code or copy the address below into your wallet to send some Ethereum
Donate Xrp to this address
Scan the QR code or copy the address below into your wallet to send some Xrp
Donate Polkadot to this address
Scan the QR code or copy the address below into your wallet to send some Polkadot
Donate Binance coin to this address
Scan the QR code or copy the address below into your wallet to send some Binance coin
Donate Stellar to this address
Scan the QR code or copy the address below into your wallet to send some Stellar
Donate Dogecoin to this address
Scan the QR code or copy the address below into your wallet to send some Dogecoin
Donate Tron to this address
Scan the QR code or copy the address below into your wallet to send some Tron
Donate Elrond to this address
Scan the QR code or copy the address below into your wallet to send some Elrond