Goods Triple – Sort Master 3D game by Clap Palms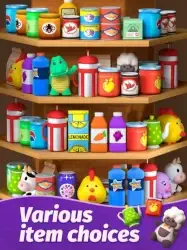 Game Description :
Imagine being able to sprint through the aisles of a supermarket, frantically snatching all the toys, fruits, and snacks off the shelves within a limited timeframe. Well now, your dream can become a reality with Goods Triple!
This game offers a meticulous 3D representation of various fruits, vegetables, candies, and animal toys, making it appealing to casual gamers and puzzle enthusiasts alike.
Experience unparalleled fun and pleasure, indulge in plentiful and diverse levels, and become a master of elimination!
Game Features :
An exquisite and original game design, complete with 3D matching levels.
A realistic 3D representation of products, allowing you to feel as though you are actually in a real-life shopping scene.
A combination of simple gameplay and high levels of challenge.
Generous prop and coin rewards to ensure a more enjoyable gaming experience.
Gameplay:
Click on any three identical items from different shelves to eliminate them, and the more items you eliminate, the higher you score and more rewards you earn.
Take on various tasks, enjoy the fun and challenge.
Each level comes with strict time limits that require you to think on your feet, and hone your skills.
When you encounter any challenging obstacles, forget the word "quit," and join us in the to become a master of elimination!
There's so much more excitement waiting for you, so download and experience Goods Triple now!
Additional Information :
Age Rating 12+
Size 231.6 MB
Requires iOS 11 or later.
User Reviews :
App Update
I love this Game I sit & play it for hours at a time & gave convinced others to download & play as well I have had an iPhone for years and this had been the only game I've downloaded and played personally . However the new update that has just been applied is horrible they game pieces and whole aesthetic has been changed to mirror the other game pieces found in the other apps that are affiliated with this game. It's makes the levels less challenging and looks now more like a children game. I can't seem to adjust to the new look with this update or the level I unlocked caused it but I'm hoping I can find a way to change it back or they do or I'll be uninstalling it unfortunately. Is there a way to change back to the old version? Somebody ttm please ???
Developer Response,
Thank you for your feedback, we will seriously consider the problem you pointed out, and the information will be synchronized to the product manager, will be adjusted and optimized in the next version, please continue to pay attention to our game.
Ruined by monitization
The game is initially fun and at a certain point theres a new mechanic thats introduced after you beat a couple of levels. Basically you need a certain amount of item matches before you can unlock a certain box with items and use those items that are stored there to make more item matches. This makes the game more challenging and more fun but the fun only lasts a couple of minutes. This mechanic can be avoided by watching an ad and the game will reward you that box but if only you watch the ad. This can work but only if it were actually possible without watching the dumb ad. This mechanic gets abused by the developers to get people to watch ads and it only gets progressively worse. I lost my winning streak and I am now stuck on level 20. I have tried many times to beat this level, 20 plus time, but every time I fail it feels more and more necessary to watch the ad which immediately takes away the fun out of the game. The fact that the game has to shove ads in your face so much just makes what ever game they are advertising completely unappealing becuase of how annoying the ads are. This single handedly ruined the entire game and so early too, at only level 20. Very very disappointed.
Developer Response,
Thank you for your feedback. We sincerely apologize for the inconvenience caused by the ads you experienced. We will take your feedback seriously and plan on improving our game mechanics and reducing ad play in future updates to enhance your gaming experience. Please continue to follow our game, as we are committed to bringing you a better gaming experience.
So fun
I am OBSESSED with this game. I play it everyday for maybe 1-2 hours a day. It is the only mobile game that has been able to keep my interest for over a week. Of course it is up to your own personal likes, but I have this thing where I cannot stand disorganized shelves. When I was young I even used to straighten the shelves in stores.

This game gives me that sense of delight without having to do it in real life. So no more awkward glances or people asking me questions thinking I work there.

No, this is not a bot response either. I am actually in awe with this game. It's the best **free** mobile game I have played in a very long time.
Get Goods Triple from App Store
What is your opinion about Goods Triple
Bitcoin
Ethereum
MetaMask (ETH)
Xrp
Polkadot
Binance coin
Stellar
Dogecoin
Tron
Elrond
Donate Bitcoin to this address
Scan the QR code or copy the address below into your wallet to send some Bitcoin
Donate Ethereum to this address
Scan the QR code or copy the address below into your wallet to send some Ethereum
Donate Xrp to this address
Scan the QR code or copy the address below into your wallet to send some Xrp
Donate Polkadot to this address
Scan the QR code or copy the address below into your wallet to send some Polkadot
Donate Binance coin to this address
Scan the QR code or copy the address below into your wallet to send some Binance coin
Donate Stellar to this address
Scan the QR code or copy the address below into your wallet to send some Stellar
Donate Dogecoin to this address
Scan the QR code or copy the address below into your wallet to send some Dogecoin
Donate Tron to this address
Scan the QR code or copy the address below into your wallet to send some Tron
Donate Elrond to this address
Scan the QR code or copy the address below into your wallet to send some Elrond