3D Anatomy app by Education Mobile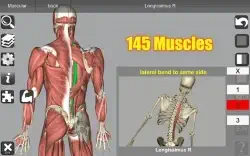 App Description :
3D anatomy app with muscle action and physiology animation videos
A true and totally 3D app for learning human anatomy with muscle action movies, 3D position quiz and audio pronunciation, built on an advanced interactive 3D touch interface.
Want to try the app for free? Click on related apps and download the free version.
App Features :
You can rotate models to any angles and zoom in and out
Virtual dissection: Peel layers of muscles and reveal the anatomical structures below them.
more than 100 muscle action movies
physiology animation videos
Major bone markings
Muscle descriptions: Origin, Insertion, Nerve, Action
3D location quizzes to test your knowledge
Audio pronunciation for all anatomy terms.
Latin names
Search the name of anatomical structure and reveal the 3D location
Switch on/off different anatomy systems
Both male and female reproductive systems are available
Load and Save Views (bookmaker function)
Information from Wikipedia and Gray's anatomy textbook
Great for learning anatomy and physiology
Support French, Spanish and German languages!
Contents:
Skeleton (all bones in our body)
Ligaments
Bone markings
Muscles (145 muscles, highly detailed muscle models)
Circulation (arteries, vein and heart)
Nervous system
Respiratory system
Reproductive system ( both male and female )
Urinary system
3D Ear
3D Eye
Contact Us:
Email us at imagemagicstudio[at]gmail.com. Let us know any feedback you have or share ideas for making the app better.
Additional Information :
Age Rating 12+
180.9 MB
Requires iOS 11.0 or later.
User Reviews :
Help for no medical people
I find this App so very helpful for a couple of reasons.

1) My wife is a registered nurse, and the medical profession speaks a different language than lay people. When she starts talking about this and that I use this App to find out where and what is the subject of discussion.

2) Being someone that has had eighteen surgeries I learned a long time ago that you, or a love one, must become an advocate about your own health. Doctors are people which means there are some exceptional, great, and superior. There also are some not so much. That said today's time Doctors are rushed. I won't get into a lengthy discussion but Today's medical care finds a lot of Doctors focusing on "moving them all through so you can get to the next one. CEO's and Insurance Companies have $omething e$le as the target. With that in mind, be an advocate, research the Doctor's Health Grades, and the Hospital's Infection Rate. And use this App when you hear medical language.
Amazing app!
I am very impressed with the art work and the beautiful look of this app. We are learning a lot of things from the application of all the various layers. I love that you can highlight something and get information and rotate the form to see all the angles. The feature where you can make the item transparent and remove it entirely and put it back is an unexpected and fabulous addition! We are casual users and so not expecting a ton of clinical information, but I think it would be absolutely awesome if it were possible to put the system, or muscle, etc. into motion! I do get frustrated at the sensitivity of rotation. I wish there was a "hold" function where you could freeze a view in place while you look more closely. We have tried to save certain views for later review, but that function doesn't seem to be working?? All in all, I'm loving this the more I use it. Great job developers!
If this app gets any better Apple should add more Stars!
Honestly, what I wrote in the Title space conveys how much I like this app. I'm not a doctor & I don't play one on TV. Having a debilitating chronic condition for decades, I am now a very knowledgeable patient. This app has helped me so much. I use this app in Doc appts. For the Doc To Show me something or for me to show in better detail what/where a problem it is &/or have a question about. My wife just broke her arm & just showed me a screenshot from this app that she had her doc write on when explaining everything to her. In turn she showed it to me & I totally understood what the situation is. It's a terrific app!!
Get 3D Anatomy from App Store
What is your opinion about 3D Anatomy
Bitcoin
Ethereum
MetaMask (ETH)
Xrp
Polkadot
Binance coin
Stellar
Dogecoin
Tron
Elrond
Donate Bitcoin to this address
Scan the QR code or copy the address below into your wallet to send some Bitcoin
Donate Ethereum to this address
Scan the QR code or copy the address below into your wallet to send some Ethereum
Donate Xrp to this address
Scan the QR code or copy the address below into your wallet to send some Xrp
Donate Polkadot to this address
Scan the QR code or copy the address below into your wallet to send some Polkadot
Donate Binance coin to this address
Scan the QR code or copy the address below into your wallet to send some Binance coin
Donate Stellar to this address
Scan the QR code or copy the address below into your wallet to send some Stellar
Donate Dogecoin to this address
Scan the QR code or copy the address below into your wallet to send some Dogecoin
Donate Tron to this address
Scan the QR code or copy the address below into your wallet to send some Tron
Donate Elrond to this address
Scan the QR code or copy the address below into your wallet to send some Elrond