(Game) Gods of Olympus
iphone games for free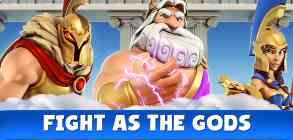 Game Description :
Command the gods of Olympus as they battle through ancient Greece against fortified cities and hundreds of combat units. Control every second of the action as the gods rampage through the cities of your enemies. Build a mighty empire worthy of the gods.
Full Combat Control
Take full control of the legendary Greek gods in real-time combat. Master an innovative combat system that puts you in command of towering gods as they tear through enemy defenses. Employ strategy and brutality as you unleash the devastating powers of Zeus, Poseidon, Athena, Ares, Aphrodite, Apollo, Artemis, Hades, Hera, and Hermes.
Real-Time Cooperative Play
Rush into battle to aid your allies and fight alongside them in live cooperative play! Help them defend their city from attacks or join them in laying waste to your enemies.
No Build Times
All buildings and upgrades are completed instantly — never wait for a build timer! Instantly buy and sell buildings, reinventing your city at any time. Explore a huge variety of city layouts and defensive strategies.
Unique Reward System
Never lose your hard-earned wealth! The gods reward both skillful attacks as well as clever, effective defenses. Claim your fortune in the battlefield, thanks to a game economy that rewards action, boldness, and combat.
Game Features :
Full control of the legendary Greek gods in real-time combat.
Real-time cooperative play — help an ally defend their city or attack another empire.
Defend your city from attacks as they happen in real-time
Construct buildings instantly — no waiting!
Each god commands multiple unique combat powers
Build a powerful city protected by massive armies and an array of defensive towers.
Spar with yourself or alliance members to test their might.
Get rewarded both for defending well AND for attacking well.
Expand into new areas to create a vast empire.
Battle for the fate of Ancient Greece in an epic single-player campaign based on Greek mythology.
NOTE
This game requires an internet connection to play and offers in-app purchases. Requires iOS 8 or higher.
Additional Information :
Compatible with iPhone, iPad, and iPod touch.
Requires iOS 8.0 or later.
Size 217.9 MB
User Reviews :
This game is incredibly fun and interesting, and I love the graphics and god abilities. However, I think it would be better to include all the Olympians. There is debate on Hephaestus vs Hades or Hestia vs Dionysus, but if you included all the 12 gods (whatever you think they may be), it would enhance the game, and bring new abilities. You could include minor gods, such as Eros or Wind Gods, and instead of temples to them, there could be shrines. Similar to temples, but you wouldn't have to destroy all of them, just half? They could boost temples, like houses, boost nectar produce, and even fight alongside the main gods. However, I find it annoying how hard it is to rearrange the base on another template. You need to buy everything you want and such. Couldn't it be easier to just allow one to place down the buildings, with the same levels? Also, could you make alliance assistance a bit more significant? Like boost troop health, or maybe give the option to upgrade whatever alliance power the god has. Also, I've been noticing people not bothering to place their alliance troops anywhere useful, just in the corners of the base on offense and on any building in defense, so could you make that if there was victory, every troop would be worth 4 nectar? Just a suggestion. Love the game!
Get Gods of Olympus from App Store
What is your opinion about Gods of Olympus
Bitcoin
Ethereum
MetaMask (ETH)
Xrp
Polkadot
Binance coin
Stellar
Dogecoin
Tron
Elrond
Donate Bitcoin to this address
Scan the QR code or copy the address below into your wallet to send some Bitcoin
Donate Ethereum to this address
Scan the QR code or copy the address below into your wallet to send some Ethereum
Donate Xrp to this address
Scan the QR code or copy the address below into your wallet to send some Xrp
Donate Polkadot to this address
Scan the QR code or copy the address below into your wallet to send some Polkadot
Donate Binance coin to this address
Scan the QR code or copy the address below into your wallet to send some Binance coin
Donate Stellar to this address
Scan the QR code or copy the address below into your wallet to send some Stellar
Donate Dogecoin to this address
Scan the QR code or copy the address below into your wallet to send some Dogecoin
Donate Tron to this address
Scan the QR code or copy the address below into your wallet to send some Tron
Donate Elrond to this address
Scan the QR code or copy the address below into your wallet to send some Elrond