(Game) Geometry Dash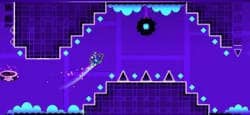 Game Description :
Jump and fly your way through danger in this rhythm-based action platformer!
Frustratingly wonderful – Kotaku
Geometry Dash provides all of the challenge expected from an "impossible" game while also making it more accessible to newcomers.
– 148Apps
Geometry Dash is a fast-paced platformer that will leave you screaming in frustration, but you'll keep coming back for more.
– AppAdvice
Prepare for a near impossible challenge in the world of Geometry Dash. Push your skills to the limit as you jump, fly and flip your way through dangerous passages and spiky obstacles.
Simple one touch game play that will keep you entertained for hours!
Check out the full version for new levels, soundtracks, achievements, online level editor and much much more!
Game Features :
Rhythm-based Action Platforming!
Unlock new icons and colors to customize your character!
Fly rockets, flip gravity and much more!
Use practice mode to sharpen your skills!
Challenge yourself with the near impossible!
Contact: support[at]robtopgames.com
Additional Information :
Size 147.5 MB
Requires iOS 10.0 or later.
User Reviews :
Awesome Game, Just a Few Bugs
Awesome Development RobTop! Absolutely love all of the Geometry Dash games as I have been a fan for a few years. One thing did come up to me today when I was playing the lite version, as to test the new 2.21 update. During my gameplay, the app started lagging. Now, I know this is ordinary for such game that is as big as this, so I didn't mind the little lag bits. What did bother me is that my game closed soon after a few pieces of lag. This isn't ordinary as the game has always run perfectly on my phone; so I thought something went wrong and tried again. It went well for a few minutes till it closed again. Now I was getting frustrated so I tried one more time. Like I suspected, the game closed again and I gave up and tried to open another app of mine. It wouldn't open, and it didn't take that much space. I tried again and still wouldn't open. Suddenly my phone went black, and it took me a minute to realize it had crashed. Everything came up after a second tho so I am confused as what the app might have caused. Other than that, the game works perfectly really, it might have been the Hexagon Force level I was playing. I am on the newest version of the iPhone, so who knows what could have happened. This is just a warning to others who might face the same thing and to also advice the creator such a problem. I absolutely do love the game, especially the full version. Thanks RobTop for all the hard work.
GREAT. game. 5 stars
i love EVERY aspect of this game. i found this game out of nowhere, came on my reddit page one day— you know how it is. but anyways. back to my story. every part of it is perfect. the music. UGH . the game is initially challenging, but evolves over time and coalesces beautifully. it is also infinitely imaginative, so many ways to die: killing yourself on the ceiling while flying, falling all the way down onto a spike, and even falling into the cavernous, gaping depths of one of the pits. you even begin to sympathize with the character: simply trying to make it to the end, a general premonition that we have all had, scraping and crawling through our hardships, in this case, the many ways to die, and the challenge of timing the sequenced taps in order to maneuver the map, in order to avoid the chances of death. we have all experienced the variations, one may even use the word classifications, of the trials that the cube endures. which leads me to my next point. after engaging in this complex activity, i have become emotionally connected to the shown character. this game has touched me in ways that i could never have imagined, changed my outlook on life, in simple ways such as even changing my everyday routines. that is the end of my monologue, story, explanation of my love that i attempt to express in these numerable of sentences. i thank you for this game. i thank you for the impact on my life you have created. thank you.
Get Geometry Dash from App Store
What is your opinion about Geometry Dash
Bitcoin
Ethereum
MetaMask (ETH)
Xrp
Polkadot
Binance coin
Stellar
Dogecoin
Tron
Elrond
Donate Bitcoin to this address
Scan the QR code or copy the address below into your wallet to send some Bitcoin
Donate Ethereum to this address
Scan the QR code or copy the address below into your wallet to send some Ethereum
Donate Xrp to this address
Scan the QR code or copy the address below into your wallet to send some Xrp
Donate Polkadot to this address
Scan the QR code or copy the address below into your wallet to send some Polkadot
Donate Binance coin to this address
Scan the QR code or copy the address below into your wallet to send some Binance coin
Donate Stellar to this address
Scan the QR code or copy the address below into your wallet to send some Stellar
Donate Dogecoin to this address
Scan the QR code or copy the address below into your wallet to send some Dogecoin
Donate Tron to this address
Scan the QR code or copy the address below into your wallet to send some Tron
Donate Elrond to this address
Scan the QR code or copy the address below into your wallet to send some Elrond