(Game) Gangstar New Orleans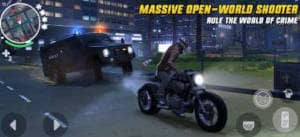 Game Description :
Welcome to Gangstar New Orleans! An action-driven game made for those who want to become real Gangstars and wreak havoc everywhere they go!!!
Set in the fascinating city of New Orleans, Gangstar New Orleans is the largest open world ever released on mobile, filled with unique underworld characters, engaging story missions, intense car chases, and explosive shooting action! In New Orleans, anything can happen!
Game Features :
An Open World bustling with life and crime!
Tons of story missions in New Orleans's varied city districts: from the French Quarter, to the slums, to the mysterious bayou. Each district has its own unique action-filled flavor.
Luxurious Mansions: Claim your own private island and expand it into the ultimate housing complex! Show off your dream house, vehicle collection & expensive boats.
Turf Wars: Defend your turf & raid those of others. Introducing GvG mode.
Fun customization & theme collection.
AAA graphics and an amazing game soundtrack.
For fans of open-world action games, the Gangstar series, fun shooting games, gangsters and free games.
Download it today!
IMPORTANT Gangstar New Orleans requires an iPhone 5 (or newer), an iPad mini 2 (or newer), an iPad (4th generation) (or newer), or an iPod touch (6th generation) (or newer). An Internet connection is required to play.
Visit our official site at gmlft.co/website_EN
Check out the new blog at gmlft.co/central
Don't forget to follow us on social media:
Facebook: gmlft.co/SNS_FB_EN
Twitter: gmlft.co/SNS_TW_EN
Instagram: gmlft.co/GL_SNS_IG
YouTube: gmlft.co/GL_SNS_YT
Privacy Policy: www.gameloft.com/en-gb/privacy-notice
Terms of Use: www.gameloft.com/en-gb/conditions-of-use
End-User License Agreement: www.gameloft.com/en-gb/eula
Additional Information :
Size 1.3 GB
Requires iOS 9.0 or later.
User Reviews :
Amazing game!!
Wow this game is very fun and you can do a lot of things I like climbing up the stars and trying to last as long as I can I also try to last and kill at least a army man which I killed four today 2 by running over and 2 by shooting and also I have a powerful gold 3 or 4 star (I can't recall) machine gun that fires out fireworks and this weapon is AMAZING I can kill guys pretty fast and I just got this game 5 or 4 days ago I love it but I also wish there was an option were you could also buy the weapons but I don't mean remove unlocking guns as you get vases I just want an option were you could buy them. Some suggestions is that maybe you could add a empty handed option for holding no gun and if you pull out a gun people will get scared and the cops will come but you don't have to add that part I also wish you could put things on your car like bigger tires or a turbo when you need to go fast I think you should add it so swat don't have only one guy in the car another suggestion is adding a tank and make a transport vehicle for the army men which hold a couple men you need to fix the helicopters for the cops I never see them appear. Overall I love this game and I hope you add multiplayer ( like a online server ) one thing else I would love it if add a rag doll button for more things to do like rag dolling on people. I love this game and hope you keep it up.
Awesome game, here are some easy ideas to make it better
Great game, super addicting with a different experience every time. Here are a few ideas for future updates:

1: traffic control. Sometimes it's fun to weave and dodge through cars, but with some of the faster cars I think that it would be nice with no traffic to just flat-out speed through the streets. It would be nice in the settings menu to have a toggle for traffic control like in other games.

2: another train. There is a tram in the French Quarter, but I think it would be nice to have like a freight train going around the map that maybe we can hitch a ride on. I personally love trains so if this happened I would be very excited.

3: more interactivity. Story mode is good, but after you complete the story missions they almost never appear again and it was fun interacting with the characters. When you walk up to a random person on the street they do say stuff, but even making those just slightly longer could make a difference. Maybe making story missions for the future that could be periodically unlocked by level would keep this interesting.

Thanks for reading, and I hope that these can be added in the future! Love the game and would highly recommend.
Get Gangstar New Orleans from App Store
What is your opinion about Gangstar New Orleans
Bitcoin
Ethereum
MetaMask (ETH)
Xrp
Polkadot
Binance coin
Stellar
Dogecoin
Tron
Elrond
Donate Bitcoin to this address
Scan the QR code or copy the address below into your wallet to send some Bitcoin
Donate Ethereum to this address
Scan the QR code or copy the address below into your wallet to send some Ethereum
Donate Xrp to this address
Scan the QR code or copy the address below into your wallet to send some Xrp
Donate Polkadot to this address
Scan the QR code or copy the address below into your wallet to send some Polkadot
Donate Binance coin to this address
Scan the QR code or copy the address below into your wallet to send some Binance coin
Donate Stellar to this address
Scan the QR code or copy the address below into your wallet to send some Stellar
Donate Dogecoin to this address
Scan the QR code or copy the address below into your wallet to send some Dogecoin
Donate Tron to this address
Scan the QR code or copy the address below into your wallet to send some Tron
Donate Elrond to this address
Scan the QR code or copy the address below into your wallet to send some Elrond