(Game) Game of Thrones Conquest
iphone games download free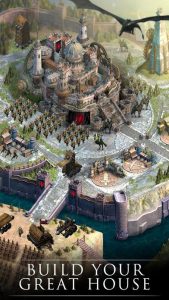 Game Description :
Westeros is at war. Great houses clash, dragons rule the sky, and the army of the dead threatens the realm.
Live out your fantasy and join the war. Build your house and raise your army as you navigate a dangerous political landscape. Based on the award winning HBO series, Game of Thrones Conquest allows players to become a Lord in Westeros and define a strategy for conquering the Seven Kingdoms. Winter is here and your enemy's army will not wait to clash swords. Wage war and join the battle today to capture the Iron Throne!
Game Features :
Become a lord of Westeros: Build your great house, create your sigil, and Fight for the Crown
Interact with key characters from the hit HBO series including Jon Snow, Daenerys Targaryen, Petyr Baelish, Cersei Lannister and more.
Capture 120+ iconic Seats of Power like Winterfell, Castle Black, Dragonstone, and King's Landing
Navigate the dangerous political landscape using the innovative Allegiance System to live out the fantasy of claiming The Iron Throne and winning the Great War
THE SEVEN KINGDOMS WILL REMEMBER YOUR NAME
It's the family name that lives on. It's all that lives on. – Tywin Lannister
Build your house and claim your territory to rise in political influence
Raise your army and clash against rival lords to capture iconic Seats of Power
Defend your strongholds, as each Seat of Power endows you with military and economic upgrades
Dominate the map, clash with your enemies, and spread your influence
MAKE KINGS RISE AND FALL
Fight every battle everywhere, always, in your mind. Everyone is your enemy, everyone is your friend. – Petyr Baelish
Master the innovative social system that allows players to recruit bannermen, fight wars alongside your allies, and live out your fantasy of ruling The Seven Kingdoms
Claim the Iron Throne – In a dynamic political world, choose between deception and loyalty as you shift your allegiances
Reward those loyal to you with titles like Hand of the King and Master of Coin as you build your Small Council
Bestow Seats of Power to your allies granting them special military and economic advantages
Only in Game of Thrones Conquest can you become a lord of Westeros and navigate the dangerous political system as you Fight for the Crown. Interact with key characters and capture iconic locations from the award winning HBO TV series. Dominate your enemies by using an innovative Allegiance System that allows you to recruit your friends as bannermen as you rise to take The Iron Throne.
LIVE THE FANTASY – PLAY NOW AND FIGHT FOR THE CROWN!
Join the conversation:
www.facebook.com/GoTConquest/
twitter.com/gotconquest
go.wbgames.com/GoTforums
Additional information :
Designed for both iPhone and iPad
Requires iOS 10.0 or later

Size:

146 MB
User Reviews :
I like the game but it just has to many bugs and crashes a lot you should really fix that and I don't like the fact that you can't write a player directly it would help when trying to recruit bannermen. I also think that it's stupid that you can't get certain resources until you reach a certain level ,also the amount of time it takes to gather resources is too long you should shorten it there's no reason why gathering 12k resources takes an hour it's ridiculous, it also put a strain on the resources because you only have one area ( the north) for us to conquer right now so that's where everyone is at. I wish you would open all regions to be taken because right now it's an all out death match for seats of power and it's kind of hindering some people to grow because they keep getting attacked which is inevitable when everyone is in the same place please fix this.
I know, the game is in early stages and it will get better and the glitches will be gone. The reason I give it 3 stars is because of the micro-transactions. We were the best allegiance in our server until another allegiance took ironrath from us with a ridiculous amount of troops that were really high level. That is pay-to-win. Micro transactions should only be used for cosmetics, teleports and stuff like that. I know, mobile games, but i think this game can do without micro transactions because game of thrones is pretty popular and a lot of people will be downloading it just because of the series. That's my opinion. It is pretty annoying getting beaten by guys who have bought everything. Maybe make servers only for people who buy stuff? But after all i like it.
Get Game of Thrones Conquest from App Store
What is your opinion about Game of Thrones Conquest
Bitcoin
Ethereum
MetaMask (ETH)
Xrp
Polkadot
Binance coin
Stellar
Dogecoin
Tron
Elrond
Donate Bitcoin to this address
Scan the QR code or copy the address below into your wallet to send some Bitcoin
Donate Ethereum to this address
Scan the QR code or copy the address below into your wallet to send some Ethereum
Donate Xrp to this address
Scan the QR code or copy the address below into your wallet to send some Xrp
Donate Polkadot to this address
Scan the QR code or copy the address below into your wallet to send some Polkadot
Donate Binance coin to this address
Scan the QR code or copy the address below into your wallet to send some Binance coin
Donate Stellar to this address
Scan the QR code or copy the address below into your wallet to send some Stellar
Donate Dogecoin to this address
Scan the QR code or copy the address below into your wallet to send some Dogecoin
Donate Tron to this address
Scan the QR code or copy the address below into your wallet to send some Tron
Donate Elrond to this address
Scan the QR code or copy the address below into your wallet to send some Elrond