(Game) Galaxy Attack Alien Shooter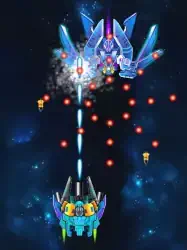 Game Description :
Save the Galaxy from alien swarm attack
Earth's last hope is in your hands, take control of the lone spaceship and protect Earth from alien swarms. Your goal will be quite challenging as you will have to save the Universe from its evil enemies. In this space shooting game, you will be facing an increasingly large number of enemies in hazardous environments. As the game progresses, you will earn the right to upgrade your spacecraft to unleash its full lethal capacity.
HOW TO PLAY:
Touch screen to move and kill all enemies.
Collect items to upgrade or change your weapons.
Game Features:
Multiplayer mode
High quality images optimized for tablets and large screens.
Ability to use active skills during the space battles.
The game is packed with 140 levels on various difficulties.
Beautiful levels with immersive missions to complete.
Multiple extreme boss battles.
Upgrade your guns and lasers.
Enjoy classic space combat – powered up. Download Galaxy Attack Space Shooter now!
Additional Information :
Size 341.5 MB
Requires iOS 10.0 or later.
User Reviews :
Love this game, but…
You keep making it harder and harder to play without spending any cash. I wish it were back to like it was 4 updates ago, without the crappy new stamina feature. You should also not require evolve stones for new skins, doing that was a mistake, because it just keeps getting harder and harder to play, especially as a lower CP player. I do love how much it resembles galaga, too. You, the developers, are also constantly making it harder and harder to farm materials by constantly lowering PVP bet amounts, in crystals, coins, and PVP points. I would also suggest making an open market where you can buy items such as evolve stones, legend tokens, and drone tickets with crystals, and coins. This should be bought from other players, and not from the game. And the players who sold the items on the market should also receive the amount of currency listed for it when it is sold. Please lower matrix ticket costs by a bit to make things more accessible to people who don't want to spend thousands of dollars on your game, and let us buy unlimited tickets, instead of only ten per day. It takes about 3-4 Months get a ship out of the matrix without spending money every day to get the matrix items. Just lower the matrix item amounts from 40-90 to like 30-80. It just doesn't make any sense to require that many pieces. Please put the PVP bets back into the game, and raise the amounts back to 30-38 PPW.
Developer Response,
Thank you for your suggestions. We will recommend them to the related department.
The campaign mode is fun and challenging, but you have to spend money to advance far
Very challenging game – fun and even addictive. Excellent graphics and endless variety of enemies. The campaign mode gets very challenging as you advance, but unfortunately, it becomes impossible to advance towards the higher levels unless you either spend money on the game to upgrade your ship's power, or unless you literally have hundreds to thousands of hours to spend time playing a video game – which no successful business owner does! Lol. Might be a good game for certain millennials who have lots of time to spend playing games. One more comment – the live battles against other players is a great concept, but they ruin this feature by making the battles entirely lopsided, and also by having you mostly play against computers instead of playing real people. So you often wind up getting paired against "people" (mostly computers) who have a ship many times stronger than yours – and they can clear the levels much faster than you or use tricks (called "talents") to spontaneously destroy your ship and kill you. Therefore, you have almost no chance of winning a significant percentage of those games. It would be like playing chess against your opponent without a queen – or playing a physical sport against an opponent with no arms or legs. A battle, or test of skill, should provide both opponents with the same tools – or at least similar ones. Pretty dumb concept.
Developer Response,
Thank you for the feedback. We're evaluating the difficulty curve to make it more suitable to most players. We will transfer your comment to our dev team to consider making changes. Hope to get better ratings from you soon.
Get Galaxy Attack Alien Shooter from App Store
What is your opinion about Galaxy Attack Alien Shooter
Bitcoin
Ethereum
MetaMask (ETH)
Xrp
Polkadot
Binance coin
Stellar
Dogecoin
Tron
Elrond
Donate Bitcoin to this address
Scan the QR code or copy the address below into your wallet to send some Bitcoin
Donate Ethereum to this address
Scan the QR code or copy the address below into your wallet to send some Ethereum
Donate Xrp to this address
Scan the QR code or copy the address below into your wallet to send some Xrp
Donate Polkadot to this address
Scan the QR code or copy the address below into your wallet to send some Polkadot
Donate Binance coin to this address
Scan the QR code or copy the address below into your wallet to send some Binance coin
Donate Stellar to this address
Scan the QR code or copy the address below into your wallet to send some Stellar
Donate Dogecoin to this address
Scan the QR code or copy the address below into your wallet to send some Dogecoin
Donate Tron to this address
Scan the QR code or copy the address below into your wallet to send some Tron
Donate Elrond to this address
Scan the QR code or copy the address below into your wallet to send some Elrond