(Game) Friday the 13th – Killer Puzzle
 iphone games for free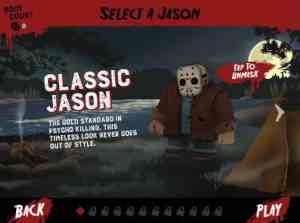 Game Description :
Stalk and slay campers across 100+ puzzle levels with horror icon Jason Voorhees! From the campgrounds of Crystal Lake to the highrises of Manhattan, from supermax prisons to snowy ski resorts, Jason will terrorize victims across the world (and maybe even beyond).
Friday the 13th: Killer Puzzle is developed by the makers of cult hit SLAYAWAY CAMP (5/5 -Rue Morgue, Touch Arcade, Gamezebo… "The most ridiculously, absurdly, insanely over the top violent game I've ever seen." -Dread Central).
Game Features :
8 gut-wrenching "episodes" for over 100 puzzle levels!
See Jason like never before: Supermax Jason, Frozen Jason, Apocalypse Jason & More!!!
Traps! Cops! SWAT teams! Land mines! Rotary telephones! Teleporters! Cats!
Choose 'R' mode for dozens of gruesome Kill Scenes, or 'PG' for an almost family-friendly puzzle experience
Level up and unlock tons of horrifying murder weapons.
Trade in your rusty and unwanted weapons for shiny elite ones!
No online connection required! Slash on an airplane, bus, or in the woods around the campfire… just don't let Jason find you!
FRIDAY THE 13TH and all related characters and elements are trademarks of and © New Line Productions, Inc. and Horror, Inc. (each to the extent of their interest). Used with permission.
Friday the 13th: Killer Puzzle Game programming and content is ©2020 Forest Green Enterprises Ltd., a subsidiary of Blue Wizard Digital Inc.
Additional Information :
Size 298.5 MB
Requires iOS 10.0 or later.
Compatible with iPhone, iPad, and iPod touch.
User Reviews :
Blue Wizard Digital LP A Massive Thank You
It is an amazing time to be a Friday The 13th fan, with the release of Friday The 13th The Game last May on PC and consoles I would have never thought less than a year later fans of the franchise would receive another amazing Friday The 13th video game. First off a massive thank you to everyone who took part in bringing this project to life, you guys outdid yourselves. The game itself is a masterpiece and you have given it to us fans for free! So again thank you, I have completed the game and will happily revisit it for years to come. On behalf of all Friday The 13th fans we love it, you have just added another amazing addition to the franchise. I will happily purchase the eleven Jason's and four levels to support Blue Wizard any way I can! If you love Jason and the Friday The 13th franchise download this video game immediately. Also may I ask please port this to consoles like you guys did Slayaway Camp Butchers Cut! If you include all the in app purchased content and make it a Killers Cut on the consoles I would happily pay whatever price tag you ask, I would love to have this game on my Xbox One and play on the big screen to show off to friends and family!
MORE JASONS
I love this game this game is literally my favorite phone game one I really want are more Jason skins skins I wanna see are (part 5 Jason(hallucination Jason), Roy burns Jason(fake Jason), savini Jason, part 7 Jason, part 9 Jason(Jason goes to hell), part 4 Jason, reboot Jason, and Freddy vs Jason) also for limited time I would like guest characters from different horror movies first all I would like to see Pamela voorhees in the game and when your playing as her kid Jason is the one speaking to her now as for the guest characters I would like to see Freddy Krueger since he was only horror killer to battle Jason also I would like to see Chucky,Michael Myers,Leatherface,Jigsaw, Ghostface and pennywise I know these killers never battled Jason but there was a game called terrordrome you could only play as serial killers and finally I would like to see the Lynn loud Jr Jason voorhees parody from the loud house in the loud house Halloween special tricked Lynn loud jr was wearing a mix for three serial killers she wore Jason's hockey mask,Michael's jumpsuit,and had Leatherface's chainsaw so I would really like to see Lynn's Jason costume
I don't write reviews UNLESS i need to!
okay this game is actually AMAZING. if you like horror genre or more specifically jason; this game for us for you. while it's a puzzle game and some people don't like puzzle games, this one is worth a try. the graphics are good BUT in my opinion the animations for the final blows could be better. jason comes in many different outfits, different weapons, and you have even his his mother in the upper left corner of the screen. if you buy a weapon's pack of any kind and i think a rare jason outfit— you disable ads permanently so if you need help you won't have to watch ads to get help from mother … definitely worth the $0.99 for one of the jason packs or weapons. you'd think this game would be easy but there's actually some puzzles in here that get you confused and frustrated which is what makes it fun. i 10/10 recommend this game for anyone who:

 likes puzzle games

 likes horror

 is a fan of jason

 likes a good challenged game
Get Friday the 13th from App Store
What is your opinion about Friday the 13th
Bitcoin
Ethereum
MetaMask (ETH)
Xrp
Polkadot
Binance coin
Stellar
Dogecoin
Tron
Elrond
Donate Bitcoin to this address
Scan the QR code or copy the address below into your wallet to send some Bitcoin
Donate Ethereum to this address
Scan the QR code or copy the address below into your wallet to send some Ethereum
Donate Xrp to this address
Scan the QR code or copy the address below into your wallet to send some Xrp
Donate Polkadot to this address
Scan the QR code or copy the address below into your wallet to send some Polkadot
Donate Binance coin to this address
Scan the QR code or copy the address below into your wallet to send some Binance coin
Donate Stellar to this address
Scan the QR code or copy the address below into your wallet to send some Stellar
Donate Dogecoin to this address
Scan the QR code or copy the address below into your wallet to send some Dogecoin
Donate Tron to this address
Scan the QR code or copy the address below into your wallet to send some Tron
Donate Elrond to this address
Scan the QR code or copy the address below into your wallet to send some Elrond